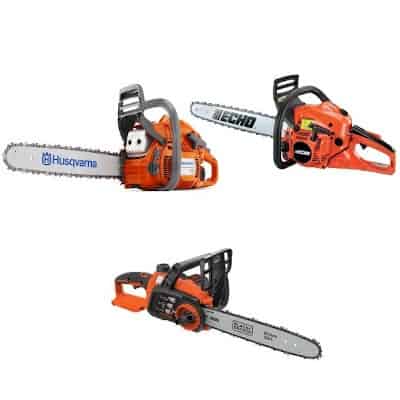 It is time to start your yard work with the best chainsaw for cutting trees. I have put together a list of the three best chainsaws for cutting a wide variety of trees. These chainsaws can make quick work of small or medium trees thanks to their robust engines, durable bars, and sharp chains. Your yard work will never be the same.
With these great chainsaws, you can expect the best modern features, minimal vibration, great air cleaning systems, excellent fuel efficiency, low gas emissions, and long-running times. These chainsaws are all lightweight and easy to handle, and they all start very nicely with low-resistance starter cords.
These are great chainsaws for homeowners, landowners, ranchers, loggers, landscapers, and any other person who is in the business of cutting down trees. You get all the best features for the lowest prices. Today we will look at two gas chainsaws and one powerful cordless chainsaw. So, let's get to it!
Top Rated Chainsaws For Cutting Trees
---
Husqvarna 450 Gas Chainsaw – Best Overall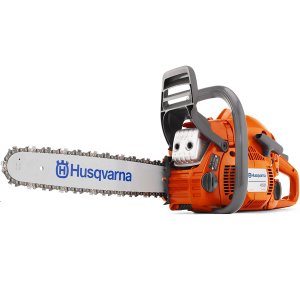 The Husqvarna 450 Gas Chainsaw is definitely the king of the gas chainsaw. This awesome unit comes with a very strong 3.2 horsepower X-Torq engine which reduces the majority of harmful exhaust emissions while dramatically increasing fuel efficiency. This engine has enough power to chop down trees one after the other. It is comfortable to use, it has great features, and it even looks good too.
Ideal for Tree Cutting
This is really the ideal chainsaw for cutting trees. It is extremely lightweight and easy to cut with, and because of its vibration dampening system, you won't experience annoying fatigue while in the middle of cutting down a tree.
It comes with an 18" bar and chain, which is just enough to cut any tree with a 16" diameter. However, if you are professional, you could probably even cut down trees that are up to 20 inches. Because of its awesome torque and quick speed, cutting down a full tree will only take a handful of minutes.
Better Features
All the features with the Husqvarna 450 chainsaw are enhanced. Thanks to the Smart Start system, it is easier than ever to start the machine with one or two pulls of the starter cord. There is also a combined choke/stop control that prevents the engine from flooding.
With the centrifugal air cleaning system, the chainsaw continues to run at full power for longer without maintenance. The air system keeps dust and debris out of the chainsaw so that your air filter doesn't get clogged.
---
---
Black & Decker LCS1240 Cordless Chainsaw – Budget Pick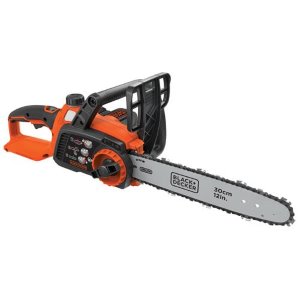 The Black & Decker LCS1240 Cordless Chainsaw is a superb battery-operated tool that you can use for cutting small trees. This is definitely not a logger's chainsaw, in that it is only 12 inches. The maximum size of tree you can cut with this chainsaw is between 10" (normal) and 14" (highly skilled).
However, this is an awesome chainsaw for cutting branches and cutting those small and sometimes annoying trees that are ruining the view from your balcony. This chainsaw is also great for firewood and other casual tasks.
Powerful Battery Pack
This chainsaw comes equipped with a 40V MAX lithium-ion battery that gives you an incredibly long runtime and a great overall life. This is one of those little power tools you can keep with you basically forever.
The battery offers enough power to get dozens and dozens of cuts with a single charge. The battery is also lightweight, meaning it doesn't add much bulk to the chainsaw, making it simple to handle and extremely comfortable.
Awesome Cordless Features
Unlike annoying gas chainsaws that come with too many moving pieces, this cordless chainsaw has simplistic and well-design features. For example, the automatic oiler is very easy to use. Simply fill the oil tank from the top and let the oiler lubricate the bar and chain all on its own.
As for tensioning, there is a hand crank on the side of the machine that will tension the chain nicely around the bar. You no longer have to use annoying tools to rip apart the whole machine just to tighten the chain.
---
---
Echo CS-490 Gas Chainsaw
The Echo CS-490 Gas Chainsaw is a monstrous chainsaw. This is by far the biggest chainsaw on the list, coming equipped with a 20" bar and chain that is absolutely devastating for trees. This unit can tackle big jobs, effectively chopping down forest giants with its spinning chain of sharp teeth.
And even for such a powerful chainsaw, the 490 is extremely lightweight. It is fun to use, it looks great, it has usable safety features, and it is extremely ergonomic.
Flexible & Light
One of the best things about the 490 is its flexibility. You can definitely use this robust chainsaw for cutting thick trees with expert precision, but you can also use it for other tasks. The chainsaw is great for firewood cutting, it can make quick work of fallen branches, and you can even use this reliable chainsaw in your chainsaw mill.
The point is that the 490 can do lots of different jobs, and it can do them all well. This is especially true since it only weighs slightly over 6 pounds. It's often hard to find such a strong chainsaw that is so lightweight and maneuverable. And at such a great price!
Reliable Echo
Echo is one of those companies that never fails to disappoint with its powerful tools. If you want reliability, and a dependable chainsaw that starts when you want it, that comes crafted from strong components with a smart design, and that will hold up for many years in the future, this is the one.
Echo always does what they can not only to manufacture the best products but to keep them running afterward. You can expect excellent service, quick replacement parts when necessary, and long life for your tool.
---
---
Best Chainsaw for Cutting Trees: A Complete Buying Guide
Cutting trees is a risky business. The tree could fall on your head, your chainsaw could get stuck inside the trunk, or you could even take out a power line. There is no doubt that tree cutting is dangerous. But it doesn't have to be. When you choose the right chainsaw for tree cutting, you are negating a huge portion of that danger.
Here are some important things to keep in mind while shopping for your new chainsaw. These tips and pointers will keep you safe while cutting trees, especially since you will have the right tool for the job.
The Right Size for the Job
It is incredibly important that you have the right size of chainsaw for the job. You do not want to use a massive chainsaw if you are only cutting small trees with 10" diameters. At the same time, you are not going to cut a tree with a 24" diameter by using a small chainsaw.
You must have the appropriate chainsaw for the job. A really useful rule to have in your mind is that your chainsaw should be roughly 2 inches longer than the diameter of whatever tree you are cutting. For example, if you are cutting a tree with an 18" diameter, you should use a chainsaw with at least a 20" bar.
If you stick to this rule, you will always make quick work of your trees. By using the correct chainsaw, you also reduce the chance of an accident. There is less chance of you making a mistake due to being uncomfortable, and there is less chance of kickback causing an unwanted incident.
Related Articles:
Power & Torque
Power and torque are the two most important aspects of your chainsaw when it comes to cutting trees. Sure, a lightweight chainsaw is great – but lightweight doesn't cut trees. You need a heavy-duty engine that generates enough torque and enough speed that you can rip through trees like you were a beaver. The exact power will depend on what kind of trees you are cutting down.
It is also important to have an anti-vibration system so that you can cut more trees without getting tired. Ergonomic design is also useful to have on your chainsaw, as that makes it easier to orientate for tree cutting. A lightweight unit is a bonus because it will be easier to handle.
And of course, you definitely need to have safety features. Too much power and no safety features could always result in a bad time. Check and make sure your chainsaw comes equipped with a chain brake system before you buy it.
Best Chainsaw for Cutting Trees: Final Thoughts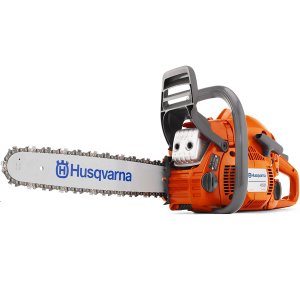 Cutting down trees has never been easier! With all these great options for chainsaws, you will never have a tough time cutting down trees again. But not all chainsaws are created equally. The Black & Decker LCS1240 Cordless Chainsaw is great for cutting small trees, but it will do basically nothing against medium trees or large trees. The Echo CS-490 is certainly the best for cutting big trees, but it lacks in versatility.
That leaves the Husqvarna 450 Gas Chainsaw as the best for tree cutting. This chainsaw comes with a powerful 50.2 CC engine, which is great on fuel and easy on the environment. It has a sturdy 18" bar and chain that are tough enough to rip through tree trunks in record time, and it has an anti-vibration system that keeps you comfortable while in the business of cutting trees. I can't recommend this awesome Husqvarna chainsaw enough!
---
Related Articles: