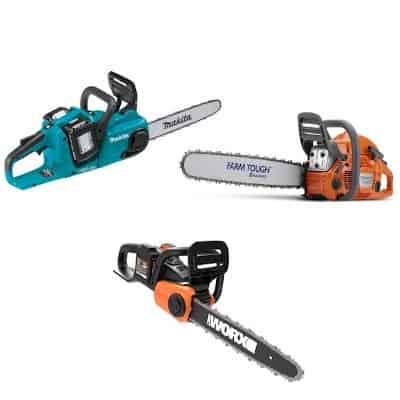 Cutting firewood can be a huge pain in the rear end. But it doesn't have to be when you have the best chainsaw for firewood. Today we are going to look at the three best medium-sized chainsaws that can make quick work of all your firewood needs.
These chainsaws are easy to handle, they come with long bars so that you can slice through fallen trees to make your firewood, and they are affordable. Each chainsaw is unique, each one is manufactured by a trusted name in the industry, and each one is super portable. These are the greatest tools for wood cutting.
Because most of your firewood cutting is going to be done around your home, I have included one gas chainsaw with great fuel efficiency and two cordless chainsaws. Each comes with unique benefits for cutting firewood. Which one you prefer will come down to personal taste.
Top Rated Chainsaws For Firewood
---
Husqvarna 455 Rancher Gas Chainsaw – Best Overall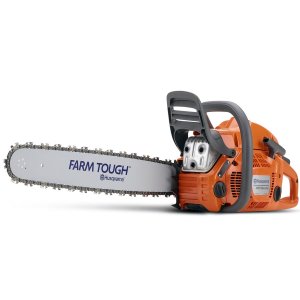 The Husqvarna 455 Rancher Gas Chainsaw is more than just for cutting firewood. This is an extremely versatile chainsaw that can be used for cutting down trees, cutting thick limbs off trees, and for heavy labor. The chain included with the chainsaw is super sharp and effective at cutting hardwood, softwood, and of course, firewood.
Mobility
Even with a robust 20" bar & chain, this chainsaw is super lightweight. It only weighs 13.2 pounds, which means it has excellent mobility. You can easily wield the chainsaw all day without getting overly tired, which can be super important if you are bringing firewood from the edge of your property to your home. You don't need to be more exhausted than you already are!
Also, this is a really convenient chainsaw. With its automatic chain oiler, its impressive air intake system, its X-Torq engine, and its easy cleaning and maintenance, taking care of the tool will be very simple.
Fuel-Efficient
The great thing about using this gas chainsaw as opposed to other similar gas chainsaws is that you get increased fuel efficiency. The special engine in the 455 has managed to reduce the overall fuel consumption. Additionally, there are fewer toxic emissions emitted from the chainsaw.
This means you will have to buy less gas and fill the tank less often. Plus, if you have nosy neighbors, they will be happy with the distinct absence of black smoke coming off your chainsaw. This is one of the greenest chainsaws you can buy, which is very important for living in this modern world.
---
---
WORX WG384 Cordless Chainsaw – Budget Pick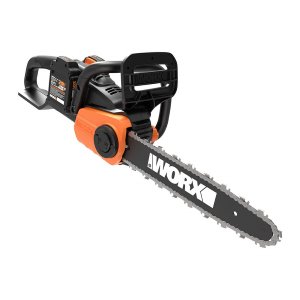 The Worx WG384 Cordless Chainsaw is an affordable piece of smart engineering. This chainsaw is way cheaper than most gas models, but it does not sacrifice performance or power. It uses twin 20V batteries to deliver extra speed and ferocity to your chain, allowing you to quickly slice up firewood in a fun and relaxed way. It also has loads of other features.
Long-Lasting Power
Most electric chainsaws only incorporate a single electric battery, but the WG384 uses a twin pair of batteries to deliver maximum power – 40 volts of maximum power! The extra voltage means that the chainsaw will work for longer between charges, and it will output more power than a standard electric chainsaw. It will definitely work better than any corded chainsaw.
Plus, if you purchase the package with the charger included, you get a dual-port charger that charges both batteries at the same time. This is incredibly convenient, especially if you have extra batteries that you can just switch out between charges.
Easy to Handle
This is probably one of the most ergonomic and easy-to-handle chainsaws I have ever seen. The main handle for your offhand is ergonomic and comfortable, while the wrap-around handle at the top is designed in such a way that you can easily fling the chainsaw about like a wild person… or use it to cut wood in all kinds of awkward spaces.
---
---
Makita XCU03PT1 Cordless Chainsaw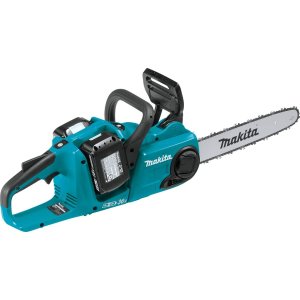 The Makita XCU03PT1 Cordless Chainsaw is yet another great piece of battery-powered equipment. It has a brushless motor with the same power efficiency as a 32CC gas chainsaw. It has a variable speed trigger that allows you to cut at your preferred speed. And furthermore, it comes with a built-in lock-off lever that will always prevent the chain from being engaged accidentally.
Maximum Electric Power
It is hard to get an electric chainsaw with this much power. Since you are primarily using it to cut firewood, this is really the maximum power you would ever need. The brushless motor has a direct-drive system that equates to the exact same efficiency as a 32CC gas chainsaw.
The bonus with using this cordless chainsaw is that you don't have all the hassles of a gas unit. First, you don't have to use gas. Electric charges are better for the environment, and it is quicker to change a battery than fill a gas tank. Plus, no gross emissions, no wearing of internal components, and no pull-start engine.
The Perfect Size
I would argue that this is the perfect size for a residential chainsaw. If you are using this for work around the house, as in clearing your yard, pruning your trees, cutting branches, and making firewood, this is the ideal size.
It is not bulky, it is not heavy, and it is not annoying to use. In fact, I am pretty sure you will have fun using this small electric chainsaw. The 14" bar and chain is long enough to cut thicker branches into small chunks without being too awkward. Plus, the purring sound of the motor will make you feel like a real lumberjack.
---
---
Best Chainsaw for Firewood: A Complete Buying Guide
What are the most important features in a chainsaw for cutting firewood? Portability is huge since you need full control over the chainsaw to do all the awkward cuts. Fuel efficiency is a bonus, as you don't want to continuously refill the chainsaw with gas. Precision is also important because you need a chainsaw that can make precise and equal cuts for your nice stack of firewood.
Gas or Electric?
This is a hard choice. Since we're only talking about chainsaws for cutting firewood, I would generally recommend whatever you feel the most comfortable with. Electric chainsaws can be handy because they run on batteries.
Electric chainsaws are also cheaper. If you are only using your chainsaw to cut firewood, you are probably not going to need it all year round. For this reason, you probably want the cheapest chainsaw possible. Gas chainsaws are typically more expensive than their electric counterparts.
Gas chainsaws are also heavier, more powerful, and more of a pain to maintain. For use only in the winter, or in the fall to stock up on firewood, a cheap electric chainsaw that still offers great power might be the better option for you. Then you can store the chainsaw for the time you are not using it.
However, if you need a chainsaw for doing more than Just cutting firewood, I would want to use a gas chainsaw. A gas chainsaw will typically last longer, it will be more durable, and it will be better suited to a wide variety of outdoor tasks.
Related Articles:
Chain Size
For use with firewood, you want a chainsaw with an appropriately sized chain and bar. Think of it like wearing shoes that are too big for your feet and going for a run. It just would not make sense. The same goes for cutting firewood. Because this is such a small task and does not generally require cutting down full-grown trees, you should probably get a smaller chain size.
Cutting firewood with a 20" bar and chain could be more of a hassle than it is worth. I would generally recommend using something smaller, around 14" or 16". With a smaller size of chain, you are going to have an easier time bending over to make your small precision cuts.
If the bar on your chainsaw is way too long or way too big, you may find yourself getting tired before long. Unless you plan on chopping down a tree, then chopping the tree into smaller sections for your firewood, you don't want a big chainsaw that will strain your wrists when you are constantly bending over. Always work smarter, not harder.
Best Chainsaw for Firewood: Final Thoughts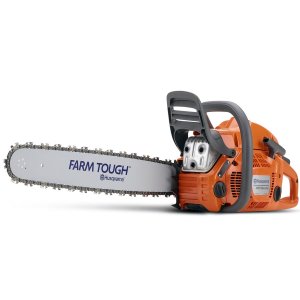 You may not agree with my final thoughts. However, let me start by saying the Worx Cordless Chainsaw is a very special piece of equipment. It is lightweight, it works well using battery power, and it has the speed and efficiency to make quick work of firewood. It is also a great budget unit.
On the other hand, the Makita Cordless Chainsaw is my top pick of cordless firewood-cutting chainsaws. It works extremely well, it has surprisingly intense power, and it is a reliable machine. But here's where you may not agree with me. My overall favorite is the Husqvarna 455 Rancher, which is a gas chainsaw.
But hear me out. The 455 from Husqvarna is not just for cutting firewood. You can use this thing for everything, for all of your yard work and for heavy-duty industrial applications, like professional pruning and even for trail maintenance by chopping down medium trees. It has a 55.5CC engine, an automatic chain oiler, easy maintenance, and minimal vibration. I highly recommend this product.
---
Related Articles: