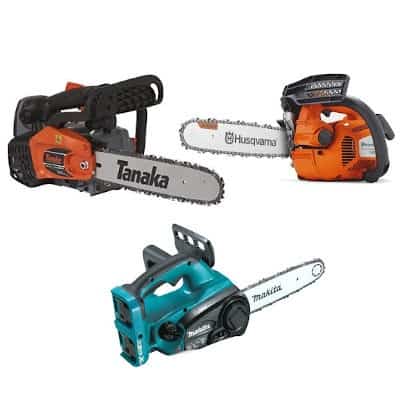 Are you in search of the best top handle chainsaw? These types of chainsaws can make your work much easier. These models are often lighter, more flexible, better in terms of versatility, and easier to maneuver than other types of chainsaws. Today we will look at the three best arborist chainsaws on the market right now.
With a quality top handle chainsaw, you can expect to make quick work of pruning, firewood, small tree removal, and all kinds of other outdoor tasks. These saws are also great for construction work and general labor when needing to cut thick timber.
You will find top handle saws come equipped with features such as high chain speeds, quick cutting, very low noise levels, maximum motor performance, full portability, and so much more. We will take a look at one cordless unit and two gas-powered units, that way everyone's preferences are covered.
[lwptoc]
Top Rated Top Handle Chainsaws
---
Makita XCU02PT 18V Cordless 12" Chainsaw – Best Overall
The Makita XCU02PT 18V Cordless 12" Chainsaw is the most portable, most usable, and most effective small top handle chainsaw around. It comes equipped with a powerful motor, a unique design that makes it ideal for woodworking, two 18V batteries, and 0 emissions. This is a comfortable chainsaw that doesn't make a lot of noise but still has a lot to offer.
Twin Battery Power
Two is always better than one, especially when we're talking about batteries. While this chainsaw only uses 18V batteries, it does use two of them, which equals 36V of raw cutting strength. That is enough power to make quick work of a fallen tree, thick tree branches, and so much more.
If you have something on your property bothering you, and you need a small and powerful chainsaw to take care of it, this is the best unit. It is easy to maintain, it stores nicely because it is so compact, and it comes included with a dual-port charger so that you don't need to buy your own.
Performance & Portability
Performance is important. Because we are talking about chainsaws that have a top handle, performance comes by way of portability. The whole point of the top handle is to give you a better grip when making seriously awkward cuts, and this chainsaw is great for that very reason.
Because this chainsaw is super lightweight, and because it is designed so well, you get great portability and performance. You could cut wood with this chainsaw while doing a handstand and having one hand tied behind your back. It is really easy to use and that is why it is top of the list when it comes to the best top handle chainsaw.
---
---
Tanaka TCS33EDTP 12" Top Handle Chainsaw – Budget Pick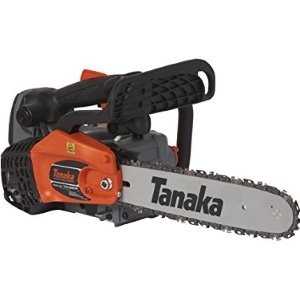 The Tanaka TCS33EDTP 12" Top Handle Chainsaw is an absolutely spectacular little chainsaw. You won't find a small 12" unit with this much power anywhere else. Even with only a 32.2CC commercial fire engine, this small unit can work to cut apart trees like nobody's business.
With the comfortable top handle, the compact size, and the lightweight frame, this is the ideal cutting tool for residential workers, log cutters, and anyone else who needs a reliable chainsaw for cleaning up their property and cutting firewood.
Clean Power
The Tanaka 12" Chainsaw is excellent on fuel. It also performs cleanly, making precision cuts and outputting very few fumes. It comes with a half throttle choke and a purge primer bulb that makes starting the machine effortless while protecting the carburetor from being flooded.
There is also an automatic oiler that makes the machine run at peak performance at all times. The automatic oiler provides constant lubrication to the chain so that every cut is clean and concise. Plus, it takes away the hassle of you having to maintain the lubrication of the chain yourself.
Power-to-Weight Ratio
The power-to weight-ratio is perfect with this chainsaw. It feels natural when you use it and very fluid in your hands. In fact, using this chainsaw feels like using an extension of your own body. There is nothing to throw you off balance and the chances of kickback are extremely low.
This is one of the safest chainsaws you could possibly use. The chance of experiencing a violent kickback or any other unexpected danger is slim, meaning you can work with total confidence throughout the day.
---
---
Husqvarna T435 Top Handle Chainsaw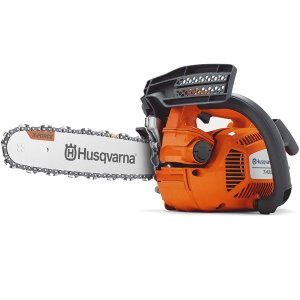 The Husqvarna T435 Top Handle Chainsaw is another powerful machine from Husqvarna. This chainsaw has a well-designed top handle to give you more control over the chainsaw, it has an anti-vibration system that reduces user fatigue. This is one of the best top handle chainsaws and it also has great fuel efficiency so that you spend less time worrying about gas.
Great for Tree Cutters
This is probably the best gas chainsaw that a tree cutter could use. If you spend a lot of time in a boom, up a ladder, or sitting in the canopy of a tree trimming branches, this is the best chainsaw to do it with. Everything in its design makes it ideal for use in high-up situations, or in awkward positions.
The chainsaw is perfectly balanced, it comes with a rope attachment so that you can easily hoist the saw upwards rather than carrying it with you, and the anti-vibration system makes it comfortable to use throughout the whole workday.
Superior Bar & Chain
Husqvarna always makes their tools with phenomenal parts. The T435 is no different. It comes with an X-Cut Chain and an X-Force Bar, which are super durable and long-lasting. Rather than purchasing a cheap chainsaw with a flimsy bar and a weak chain, the T435 comes included with the latest in superior cutting technology.
These parts will last longer, they will cut better, and they will be easier to maintain. You can trust that Husqvarna knows what they're doing when it comes to quality components!
---
---
Best Top Handle Chainsaw: A Complete Buying Guide
Top handle chainsaws are all about maneuverability. They are all about getting the job done without stressing your wrists while still being able to have full control over the tool and your hands. In fact, people who work in the tree cutting service love these chainsaws for how much easier they are to use while suspended inside the canopy of a tree.
So, you definitely want maneuverability and comfort when using these chainsaws, but what else should you look for when buying?
How to Choose a Top Handle Chainsaw?
When you are choosing a top handle chainsaw, there are certain factors that you need to consider.
Weight
The first thing that you should focus on when looking for the best top handle chainsaw is the weight of the chainsaw. You should not choose a chainsaw that is very heavy since you may face problems using it. Especially if you are a small built person, then it can be very exhausting handling a heavy machine.
It would be more convenient if you opt for a lightweight machine. One more thing to keep in mind is that the weight of the chainsaw will depend on the kind of usage that you will have for the machine.
The weight of the chainsaw will also depend on the kind of chainsaw that you are choosing. In case you are opting for a cordless or electric corded chainsaw, then it can be around 8 pounds. On the other hand, even the lightest gas chainsaws will be more than 10 pounds.
Size
The next thing to consider is the size of the machine. The weight of the chainsaw will affect the size of the machine since a heavyweight machine will also be large-sized. You will have to see which machine will be easy for you to maneuver. This is why choosing a compact-sized machine will be the right choice for you.
One more reason for choosing a compact chainsaw is that you can easily store it in any small space. You will not have to worry about finding a separate space for the machine. However, one thing that you should be cautious about is that the size of the machine should not compromise with the performance.
For this, you have to create a proper balance between the size and the engine power so that the performance remains the same.
Convenience
The convenience of use is one of the major factors why top handle chainsaws are recommended by professionals. The first thing that you have to see is how conveniently the machine starts. The chainsaw should be able to start very easily so that you do not have to struggle with it.
Many other factors, such as a chain adjustment, which is tool-less, automatic chain lubricator, battery indicator, and oil reserve window, are also taken into account while determining the best arborist chainsaws.
Warranty
No matter which machine you buy, there should be a proper warranty period for the same. The warranty period of the machine will depend on the brand of the machine. While some brands may provide you with five years or more warranty, some may just give two years of warranty.
Choose a machine that provides a moderate warranty period. If you face any issues with the machine, you should be able to make use of the warranty. Also, check that the after purchase service of the brand is good. You do not want to be stuck with a damaged product and not get a response from customer care.
Check for reviews regarding the after-care of the brand. You should also ensure what the warranty covers, and for this, you will have to read the facilities for the warranty period properly.
Advantages of Having a Quality Arborist Chainsaw
A top-handle chainsaw, as the name suggests, is a chainsaw that can be operated and handled from the top. The chainsaw is used to operate on branches that are low lying or even certain trees. The fuel tank of the chainsaw is located just below the handle. There are certain advantages to using a quality top handle chainsaw, and the best top handle chainsaws will have the following advantages.
Powerful
A top handle chainsaw is very powerful in comparison to its counterpart, a rear handle chainsaw. It is perfectly capable of heavy-duty handling tasks that are not possible by other kinds of chainsaws. If you are seeking for a chainsaw that can take care of unforgiving, strong, and thick trunks, then a top handle chainsaw is the perfect choice for you.
Maneuverability
The ergonomic design of the chainsaw will offer high maneuverability to you. You can efficiently use these chainsaws into operating on tree trucks that have tight spaces or are cramped up. These squeezed up spaces cannot be accessed by other kinds of appliances. Here you can use the top handle chainsaw and easily clear out these tight areas with ease.
Reliability
One of the most important things that come to mind when you choose any machine is its durability and reliability. I do not like wasting my money on things that I cannot use for a long time. Especially when you are buying a machine which is a heavy investment, you need to make sure that you are choosing the right product.
When it comes to chainsaws, a top handle chainsaw has long-term durability. Due to their high resistance to natural conditions such as cleavage and corrosion, they are not so prone to wear and tear. They are also able to withstand harsh working conditions without getting damaged very easily.
Operability
Another great advantage of using the best top handle chainsaw is the smoothness with which it operates. A top handle chainsaw can be used by both hands or even by one hand. You can rely on them despite the kind of circumstance that you may be using the chainsaw in.
Compact Size
Lastly, the compact size of the top handle chainsaw is a very big advantage. Rear handle chainsaws are not compact, and this may possess a problem for people who have tight storing spaces. It becomes hard for you to keep the product stored safely. This will not be the case with top handle chainsaws.
Not only are they good for storing, but they are also easy to transport. One more huge advantage of the compact size is that it can be operated very easily. You will not have to exert your muscle power while using the chainsaw.
Related Articles:
What Features Does A Top Handle Chainsaw Need?
If this is your first time investing in a top handle chainsaw, then you can become very confused with the hundreds of options available in the market. To help you make the decision, I have mentioned a few features that you should look for in your preferred top handle chainsaw.
Chain and Guide Bar
The main operation of the chainsaw is done through these two parts, which are the chain and the guide. These parts come in different sizes and are dependent on the kind of work that you will be using the chainsaw for. If you want to use the chainsaw for light tasks, then you can choose a shorter bar.
For any heavy-duty tasks which will require more strength and power from the chainsaw, you will have to opt for a longer bar. With a longer guide bar, you can take both heavy-duty as well as light-duty jobs, which means that you now have a versatile machine.
Source of Power
The source from which your chainsaw gains power is a very important feature that you need to consider. There are battery-powered, corded, and gas-powered chainsaws. If you do not want to go through the hassle of charging your batteries and managing cords, then you can opt for the gas-powered models. They have more power, but it does not mean that the battery-powered and corded chainsaws are not efficient. Some of the best top handle chainsaws are electric powered.
Chain Oiler
The automatic chain oiler is a feature that might not be present in many top handle chainsaws. This is one such feature which can make your work much easier and more efficient. Oiling the chains is very important so that they operate properly without creating any friction. It can be a hassle to oil the chains manually when the machine is running.
If you have an automatic chain oiler, then you will not have to worry about manually stopping the machines to oil the chains every time you face an issue. The maintenance of the machine becomes less, and it will run all the time smoothly.
Safety Features
No matter which machine you are using, you will have to focus on safety. The chainsaw that you buy should have certain safety features that will prevent sudden accidents. Buying a machine without pre-installed safety features is a very risky thing.
Two of the most important safety features that you will find in most modern top handle chainsaws are the chain brake and the throttle lock. While running the chainsaw, you can get kickbacks, which can be prevented with the help of the chain brake.
The throttle lock is another feature which is very important since it prevents the accidental pull of the trigger. However, this feature may not be available in many chainsaws. The throttle lock has a trigger that needs to be pushed first before you can push the main trigger.
If you forget to press the throttle lock, the main trigger will not work, and this can save you from major disasters. Even if you press the main trigger accidentally, it will not start the machine. Hence, you can benefit from choosing a machine that has this safety feature.
Long-Lasting Power
Because top handle chainsaws are so popular with people who are in the business of hanging out in tree canopies cutting branches, you definitely want to pick up a chainsaw that is going to last a while before needing a refill or a recharge.
Regardless of if you have a gas chainsaw or an electric chainsaw, your tool needs to work reliably. You can't be switching batteries often or being lowered out of a tree just because your chainsaw ran out of fuel. Make sure you look for a unit that has great fuel efficiency, low emissions, and a long-lasting service life. For a cordless chainsaw, try to find one with ample voltage.
Comfortable
Comfort is definitely the biggest thing with any top handle chainsaw. You must be comfortable while operating your heavy tool or it could be disastrous. The big bonus with chainsaws that have top handles is that they are naturally more comfortable than traditional chainsaws.
But you still need to look for certain features, like padded handles, ergonomic triggers, and well-designed handguards. Comfort is safety, and ensuring you purchase the best top handle chainsaw with a smart design and practical safety features will make all the difference.
Solid Parts
You definitely want your parts to be solid. You also want easy availability for spare parts. This is always something you have to consider when looking at the manufacturer of the chainsaw. Most companies can get you a replacement part, for example, a spark plug, if something goes wrong in just a few days.
While it may seem silly, parts are always something you need to think about, especially with a top handle chainsaw. These are not as common as other chainsaws, so if you purchase a top handle model and the handguard breaks, it may be more difficult to find a new one. Always make sure you are buying from a reputable company that makes their equipment with solid and reliable components.
The same goes for everything else. Always try to secure a consumer warranty, always make sure there are automatic features, specifically an automatic oiler and an automatic chain tensioning system, and try to find a unit with an improved pull-start, one with minimal resistance.
Best Top Handle Chainsaw: Final Thoughts
Top handle chainsaws are great. They are great for small personal tasks where a big chainsaw would be too bulky. Top handle chainsaws are easier to maneuver, they are more fun to use, and they save you lots of time and hassle. And while the Tanaka TCS33EDTP is a solid budget option and the Husqvarna T435 is a powerful gas model, I think the Makita 12″ Cordless Chainsaw is the winner of today's reviews.
The Makita has a powerful motor that delivers 1,600 FPM chain speed, it works using two 18V lithium-ion batteries, both of which are included with the saw, and it has enough power to work for hours without needing to recharge.
There are toolless adjustments, the 12" bar is very strong with the chain being exceptionally sharp and good at cutting, and the entire chainsaw is super portable. It is affordable, it comes included with batteries, and it is great for beginners. I highly recommend the Makita 12" Cordless Chainsaw for all residential uses and can confidently crown it the best top handle chainsaw.
---
Related Articles: