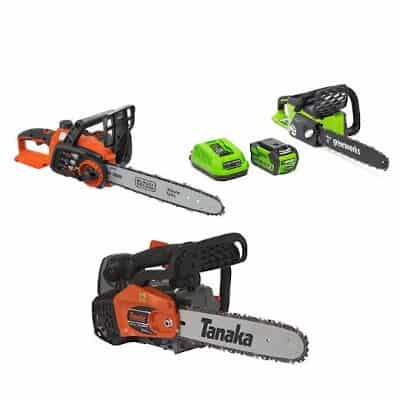 Are you looking for the best chainsaw for women? If so, you are probably looking for a chainsaw that is super lightweight, which is easy to handle, that can complete a variety of everyday tasks, and that is not overly complicated for someone who may not have used a chainsaw before. Also, safety is probably a big factor.
Today I will review three extremely functional chainsaws that come with great safety features, that are very comfortable for any person to use, man or woman, and that can get any job done quickly. We'll look at two cordless chainsaws and one gas chainsaw, that way you have ample options to make your decision.
Whether getting a chainsaw for your first time or replacing an older unit, any chainsaw on today's list is going to be an excellent addition to your yard equipment. These chainsaws are compact and light, they are great for cutting down small trees, they can make quick work of firewood, and they're all reasonably well designed.
Top Rated Chainsaws For Women
---
Tanaka TCS33EDTP Top Handle Gas Chainsaw – Best Overall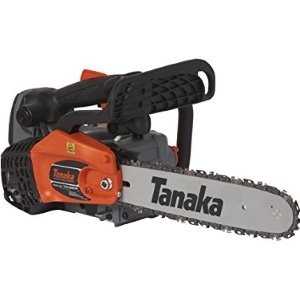 The Tanaka TCS33EDTP Top Handle Gas Chainsaw is a great little chainsaw with a strong 12" bar & chain. The chainsaw comes complete with a 32.2 CC commercial-grade engine, an automatic oiler, side-access chain tensioning, and excellent controls for easy cutting. This is one of the best little chainsaws on the market right now.
Small & Functional
This chainsaw is not made for big jobs. But it is excellent for use on a daily basis to take care of small tasks around your property. Is also great for landscaping since it can easily cut down small trees and make quick work of branches and fallen debris.
This chainsaw may be small, but it is extremely functional. The bar and chain are both incredibly durable, the engine is clean and extremely powerful, offering great fuel consumption with increased performance. The chainsaw starts very easily, a single tank of gas works all day, and it even comes with a special 7-year consumer warranty.
Safety in Comfort
This is probably one of the most comfortable chainsaws a person can use. Because of its smart top handle design, its comfortable side handle, and its strong handguard, it really feels like the chainsaw is an extension of your body while you are using it. You have total control over the tool, and this makes you confident and comfortable.
The automatic oiler makes lubricating the chain and bar carefree, while the chain tensioning system on the side of the chainsaw makes adjustments quick and painless. The chances of unexpected kickbacks are very slim when you use this chainsaw – it is simply too well-made!
---
---
Black & Decker LCS1240 Cordless Chainsaw – Budget Pick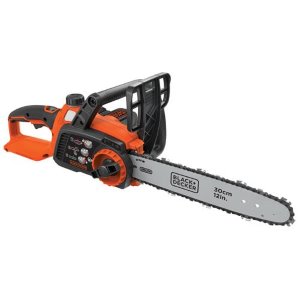 The Black & Decker LCS1240 Cordless Chainsaw is one of the world's best budget electric chainsaws. And it is not even that cheap! The chainsaw comes with all the best modern features, it has a flawless rating from satisfied customers, and it is lightweight and ergonomic.
Great for New Operators
If you're in the market for your first chainsaw, this is probably the one I would pick. It runs on a single 40V battery and it has simplistic features, like the side-mounted toolless tensioner and the automatic oiler. It is lightweight, very safe to use, and can complete a variety of complicated tasks.
The 40V MAX lithium-ion battery gives you a long runtime and roughly 60 full cuts on a single charge. The wraparound handle is extremely comfortable and gives you a reliable grip for maximum comfort. There's almost no vibration, and all the mechanisms take just a few minutes to learn. This is an awesome machine for newbies.
Toolless Adjustments
Toolless adjustments are great. Most chainsaws require that you bust out your tools and take half the machine apart just to adjust the tensioning of the chain. But with this great cordless chainsaw from Black & Decker, you don't have to use any tools to make your adjustments.
The tensioner on the side of the machine can be adjusted by hand, allowing you to set the perfect tension for your chain at any given time. This saves you time and it saves you hassle.
---
---
Greenworks 20312 Cordless Chainsaw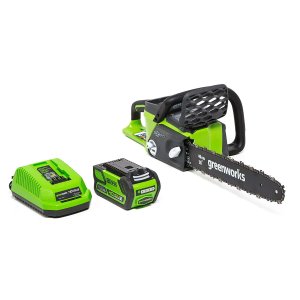 The Greenworks 20312 Cordless Chainsaw is one of the most advanced cordless chainsaws ever developed. It comes with a strong brushless motor, an increase of torque and power, an extended life, and it is compatible with every G-MAX 40V lithium-ion battery from Greenworks. If you are a fan of the company and their tools, this is definitely the chainsaw you should choose for pure convenience.
Better Electric Motor
The brushless motor on the Greenworks 20312 Chainsaw is simply built to be better. The brushless motor offers you an incredible 30% boost in torque, allowing you to cut more wood even faster. Additionally, the vibration has almost completely been removed. There is now a 70% reduction in vibration to make the user more comfortable while working.
Basically, this electric motor is better than the competition. It offers incredible power with a single 40V battery, it runs for a surprisingly long time, and you get roughly 100 cuts on a single charge.
Better Safety Features
Being safe is the most important thing when working with a chainsaw. And with the 20312 Cordless from Greenworks, you get tons of great safety features. The chain brake and the low-kickback chain work together to keep you safe at all times. Plus, the handguard is built out of very strong material so that your hand will not be crushed by a log or piece of debris.
---
---
Best Chainsaw for Women: A Complete Buying Guide
There are a few key components that make a chainsaw excellent for women. You need a chainsaw that is lightweight and easy to handle, that comes with automatic features to make cutting wood more convenient, low vibration to keep your arms and hands safe from fatigue, and the chainsaw must be built with quality!
For doing everyday maintenance on your property, I always suggest a small and portable chainsaw. There is no reason to have a massive chainsaw unless you are doing serious logging work. For this reason, I always suggest a chainsaw between 12" and 16".
Easy to Use
If you have never used a chainsaw before, and you are unsure how exactly one works, it is definitely important to pick yourself up a simplistic chainsaw without too many complicated features. This is the best way to learn. You want a chainsaw that is easy to use and won't leave you frustrated.
For this, you need a chainsaw with an easy starting system. Any chainsaw that offers a reduction in the pull resistance of the starter cord is a great place to start. Make sure your chainsaw has a primer bulb, an easy starting cord, and reliable performance.
Related Articles:
Long Life
You don't want to spend too much time refilling the gas tank or recharging batteries. Whether you get an electric chainsaw or a gas chainsaw, you want it to have a long life. In terms of a cordless chainsaw, you definitely want a piece of equipment that comes with a strong 40V battery at the bare minimum.
A strong 40V battery will keep you working throughout the entire day while still giving the motor lots of power. This is critical to avoid time-consuming fill-ups. And when we were talking about gas chainsaws, you definitely want to make sure fuel consumption is on point. You want the best fuel consumption with the lowest possible toxic emissions.
Lightweight & Portable
Portability is huge. If you are working on your property, you must be able to take your chainsaw with you everywhere you go. It should come with a lightweight body, an ergonomic design, and handles that are extremely comfortable.
In fact, comfort is one of the most important things for a woman's chainsaw, because the more comfortable you are, the safer you are. Top handle chainsaws are great because they make you feel more in control with the tool, but any small 16" chainsaw with comfortable grips and a compact body will make you feel more confident during operation.
Best Chainsaw for Women: Final Thoughts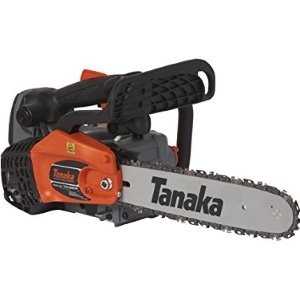 There is a lot to think about here. The Black & Decker LCS1240 is a pretty robust chainsaw with great battery life, unbelievable power, and full portability. And then there is the Greenworks Chainsaw, which also has phenomenal features and full usability. I would say the Greenworks model is the best cordless chainsaw for women.
But the Tanaka TCS33EDTP is definitely the best top handle gas chainsaw – not only for women but for everyone. This chainsaw comes with a unique top handle design that makes wielding and manipulating the chainsaw much easier. It has an ergonomic trigger and a compact body. It also comes with some automatic systems and a strong bar & chain combo.
If you want a great chainsaw that is easy to learn with, very safe for a beginner, and lightweight enough for anyone to pick up and use, the Tanaka is ideal. This is a great chainsaw for women, for beginners, and for everyone besides!
---
Related Articles: