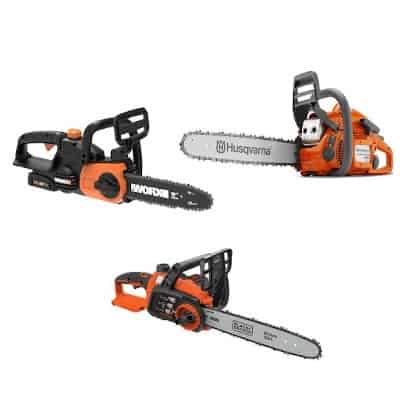 Are you on the hunt for the best lightweight chainsaw? Lucky for you, I have put together a list of the three best lightweight chainsaws. These units are portable, they have tons of power, they have extremely strong parts, and they are manufactured by some of the most trustworthy names in the tool business.
By purchasing a great lightweight chainsaw, you will have an easier time when working outdoors. A lightweight chainsaw will be easier on your shoulders and on your back, you will not feel as fatigued after a long day of work, and you will enjoy the day more.
Keep in mind that just because you get a lightweight chainsaw, it does not mean that you are getting a weak chainsaw. Lots of light chainsaws offer huge amounts of power. If you are using your chainsaw specifically for yard work, these are definitely the best options for you.
Top Rated Lightweight Chainsaws
---
Black & Decker LCS1240 Cordless Chainsaw – Best Overall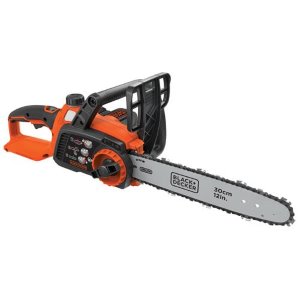 The Black & Decker LCS1240 Cordless Chainsaw is an awesome piece of machinery. This baby comes packed with loads of features, it has a very portable weight, it has comfortable handles, you can make all your adjustments without tools, and it is one of the best if you want to cut branches or fallen limbs.
The automatic oiling system keeps your chainsaw running for longer, the massive 40V battery gives you a super long runtime, and the chainsaw is built to last for many years.
Extra Battery
If you were to directly compare this chainsaw to others in the same price range, you will find all of the competition uses 20V batteries. But with the LCS1240, you get a 40V MAX lithium-ion battery. Yes, that is double the amount of power. With that much power, you can easily cut branches and trees all day.
Thanks to this impressive battery, you should get at least 60 lumber cuts on a single charge. And if you have a spare battery, it only takes a second to switch for another 60 cuts. This is much better than using a gas chainsaw where you have to stop and refuel constantly.
Comfortable Handles
Nothing is more important when using your chainsaw than being comfortable. For you to cut in a variety of different orientations, many of them awkward, you need comfortable handles and portability. This is achieved greatly with this chainsaw. The handles are full wraparound to give you the best grip at all times.
---
---
Worx WG322 Cordless Chainsaw – Budget Pick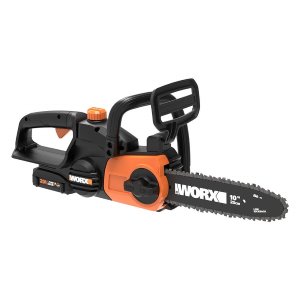 The Worx WG322 Cordless Chainsaw is an amazing unit. This is a super small chainsaw with only a 10-inch bar and chain. It delivers fast cuts, it has an automatic chain tensioning system, an automatic chain lubrication system, and it weighs only 6.2 pounds. To put that in perspective, it weighs about the same as a 2-liter bottle of water.
Because of its extremely small and compact size, this is the cordless chainsaw you need to keep the strain off your back, shoulders, and wrists. This is definitely one of the safest chainsaws you could possibly use.
Automatic Functions
Make no mistake, this is an extremely modern chainsaw. It features two key automatic features that keep your chainsaw performing with precision for many years to come. For example, the automatic chain tensioning system allows for the perfect tension with your chain at all times. And this works without having to use any tools.
As for the auto chain lubrication system, this works to ensure your chain is properly oiled at all times. This is incredibly important so that your chainsaw makes smooth and efficient cuts without slowing, jamming, or causing kickback.
Additionally, having an automatic chain lubrication system extends the life of your chainsaw dramatically. There is even a level indicator that lets you know when your oil is getting low.
Fast Chain
This chain is extremely fast. The chain that comes on the tool itself from the factory is extremely tough even for being super lightweight. It gives you the experience of having a smooth saw that slices through wood without any effort on your part.
---
---
Husqvarna 440e II Gas Chainsaw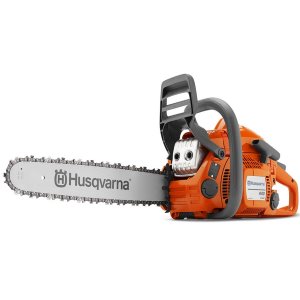 The Husqvarna 440e II Gas Chainsaw is a miniature gas chainsaw with serious power. It features the X-Cut Chain and X-Force Bar, which are incredibly resilient and stand up tough to lots of punishment, allowing you to cut through lots of wood before ever needing to replace the chain.
This is the biggest chainsaw on the list, with a 16" bar and chain – and it is also the only gas chainsaw on the list. It has an incredible 2-cycle engine, a smart design, great technology for easy starting, low vibration, and so much more.
LowVib System
Most gas chainsaws are notorious for vibrating like crazy. They vibrate and shake until your hands go numb and you don't want to use the chainsaw anymore. But with this awesome new unit from Husqvarna, it comes with a LowVib system that dampens the vibration to keep you from being uncomfortable.
Lightweight & Strong
The chainsaw only weighs 9.8 pounds, and with the anti-vibration system, you can easily operate this machine for the whole day without straining yourself in any way. Because of its robust design, extremely sharp chain, nearly unbreakable bar, and strong engine, this is the best tool if you need heavy cuts, like chopping apart fallen trees in your yard.
Also, the powerful engine is fuel-efficient and outputs very few emissions, making it better for the environment than many other chainsaws.
---
---
Best Lightweight Chainsaw: A Complete Buying Guide
There is a lot to look for in a portable chainsaw. You want a lightweight chainsaw that does not sacrifice power or mobility, and in fact works just as great as a big, heavy chainsaw. The bonus of using a lightweight chainsaw is that you don't strain your muscles and you don't get tired. You can use a lightweight chainsaw throughout the entire day and finish while still feeling good.
Battery Power
One of the most important things is battery power. Your battery must have enough juice to power your chainsaw through many cuts without dying. There is nothing worse than a battery that dies constantly, even if you can easily switch the batteries out.
For this, I highly recommend finding a chainsaw that uses a large battery with 40V, or a chainsaw that uses twin 20V batteries. This will give you the power and sustainability to work all day. Because as you may have guessed, a cordless chainsaw's power depends on the strength of its batteries.
When talking about a gas chainsaw, things are a little different. You want a lightweight machine that is fuel-efficient and does not spew horrible exhaust emissions into the sky. Always try to find the most eco-friendly gas chainsaw when shopping for a new tool.
Related Articles:
Maneuverability
lightweight means portable, and you probably want a lightweight chainsaw just for the fact that it is indeed more portable. You can take it anywhere on your property and immediately start cutting. If the chainsaw is lightweight but looks a little strange, it is probably not that great. It needs to be well-designed so that you can cut at all kinds of strange angles with maximum maneuverability.
I always suggest picking a chainsaw that has cushioned handles, a main handle that wraps all the way around the chainsaw, and a reliable handguard. The handguard is very important because it is what stops stray pieces of wood from falling and crushing your fingers.
Because you are looking for a lightweight chainsaw, you probably only want to use it for residential use. A small chainsaw with a 12" bar and chain is not going to be much good for industrial wood cutting. I suggest not buying a chainsaw with a bar longer than 12". It is just not practical for maneuverability in your yard.
Alternatively, if you want a lightweight chainsaw for big jobs like chopping down trees, you may want to look for something cordless with a bar that is around 20". A good chainsaw with a 20-inch bar and chain is generally pretty adept at cutting down trees.
Best Lightweight Chainsaw: Final Thoughts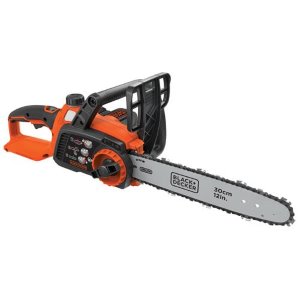 If you are still confused or unsure of which lightweight chainsaw is best for you, let me tell you what I think. In terms of a small and portable gas chainsaw, the Husqvarna 440e II is definitely the best. It does not output excessive emissions, and it is very light and easy to use. The Worx WG322 is also a good option if you are on a budget and looking for a cordless chainsaw.
The best is the Black & Decker LCS1240. There is really no arguing it. The chainsaw is incredibly strong with only a 12" bar and chain. It works with a 40V lithium-ion battery for longer runtimes than with most other cordless chainsaws, which only run using a 20V battery. And it is extremely lightweight. Anyone of any size can easily wield this chainsaw.
If you are looking for something to help you around the house, and the yard, or cleaning up debris on your property, go for the Black & Decker. It is excellent for branches and it can cut through relatively thick trunks.
---
Related Articles: