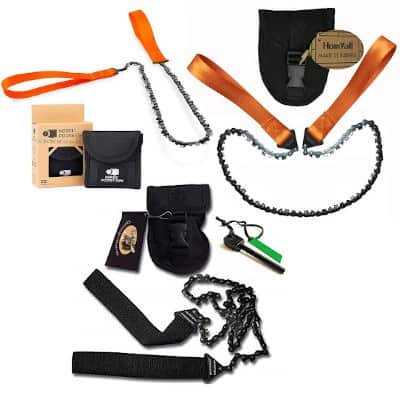 Today we are looking at the best pocket chainsaw. We will be looking at three separate options, each of which is a phenomenal pocket chainsaw with lots of versatility and loads of raw power. You can expect each pocket chainsaw we talk about today to have high packability and double cutting teeth for serious slicing power. You finally have the ability to cut down a full tree with your bare hands!
For anyone who wants a chainsaw in their pocket, these are the tools you need. Pocket chainsaws fit on your belt, you can take them out at any given time, and they can cut through thick trees using your own hand strength. Most pocket chainsaws are made from heat-treated carbon steel, most of them are built with special nylon handles that can withstand incredible forces, and some of them come in a nice variety of colors.
Top Rated Pocket Chainsaws
---
Nordic Pocket Saw – Best Overall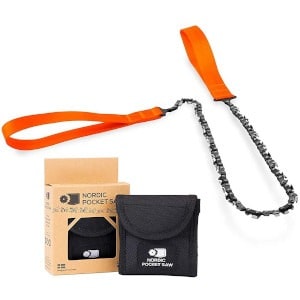 The Nordic Pocket Saw is an amazing tool that can be used by survivalists in tense situations. This is the ultimate chainsaw to have in your pocket for life's unexpected hiccups. It is a handheld chainsaw, it is a survival saw, and is a camping saw. This is a piece of equipment you want to keep with you at all times in case you need the cut branches or anything else in the wild.
Lightweight & Tough
The Nordic Pocket Saw is extremely lightweight and powerful. This is an essential companion for any outdoorsman. The tool is ultralight and can be used to cut firewood for camping, and it can be easily stored either in your pocket, under the seat of your ATV, wedged beside your car seat, or literally anywhere else! It is super lightweight.
In terms of raw power, the Nordic Pocket Saw comes with double cutting teeth on every main link. This gives you even more power for cutting in all directions with your pocket chainsaw. There is a tooth on every element of the chain, which makes this pocket chainsaw far more efficient and far more reliable.
Carbon Steel
The chain itself comes crafted from the strongest heat-treated carbon steel around, which ensures that the blades are specially designed to be extra resilient under the most brutal conditions. And while the chain is made from carbon steel, the handles are made from extremely durable nylon. Not only are they comfortable and safe to use, but they even offer a fantastic grip when it is wet outside.
---
---
Homyall Pocket Chainsaw – Budget Pick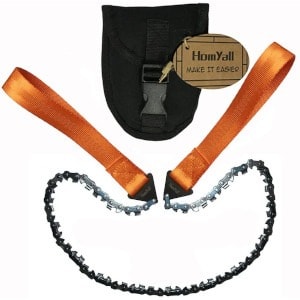 The Homyall Pocket Chainsaw is an excellent pocket saw at an affordable price. It comes included with 33 teeth, it's 24 inches long, and it cuts three times faster since it has a cutting blade positioned on every single link. Alternatively, you can choose the 36" model with 16 cutting teeth. Either way, this pocket chainsaw is worth the money!
Great for Survival
If you are an outdoors person, and you find yourself in the jungle or in the forest and you need to cut some trees down, either to build a shelter or to have some firewood, there is no better tool than the Homyall Pocket Chainsaw. This pocket saw comes with a 100% satisfaction or your money-back guarantee.
Thanks to the narrow chain and the bi-directional cutting teeth, you can now cut through wood on both strokes. This makes cutting extremely fast, especially since the chain is made from the toughest industrial-grade steel. This is not a tool that is going to let you down. Also, it weighs less than ½ a pound!
Small & Well-Designed
Even though this is a really tough chainsaw, it is very small. You can easily fit this in your back pocket. Its design is flawless, as it comes with over 30 flexible blades and a unique self-cleaning style of cutting teeth. The pocket chainsaw will stay in excellent condition even when using it frequently.
Another great feature in the design of his pocket chainsaw is its quick cutting ability. Because it has 3x more teeth than usual, you can finish your cuts 3x faster. This will reduce the amount of time and energy you spend cutting, therefore allowing you to focus on other survival tasks.
---
---
Sportsman Pocket Chainsaw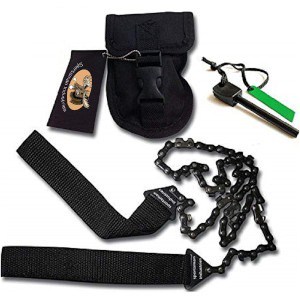 The Sportsman Pocket Chainsaw is affordable, high quality, great for camping and hunting, and probably one of the best tree-cutting tools to have in your emergency kit. This baby will replace your pole saw and keep you safe while in the forest. The saw is compact, it is easy to store, and it is extremely sharp.
The Perfect Size
Anyone who has been frustrated by pocket chainsaws that are too short will be pleased to know that this tool comes with a chain that is 36" long! That is much longer than most average pocket chainsaws. And the 36 inches don't even include the handles. This is a bi-directional chainsaw that self cleans and has razor-sharp teeth to tear through wood in both directions.
High-Quality Chainsaw!
Whether you need to cut through thin branches or huge solid tree trunks, this is the pocket chainsaw to do it with. This is the best cutting unit to have with you when a gas chainsaw is not an option. The saw is the ideal size, and it comes with rugged handles that have metal brackets so that they can be re-shaped to be more comfortable.
Plus, the nylon front snap storage pouch keeps the pocket chainsaw stored on your belt or nearby on your equipment. The chain is made from the toughest heat-treated steel and will last basically forever.
---
---
Best Pocket Chainsaw: A Complete Buying Guide
Target chainsaws are significantly different than normal chainsaws. No gas, no engine, and no battery. These are handheld tools that can be used in an emergency to cut firewood, to get a tree out of the way, and to hack up small branches.
When looking for the best pocket chainsaw, there is a whole different list of criteria than from a normal chainsaw. Try to remember that a pocket chainsaw is a piece of survival equipment. These can save your life in a tough spot.
Strong Chain
The first thing you want is a tough chain. It is absolutely imperative that the chain on your pocket chainsaw is tough and durable, built from ultra-strong material, and able to handle lots of cutting. A pocket chainsaw must be resilient during the harshest conditions. You will be using this tool outdoors, and you may be using it frequently. So, it better work!
Also, you want the handles of your pocket chainsaw to be built from something durable. The last thing you want is to slip when trying to use the handles. They should be comfortable, safe, and they should still have a great grip even when wet.
When it comes to the teeth on your chain, they need to be sharp. You need the most teeth possible so that you can effectively saw both ways efficiently and quickly, and without exerting too much energy. The more teeth you have, the faster you will cut through timber.
Related Articles:
Lightweight & Portable
Obviously, any pocket chainsaw you purchase is going to be lightweight. They are all designed to travel conveniently, either inside a pack or on your belt. Always make sure that your pocket chainsaw comes equipped with a handy traveling case, preferably one that you can clip onto your belt.
Your pocket chainsaw should also be small enough that you can wrap it into a small ball and pack it into a discrete location. This makes it easier for storing in a backpack or even in your pocket if you were ever to lose the case.
Length
You better hope you get a pocket chainsaw that is long enough to cut even the thickest trees. There is no sense in purchasing a survival chainsaw if it is too small to cut through thick logs that might be in your way. For this reason, I always suggest getting a pocket chainsaw that is at least 25" in length.
This will allow you, in theory, to cut through anything with roughly a 25" diameter. If the tree you want to cut is bigger than that, it may not be a job that your pocket chainsaw can accomplish. Just remember that these are versatile tools, and absolutely necessary when out in the wilderness.
Best Pocket Chainsaw: Final Thoughts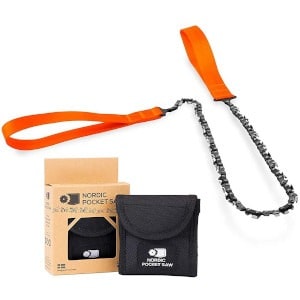 Today we looked at some very intense pocket chainsaws. These are great survival tools that anybody going into the forest should have on them somewhere, either tucked in a backpack or on their person. And while the Homyall Pocket Chainsaw is a great budget option, and the Sportsman Pocket Chainsaw Is a close second with a lot of great features and a strong design, they are not the best.
The best has to be the Nordic Pocket Chainsaw. This is the unit you want with you in a survival situation. It has 33 bi-directional teeth, one tooth on every major link, the entire chain is made from the highest quality of carbon steel, while the handles are built from strong nylon, and the entire package is lightweight and easy to store.
Before you start your next outdoor adventure, don't forget to grab the Nordic Pocket Chainsaw. This small tool could help you cut firewood, to make a shelter, and so much more!
---
Related Articles: