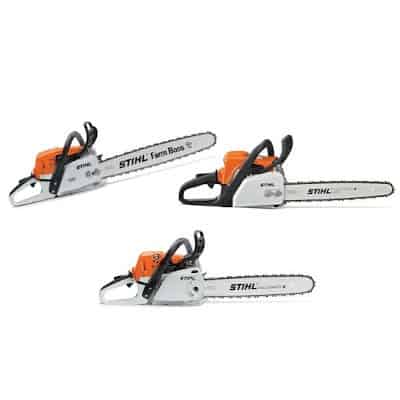 Stihl is one of the oldest chainsaw manufacturers in the world, and they definitely make the best chainsaws. Today we are going to look at which one is the best Stihl chainsaw. Each chainsaw we look at today has a powerful engine, a durable bar, and a sharp chain. These are quality chainsaws that will improve your outdoor work.
Whether you are doing landscaping on your property, working for a small landscaping business, or cutting down some trees in the forest for firewood, these chainsaws will make the work easier. They have great fuel efficiency, excellent features, and the newest technology in woodcutting.
You may notice a significant price difference between the Stihl chainsaws and other chainsaws you see for sale online, but the price difference really means a difference in quality. You simply can't beat the effectiveness of a Stihl chainsaw. These are manufactured to be perfect tools, and you can bet they don't come with a single cheap or ineffective component.
Top Rated Stihl Chainsaws
---
Stihl MS 271 Farm Boss 18" Gas Chainsaw: Best Overall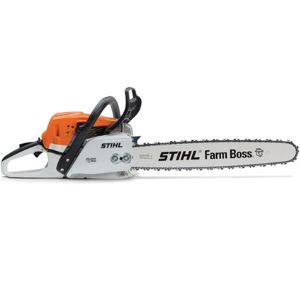 The Stihl MS 271 Farm Boss 18" Gas Chainsaw is one superb unit. This chainsaw comes with increased performance, outstanding fuel efficiency, and highly advanced technology. Fuel emissions have been cut pretty much in half, and the entire chainsaw has been given a top-notch ergonomic makeover.
If you are looking for an all-around quality chainsaw for a wide range of different applications, this is it. The 18" bar is strong enough to tackle any major task you throw at it!
A Better Engine
The engine that comes with this chainsaw is simply better than previous models. It offers higher performance with better fuel efficiency and a runtime that is 20% longer than other similar chainsaws. This means you can use the chainsaw for longer between refueling times, and it also means that exhaust emissions have been cut in half.
With drastically lower exhaust emissions, you can work throughout the day knowing that you are not polluting the environment. You can also work through the day more comfortably because of the well-designed handles and the ergonomic shape of the chainsaw. It is extremely well-balanced.
Maximum Filtration
This chainsaw comes equipped with one of the best air filtration systems around. It has pre-separation air filtering technology that actually reduces the dirt that reaches the air filter inside the machine. This results in less cleaning and less maintenance, which will boost the longevity of your chainsaw and the efficiency of its engine.
---
---
Stihl MS 170 16" Rollomatic Mini Gas Chainsaw: Budget Pick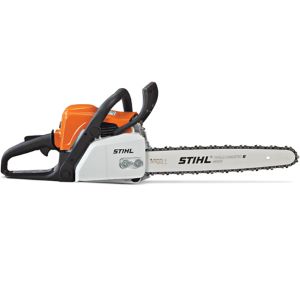 The Stihl MS 170 16" Rollomatic Mini Gas Chainsaw is arguably the best pint-sized chainsaw available today. This machine is excellent for homeowners, delivering just enough power to buzz through tree branches, to cut up firewood, and to clean up yard debris after a storm.
The chainsaw also comes equipped with loads of advanced features, like the Ematic Lubrication System and the IntelliCarb compensating carburetor, which both work to prolong the life of the machine while maintaining maximum efficiency.
A Better Carburetor
The carburetor on this chainsaw has been dramatically improved. It is now equipped with an IntelliCarb compensating carburetor design that adjusts the air/fuel ratio automatically whenever the air filter becomes clogged or partially blocked due to debris. This keeps the carburetor functioning properly even if you forget to clean the air filter.
With a carburetor that works 100% of the time, you can expect your chainsaw to perform with maximum efficiency at the highest RPM levels.
Ematic Lubrication System
Every modern chainsaw comes with an automatic lubrication system. However, this impressive new chainsaw from Stihl comes with an improved Ematic Lubrication System, which puts all the other automatic oilers to shame. It still works by providing constant lubrication to the guide bar so that your chainsaw functions perfectly, but it does so a little differently.
This oiler consumes much less oil than conventional methods. In fact, it uses roughly 50% less oil than other lubrication systems. This will save you money on oil, and it will save you time worrying about refilling the oil reservoir.
---
---
Stihl MS 251 C-BE 18" Rollomatic Gas Chainsaw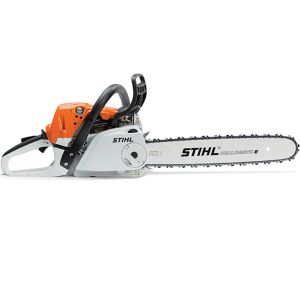 The Stihl MS 251 C-BE 18" Rollomatic Gas Chainsaw is a seriously robust chainsaw with lots of power. It comes with tool-less chain tensioning, a low-vibration handle, a powerful chain brake system, and a useful primer bulb.
If you are looking for a powerhouse of a tool that can cut down medium-sized trees and hack up firewood for the winter, this is it. The body is extremely light for such a heavy piece of machinery, and it has excellent fuel efficiency.
Easy Starting
Nobody wants to fight with their chainsaw. The MS 251 Rollomatic comes with Stihl's unique Easy2Start system for advanced starting – no more fighting! This system makes it so starting the chainsaw is extremely easy. With one quick pull of the cord, the engine will usually start right away.
The system works to minimize the effort it takes to actually start the engine. The pull cord is easier to use, and there is less chance of the engine flooding because of too much fuel.
Masterful Features
Yes, this is a pretty expensive chainsaw. But that is because it comes with all the best in advanced features. It has reduced-emission technology to help the environment, it has a quick chain adjuster so that you can easily adjust the tension of the chain without using tools, and it has a smart anti-vibration system to lessen user fatigue and make you more comfortable while operating.
There is also a master control lever, which combines the coke, startle throttle lock, and the power switch all in one convenient place.
---
---
Best Stihl Chainsaw: A Complete Buying Guide
There is a lot to look for in a quality chainsaw. Considering we're talking today about Stihl, the original chainsaw manufacturer, you can bet right off the hop that quality will be there. This company simply does not make flawed machines. Everything here is effective.
But there are still differences to consider. You have to think about size, about fuel efficiency, and about environmental impact.
Chainsaw Size
The most important thing you need to think about when purchasing a new chainsaw is what size you want. Depending on what kind of work you're doing, size plays a huge role. For example, a 16" chainsaw is better for pruning and for cutting firewood than it is for felling trees.
If you want to fell a big tree, you definitely need a larger chainsaw, probably something at least 18" or bigger. You always want to purchase a great Stihl chainsaw that suits the kind of work you will be doing. Getting a chainsaw that is too big will end up being more frustrating in the long run to do small tasks.
A general rule is that you want a chainsaw with a bar that is 2 inches longer than the majority of what you will be cutting. If you are cutting trees that are roughly 22" in diameter, you want a chainsaw with a 24" bar. If you are cutting small branches no bigger than 10" in diameter, any chainsaw with a 12" bar will be sufficient.
Related Articles:
Engine Technology
You absolutely must get a chainsaw with the best engine technology. This is basically unavoidable in choosing a Stihl chainsaw, since they are all developed quite well, but you can still keep a lookout for an engine that offers reduced toxic emissions and great fuel efficiency. This is extremely important for anyone who cares about the environment!
In fact, Stihl is doing their best to make their engines with extremely low exhaust emissions, very close to zero. That also means that Stihl chainsaws have great fuel efficiency since they're burning much less fuel. Always try to find an engine that comes with at least a 20% longer runtime than one of their older models.
Other features you must have with any good Stihl chainsaw include anti-vibration technology, an ergonomic trigger, comfortable handles, toolless adjustments, easy access to the chain tensioning system and the air filter, and a quality air filtration system to boost the efficiency of your engine.
While most Stihl chainsaws do come with all these amazing features, you want to check and make sure. Don't let yourself be caught off guard by purchasing one of the lower-end models.
Best Stihl Chainsaw: Final Thoughts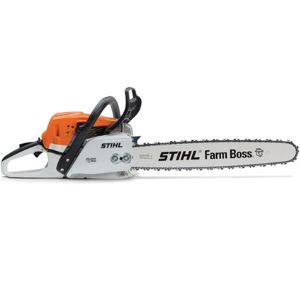 All three chainsaws we looked at today are fantastic. It is extremely hard to choose the best from three stunning pieces of equipment. The Stihl MS 170 is a great budget unit with a smaller bar & chain for more intimate jobs, and the Stihl MS 251 C-BE is an excellent powerhouse for cutting trees and doing yard work. However, the Stihl MS 271 Farm Boss is definitely the best value for your money.
The 271 comes with a powerful engine and minimal environmental emissions, it has a superb air filtration system to reduce the amount of dirt that clogs your air filter, and it has an anti-vibration system to increase comfort and mitigate user fatigue. All these features make for a comfortable cutting experience.
I highly recommend the 271 Chainsaw for anyone who wants a robust gas chainsaw with easy handling, a lightweight design, and excellent cutting power. If you want a chainsaw that will last for many years to come, it is definitely worth the extra money to pick up a Stihl chainsaw.
---