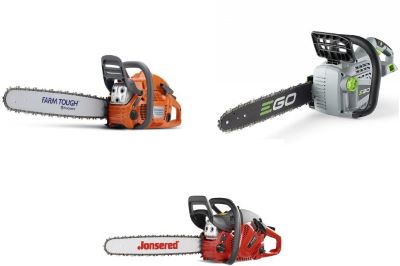 Are you ready to get your hands on the best chainsaw? Lucky for you, I am here to help. Today we are going to look at three chainsaws that will revolutionize the way you cut wood. We will look at gas-powered chainsaws and electric chainsaws, all of which are extremely strong and can be used for cutting through hardwood as well as trimming hedges and grooming your trees.
The best chainsaw must come with excellent power, a flawless motor, the best chain speeds, an ergonomic design, smart technology, and impressive torque so that you can cut through all of the hardest materials.
The truth of which chainsaw is best will ultimately depend on you. You may not want to use a gas chainsaw because of the environment, in which case an electric chainsaw is definitely going to be your choice. No matter what, you will have a better experience doing yard work with one of these tools.
Top Rated Chainsaws
---
Husqvarna 455 Rancher Gas Chainsaw – Best Overall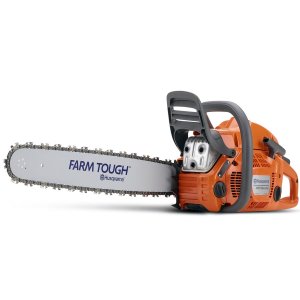 The Husqvarna 455 Rancher Gas Chainsaw is undoubtedly the best in its class. This chainsaw is great for anyone who owns a lot of land and needs to do constant maintenance. It has a 55.5 CC engine, a 20" bar and chain, quick release air filters, a side-mounted chain tensioning system, 3.49 horsepower, and it only weighs around 13 pounds.
Combo Control
This chainsaw is a great combination of everything. It is a combination of lightweight design and robust power, it uses a combination of premixed fuel, and it has a combined choke + stop control that lets you start the chainsaw faster and reduces the risk of your chainsaw engine flooding.
Also included with this machine is something called a scrench. This is a combo tool that is half a screwdriver and half a wrench. The whole point of the included scrench is for you to make quick adjustments to the chain and bar without having to sift through your toolbox.
A Real Chainsaw
Lots of the chainsaws that you see for sale online are not the best. They are mostly poor-quality electric chainsaws that are built from flimsy plastic and are barely tough enough to chew through a single branch. But with the 455 Rancher, you get a legitimate chainsaw. This thing feels like a chainsaw in your hands, even though it only weighs about 13 pounds. And you can really hear the chainsaw sound when you start it up.
With 55.5 CCs of power, smart-start technology, an air injection system, very low vibration, and reduced fuel consumption, you can feel that this is a very real chainsaw with very real power.
---
---
EGO Power CS1400 Cordless Chainsaw – Budget Pick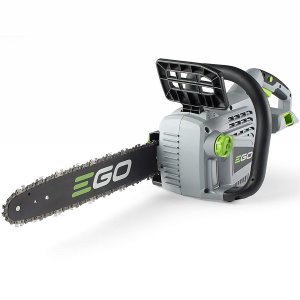 The EGO Power CS1400 Cordless Chainsaw is a budget electric chainsaw that offers incredibly high RPMs. This chainsaw has a brushless motor that outputs 6,300 rotations per minute. Combined with its 14-inch Oregon bar and chain, its weather-resistant construction, and its modern features, this is an excellent portable chainsaw that you can use at home or take with you into the wilderness.
Full Portability
What I really love about this cordless chainsaw is that it is super portable. It weighs less than 10 pounds, making it ideal for carrying all day long. If you are looking to clear some trails in the woods, to remove fallen debris, or to generally maintain a trail, this is a great chainsaw.
Each battery charge lasts an extremely long time, giving you upwards of 100 cuts before you need to recharge, and the machine itself is super reliable. You can even check the hundreds of online reviews that have given this chainsaw five stars. It is that good.
Excellent Safety
Because the chainsaw can be a very dangerous tool, it is nice to know that the EGO Power + comes with excellent safety features. There is no way you can injure yourself while using this chainsaw unless you really want to. It comes included with a chain kickback brake feature for an additional level of safety and control.
Plus, the chain tensioning knob is super easy to use, allowing you to have your chainsaw perfectly tuned at all times.
---
---
Jonsered CS2245 Gas Chainsaw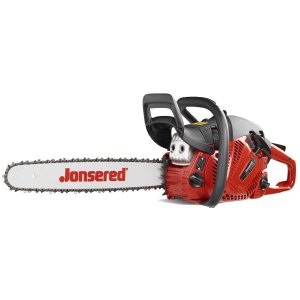 The Jonsered CS2245 Gas Chainsaw is one of the cleanest gas chainsaws I have ever seen. It has an engine that burns extremely cleanly with exhaust emissions that are up to 75% reduced in comparison to other similar models. This unit also has increased fuel efficiency of up to an amazing 20%. It can produce great power even when you use the blades at low speeds.
Turbo Intake
If you are looking for a chainsaw with great technology, look no further. This excellent tool has a specialized turbo intake air system that uses centrifugal force to remove and separate up to an outstanding 97% of the dust and sawdust particles before they have a chance to reach the air filter inside the machine.
This means that your chainsaw will continue to work at optimal performance for way longer because its inside components do not get jammed or caked with dust.
The Best Affordable Chainsaw
You can't really beat this chainsaw considering how affordable it is. It comes with a ton of features and a very modest price tag. There is a side-mounted chain tensioner that allows for quick adjustments, it has handles that are insulated with steel springs so that you don't get bothered by vibration, the entire unit is ergonomic for easy handling and less user fatigue, and it has extreme cutting power.
It is also very easy to maintain thanks to the snap-lock cylinder covers, which give you instant access to the internal air filter, spark plug, and other parts. You don't even need to loosen or remove any screws or bolts to access these critical internal components.
---
---
Best Chainsaw: A Complete Buying Guide
It is time for you to buy the best chainsaw. But what does that mean? The best chainsaw should be a tool that you can use to do all of your cutting. A great chainsaw will be powerful with low exhaust emissions, great fuel efficiency, and a well-designed body.
The features you will find on chainsaws differ between electric and gas. You will need to decide which one is better for you. You'll also need to determine how large you want the chainsaw, as they come anywhere from 14" to 20" and above. Before you decide on which model you like the best, here are a few things to keep in mind when shopping.
Lightweight & Powerful
Obviously, your chainsaw needs to be powerful. But that does not mean it needs to be bulky, cumbersome, and hard to wield. The ideal chainsaw should have great horsepower, a robust engine, and be lightweight enough to easily maneuver to do all of your cutting.
Versatility is a huge bonus in a chainsaw. If your chainsaw is too big and bulky, it will be annoying to use for gardening at home, like when you need to clear some branches from your neighbor's tree, the one leaning over your fence. The best thing is to have a medium-sized chainsaw that can do everything, like cutting thick logs and cutting thin branches.
Related Articles:
Automatic Oiler
This is a feature you will find on most modern chainsaws. An automatic oiler is used to deliver a constant supply of lubrication to your chain. This makes sure your chain continues to spin at optimal speeds without becoming dangerous and without jamming or slowing down.
Another similar feature that you will find on the best chainsaws, such as the Husqvarna, is a chain tensioning system. This system will let you make quick adjustments to the chain while you are working, and it is generally side-mounted for easy access.
Air filters are great to have on your chainsaw as well. Quick-release filters are the best since they are the easiest to clean and to replace. Quality air filters keep your machine in tiptop shape.
Electric or Gas?
This is something you need to decide for yourself while shopping for the best chainsaw. Electric chainsaws offer lower noise, less hassle, and are better for the environment. Electric chainsaws come with a cord or come with batteries, and are generally used for yard work.
A gas chainsaw is better used for heavy-duty outdoor work. Gas chainsaws are typically stronger, they weigh a little more, they have more torque, and they have greater horsepower. If you want to cut trees down, you would be better off with a gas chainsaw. It all depends on what kind of work you are planning to do.
Best Chainsaw: Final Thoughts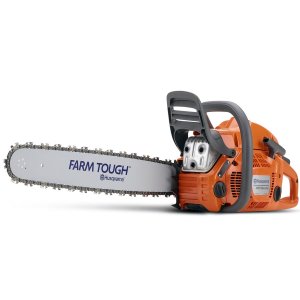 These are some pretty great chainsaws. The Jonsered CS2245 Gas Chainsaw is a perfectly capable unit that stores easily, cuts well, and has low exhaust emissions; while the EGO Power + is undoubtedly the best electric chainsaw money can buy. However, my favorite, and I think the best, has got to be the Husqvarna 455 Rancher Gas Chainsaw.
If you want a chainsaw that is not just good for landowners, but also great for homeowners, this is the choice for you. It has a 2-cycle engine with a safely designed chain break, it operates at 55CCs, it has a 20" bar and chain for cutting through the thickest materials you will find on your property, and it is comfortable to use.
I recommend the 455 Rancher for anyone who needs to do more than just yard work. While this machine can definitely cut branches, it can also cut trees and is very helpful in clearing land.
---
Related Articles: