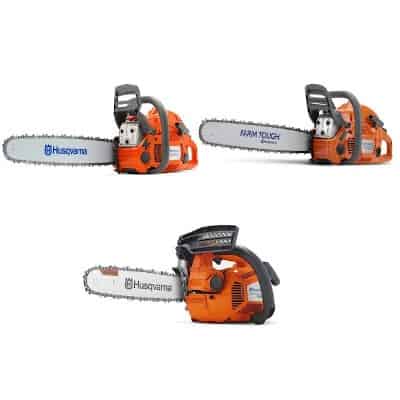 Are you looking for the best Husqvarna chainsaw? Then you are in the right place. Today we are going through the three best Husqvarna chainsaws on the market. These are chainsaws with incredible power, great fuel efficiency, low exhaust emissions, automatic features, and so much more.
These chainsaws are excellent for people who do a lot of outdoor work, who need some help trimming their trees, or who take care of trail maintenance. These chainsaws are even great for cleaning up the debris after a big storm. I guarantee you can find limitless uses for any one of these awesome chainsaws.
Each chainsaw has its own unique features, and each will appeal more depending on what your needs are. We will look at two 20" chainsaws and a single 12" chainsaw, and at the end, we will announce which of them is the best value for your money.
Top Rated Husqvarna Chainsaws
---
Husqvarna 460 Rancher Gas Chainsaw – Best Overall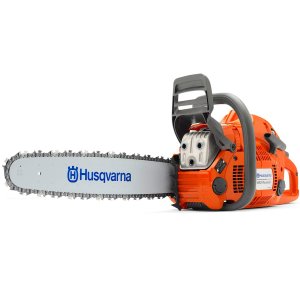 The Husqvarna 460 Rancher Gas Chainsaw is an amazing unit. This chainsaw comes in a variety of packages, including an 18" bar, a 20" bar, and a 24" bar – both in .050" gauge and .058" gauge. The chainsaw itself comes with a 2-cycle engine and an inertia-activated chain brake for maximum safety during operation.
The chainsaw is orange, it has 3.62 horsepower, 60.3 CCs, and it only weighs 13.2 pounds. Plus, it offers a maximum speed of 9,000 RPM.
Smart Start
Like most modern Husqvarna chainsaws, this unit comes complete with Smart Start technology, which makes starting the chainsaw effortless. One easy pull on the cord results in an immediate start. The entire system is designed to give less resistance when you pull, as well as to prevent the motor from flooding accidentally.
The result is an easy chainsaw that always starts when you need It. No more struggling and no more fighting when you need to start your chainsaw at the beginning of the day.
Quick-Release Filter
Sometimes there is nothing more annoying than having to change the air filter on your chainsaw. With heavy use, there is no avoiding dust and debris floating into your chainsaw and getting caught in the air filter. Even with the great air injection system, debris is still going to get stuck in your filter.
With the 460 Rancher, you can easily change the air filter in about a minute without using any tools. The cover pops off effortlessly and the air filter comes out. It takes literally no effort, which makes your whole operation much more convenient.
---
---
Husqvarna T435 Gas Chainsaw – Budget Pick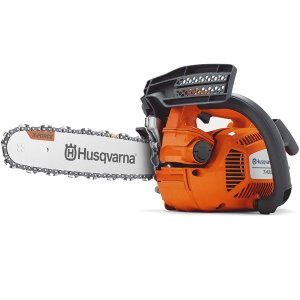 The Husqvarna T435 Chainsaw is a powerful product. This small chainsaw comes in a compact package that is extremely portable, very lightweight, and undeniably powerful. This is probably the best chainsaw for using at extreme heights.
It cuts branches with ease, it can make hundreds of cuts on a single tank of fuel, and it comes with a special rope attachment so that you can easily hoist it into a tree with you. No more dangerous carrying of all your tools up a ladder.
Anti-Vibration
If you are high up in a tree, the last thing you want is too much vibration from your chainsaw. Too much vibration can throw you off balance, can seriously fatigue your arms, and can make the entire day an absolute nightmare. Not mention, vibration can be dangerous.
Luckily, the T435 chainsaw comes with an anti-vibrational system that is designed specifically to increase comfort and to decrease the amount of fatigue felt by the operator. With this chainsaw, you can work all day and never get tired.
X-Force Bar + X-Cut Chain
This is a brand-new chainsaw from Husqvarna, and so it comes with the X-Series of bonuses, like the X-Cut Chain and the X-Force Bar. Basically, this is a bar and chain system that is greatly enhanced from previous models. You get a much better cutting experience and longer durability because the blade and chain are built incredibly strong.
---
---
Husqvarna 455 Rancher Gas Chainsaw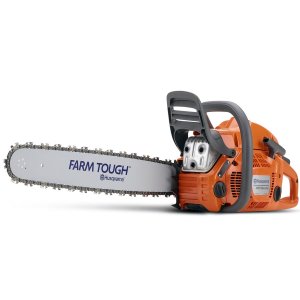 The Husqvarna 455 Rancher Gas Chainsaw is a perfect chainsaw for any homeowner or outdoorsman. If you need to cut down trees, to trim trees, chop logs into firewood, or even to cut your grass, this is the chainsaw for you. It is extremely lightweight at only 13.2 pounds, it offers 3.49 horsepower, and it has a 55.5CC engine.
The 455 Rancher has all the features you expect out of a new Husqvarna chainsaw, like the included multitool, the combination choke/stop control, and the LowVib anti-vibrational system.
Landowners Love It
If you own a large plot of land, if you live on an acreage, or if you just love the outdoors, this is the chainsaw for you. You can easily walk around your property all day carrying the chainsaw because it is super lightweight. Also, because the chainsaw is so durable, it is not going to break when you drop it or smash it against a tree.
Another reason landowners love this chainsaw is that it starts and stops when they want it to. The Smart Start technology makes it a breeze to pull the starter, while the choke/stop control prevents the engine from flooding.
Side-Mounted Tensioner
A great new addition to the 455 Rancher is the side-mounted tensioning system. No longer do you need to stop work, bust out the tools, and waste time adjusting the chain. This new system allows you to adjust the chain with the included multi-tool without having to stop work. It is a much better system that saves you a lot of time.
---
---
Best Husqvarna Chainsaw: A Complete Buying Guide
There is so much to consider when trying to choose the best chainsaw. You want a perfect combination of power and maneuverability. You definitely need an anti-vibration system to keep your hands and arms from being fatigued, and you need easy access to tensioning and other systems.
Low fuel consumption is a bonus and low emission levels are even better. Here are some of the top features to make sure your new chainsaw has.
Fuel Efficiency & Exhaust Emissions
While the most rugged lumberjack may not care about the environment or about fuel efficiency, the average homeowner might. If you are a person who cares about the environment, you definitely want a gas chainsaw that offers the most reliable fuel efficiency. The less fuel used, the better.
You also want to have low exhaust emissions. Your neighbors probably won't appreciate a loud chainsaw spewing black fumes into the sky, and neither will you. Always try to buy a chainsaw that offers a massive reduction in emission levels. You definitely want a company, just like Husqvarna, who takes environmental regulations seriously.
Easy Access
Easy access is super important for your chainsaw. If you are standing in a boom 30 feet above the ground, you need the ability to make instant adjustments without tools. Whether you just have to clean the air filter or make an adjustment for the tension of the chain, it needs to be simple.
I highly suggest getting a chainsaw that comes with a chain tensioning system mounted directly on the side of the unit. These do not require any tools to be used. Also, a rope attachment is ideal if you are cutting trees. You can easily hoist the saw upwards with a handy rope attachment.
Related Articles:
Every modern chainsaw should come with an automatic chain oiler. If you are looking at a chainsaw without one, don't even think about it. An automatic oiler makes it very convenient to keep your bar and chain safely oiled. If your bar and chain are oiled properly, they will work effectively and output the maximum power speed.
Powerful Engine
Having a powerful engine is important, but there should be a balance. You do not want a 25-pound chainsaw just because it has the most power. You won't be able to lift it. And even if you can, your back will be broken. You definitely want a chainsaw that is pretty lightweight but still offers great horsepower.
I would say an engine that puts out 50CCs or more is ideal. This is enough power to make an 18" bar effective, or a 24" bar effective. Anything that has at least more than 3.4 horsepower is best.
Best Husqvarna Chainsaw: Final Thoughts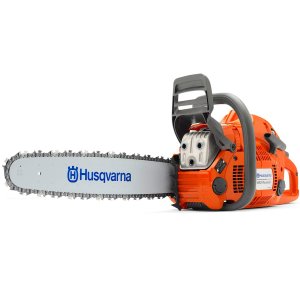 These three chainsaws are really quite remarkable. The T435 is a great budget unit that comes in a compact size and offers quite a bit of power. And the 455 Rancher is an all-around useful tool that will keep you cutting for years to come. However, the best Husqvarna chainsaw is definitely the 460 Rancher.
The 460 comes with everything. This is the most robust chainsaw on the list. It has the most powerful engine, it is perfectly balanced, it comes with an automatic chain oiler, and you can upgrade the bar to be 24 inches. This gives you more cutting capabilities than any other chainsaw on the list.
If you are looking for something that will cut down entire trees, that you can use for high-up trimming, and that looks awesome and works like a dream, this is the chainsaw you need. It will never let you down, it is reliable and won't fail, and it offers minimal vibration and a Smart Start system for easy use.
---
Related Articles: