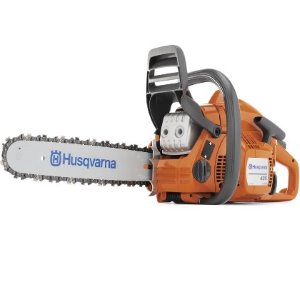 In my Husqvarna 435 review, you will learn all about how this is the best 16" gas-powered chainsaw on the market today. This is an extremely lightweight chainsaw that anyone can pick up and handle with superior ease. The inner workings are super strong, the casing is very durable, and you get a lot of power out of this little chainsaw.
But maybe little is not the right word. If anything, the 435 is the perfect size for a wide variety of jobs. If you are doing chores in the yard, cutting up firewood, or just pruning the trees in your field, this is the best chainsaw to do it with. Plus, you can easily leave it in your garage all winter and then start it up again in the spring with no issues.
The 435 Chainsaw has an impressive air cleaning system, it has a combination start/stop switch with smart technology that ensures a clean start every time, and you get better fuel consumption than with other chainsaws. This is really the most reliable chainsaw for such a low price.
---
Husqvarna 435 Review: Overview
The Husqvarna 435 is a great chainsaw. Any bushman would be happy spending a day outside clearing trails and buzzing through wood with this great unit. It comes highly recommended by hundreds of people, including myself, and it has a proven track record of reliability and quality that cannot be disputed.
Let's go ahead and look at all the relevant features that will make you fall in love with this Husqvarna chainsaw.
---
Air Cleaning System
Everyone knows that when you get too much dust and debris inside your chainsaw, it is not good. Too much dust can clog the internal parts and seriously damage your chainsaw, or at least prevent you from using it until you take the whole thing apart and clean it.
And while the air filter helps with this, what if there was another guard before the air filter that stopped any dust from even entering the machine? With the 435 Chainsaw, there absolutely is. This machine implements a centrifugal air cleaning system that removes big particles of dust and debris before they ever have time to reach the internal air filter.
Basically, debris is pushed out of the machine before it can even come into contact with the air filter. This means you change air filters less frequently, and your machine does not become infested with dust, bugs, and any other floaty bits that might get flung into the tool while you are working.
---
X-Torq
X-Torq is an impressive technology used by Husqvarna inside their chainsaw's engine to deliver maximum performance like you would not believe. With X-Torq technology, the engine offers some of the best fuel consumption ever. You will use way less fuel with this chainsaw than with other gas chainsaws that are the same size. You also get an outstanding 40.9CCs of unstoppable power for all the best cutting.
Not only this, but the engine is also better for the environment. There are drastically reduced exhaust emissions when you use the Husqvarna 435 Chainsaw thanks to the X-Torq engine. The exhaust emissions are very low to stay in accordance with some of the world's most intense environmental regulations.
This is an absolute must for anyone who loves the outdoors, who needs a chainsaw to do their job, and who also wants low emissions. Think of this like a fuel-efficient and environmentally friendly car, only it's a chainsaw.
---
Maximum Comfort
There is nothing more important when using your chainsaw than comfort. You absolutely must be comfortable when using your chainsaw or it will be more of a chore than anything. Nobody wants their arms to feel weak and numb after 20 minutes of cutting wood. It is absolutely critical to have a comfortable chainsaw that you can easily maneuver into strange positions to cut wood perfectly.
Luckily, the 435 Chainsaw is extremely comfortable. It comes with a soft inlay, an ergonomic trigger, and an asymmetrical handle. These all work to keep you feeling relaxed and focused while using the chainsaw.
Another thing that makes the chainsaw super comfortable is how easy starting the engine is. Equipped with Smart Start technology, the Husqvarna 435 is easily started with the first pull of the starter. There is no more uncomfortable yanking of the cord with nothing but a gurgle from the engine. This chainsaw will start every time you use it.
Related Articles:
This is thanks to the combination start/stop switch, the advanced fuel pump, the smartly designed pull-start, and even the fuel hoses. Everything here works together so there is no flooding of the engine, no clogging of the fuel hoses, and a perfect pull on the starter every time.
I can't stress enough how important the Smart Start feature is. If you have ever tried to start a chainsaw before, or even a lawnmower for that matter, you understand how tough it can be. Having the starter work 100% of the time is a dream come true.
---
Husqvarna 435 Review: Final Thoughts
If you are still undecided about this chainsaw, I probably can't change your mind by now. You already know the amazing features of the Husqvarna 435, including its superior air cleaning system that keeps the air filter clean and the dust out of your chainsaw, the X-Torq engine that gives you the best fuel consumption with massively reduced exhaust emissions, and it's smart start system for a perfect pull every time.
All I can say now is that I recommend this chainsaw to anyone who owns a home, who owns a large piece of property, or who just wants a chainsaw to scare their friends. This baby works using the minimum amount of gasoline, it is built durably so that you won't need to buy another chainsaw in the near future, it comes included with soft handles and an ergonomic trigger, and it looks great in orange. I can't recommend the 16" Husqvarna Chainsaw enough.
---
Related Articles: