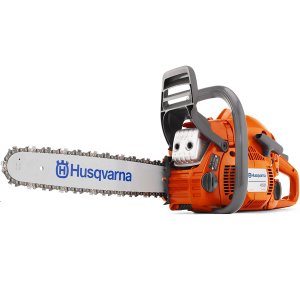 In my Husqvarna 450 Review, I will detail all the amazing features of this great gas-powered chainsaw and how it can improve your work in the field. This chainsaw comes with a super-strong 3.2 horsepower X-Torq engine that works to reduce the harmful exhaust emissions found in most chainsaws while still increasing its fuel efficiency.
If you want a comfortable chainsaw that does not make a lot of noise but still has a lot of power, this is it. It comes with unique vibration dampening capabilities and a smart start feature that makes it easier to start on the very first pull each time. The chainsaw even has a choke/stop control.
For doing yard work, for chopping logs into firewood, and for all kinds of other wood-cutting tasks, this might be the very best 18" chainsaw that you can buy from Husqvarna. Besides being powerful, quiet, and fuel-efficient, it also comes with a centrifugal air cleaning system to maintain the life of the chainsaw for longer.
---
Husqvarna 450 Review: Overview
There is almost too much to say about the Husqvarna 450 Chainsaw. It comes with all the features you would expect of a modern gas chainsaw, including an easy startup, an ergonomic design, simple operation, and an ultra-powerful engine. Did I mention it looks great with its orange exterior?
Let's go over some of the key features of this rock-solid chainsaw and why it will work for you.
---
Powerful Engine, Low Emissions
In this day and age, nobody wants a noisy engine that outputs lots of toxic emissions into the atmosphere. That is just not something people are OK with anymore. But with the Husqvarna 450 Chainsaw, you get a massive 3.2 horsepower engine and almost no emissions.
The 3.2HP engine is ideal for any kind of medium-sized job. For example, domestic cutting around your home will be a breeze with the chainsaw, from pruning branches to trimming hedges. Featured inside of the engine is special X-Torq technology that reduces the output of toxic emissions by an amazing 60%.
Not only are the emissions lowered, but the fuel consumption is decreased as well. You have an amazing 30% less fuel consumption than with other engines. You get great power, very few emissions, and a lot more use out of a single container of gasoline. No more worrying about heavy pollutants when you are using your gas chainsaw.
---
Durable
This chainsaw really is durable. It has been designed specifically to last a long time without breaking, failing, or malfunctioning in any way. The 450 Chainsaw uses a three-piece crankshaft, which has been compressed and forged for maximum stability. This means a stronger machine for a longer time.
Plus, the chainsaw comes with centrifugal air cleaning to preserve the life of the engine by completely getting rid of any harmful debris before it has a chance to reach the internal filter.
---
Easy to Start
The Husqvarna 450 is super easy to start. No more wasting your precious time yanking on the pull cord with nothing happening. Because the chainsaw uses a special choke/stop combination control, you can easily start the engine without the normal risk of it flooding.
Smart Start works to start the chainsaw quickly with the minimum possible effort by you, especially since the starter cord has been optimized for 40% less resistance. No more breaking your arm from pulling on the starter cord. The fuel pump has also been optimized to keep the fuel lines clear, thereby helping you start the machine cleanly every time.
---
Reduced Fatigue
Say goodbye to getting fatigued after 10 minutes of using your chainsaw. The 450 is constructed with a super lightweight frame which minimizes any extra strain that would be put on your body, even if you are using the chainsaw for an extended amount of time. In plain English, the machine is light so that it won't break your back.
Related Articles:
Additionally, there are now anti vibrational dampers installed to effectively absorb any possible vibration that would otherwise drastically fatigue your arms and hands. Anyone who has worked with an old chainsaw or an old weed-whacker knows the kind of fatigue that comes with excess vibration. Too much of it and you simply cannot work anymore because you are too uncomfortable.
With the Husqvarna 450, there is almost no vibration and almost no user fatigue. The rear handle has a soft inlay that adds even more comfort, while the ergonomic trigger makes long cutting jobs easy without your hand cramping.
---
Simple Operation
Everyone loves the simple operation of the Husqvarna 450 Chainsaw. It comes included with a snap-lock cylinder cover so that you don't waste time when changing the spark plugs or cleaning the internal parts of the unit. You can easily take the cover off, switch out some parts, and keep on cutting.
The tensioning system is toolless for your convenience, and the air filter is quick release for easy replacement. Even the fuel indicator is transparent, meaning you can simply glance at the window to see if you have enough fuel left to finish the job.
---
Husqvarna 450 Review: Final Thoughts
When it comes to buying a new gas chainsaw, you have a lot of options. Your local hardware store is flooded with shelf after shelf of chainsaws. But I guarantee if you choose to go with the Husqvarna 450, you will not be disappointed. This is one of their highest-ranking chainsaws to date.
This chainsaw operates with a 3.2 horsepower engine, it has a very sharp 18" chain, it offers vibration dampening technology and easier starting, and it has a unique centrifugal air cleaning system for proper maintenance of the machine.
This chainsaw can see you through all of the toughest woodworking projects you can imagine. It is built to withstand the intense rigors of outdoor environments, with a sturdy outer shell and extremely strong internal components. Plus, the orange color is extremely appealing. Nobody wants to use a boring yellow or green chainsaw. And so, I really like that they chose orange for the color.
---
Related Articles: