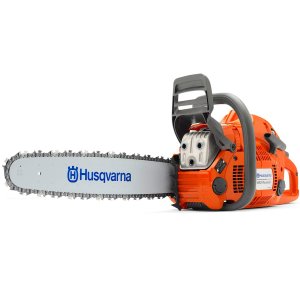 Welcome to my Husqvarna 460 Rancher review. Today we are going to learn about how amazing this chainsaw is. With a bar length of 20 inches, an incredible 2-cycle engine that outputs 60CCs of power, and 3.62 horsepower, this chainsaw is ready to handle not medium jobs, but super tough industrial jobs.
You can expect a maximum speed of 9,000 RPM when using the 460 Rancher. For anyone who needs to cut trees in the outdoors, this is the chainsaw for you. It only weighs about 13 pounds, which feels heavy but really isn't. And it comes easy to clean, easy to maintain, and easy to make adjustments while working.
One of the biggest bonuses, when you use this chainsaw, is that it does not output a lot of toxic emissions. In fact, did emissions are reduced and the fuel consumption is lowered because of the special X-Torq engine. If you care about the environment and you want to cut wood, this is the best combination chainsaw for you.
---
Husqvarna 460 Rancher Review: Overview
The Husqvarna 460 Rancher is a robust chainsaw that can be used with different sizes of bars to cut through any kind of wood, from Oak to Douglas. It is undeniably tough, it is built to withstand the elements, and it will work forever because of its smart maintenance systems.
Now let's take a look at all its amazing features.
---
More Power, More Cutting
The 460 definitely has a stronger punch than the 455, which is surprising considering how popular of a chainsaw the 455 is. The engine has been enhanced to output 60.3 CCs of raw, cutting power, and the horsepower is better. With so much speed and power, you can do more cuts in less time and with less struggle.
There is simply no beating this chainsaw when it comes to cutting through hardwood. While it is obviously not as robust as some of the seriously expensive units, and even though it is made with plastic parts, it is still a great piece of equipment. Yes, it is bulky – and yes, it is heavy – but this chainsaw can still be carried around with you all day without causing much fatigue. And it can be maneuvered in many different ways because of its ergonomic design.
The ergonomics of this chainsaw are so good that you will end the day with your wrists feeling completely fine. The anti-vibration hardware truly does work to take away some of the brutal punishment that a normal chainsaw would inflict on your wrists after hours of cutting.
In terms of bar length, I generally suggest fitting this unit with a 20" bar and chain. 20 inches gives you an excellent balance of power and stability without pushing the motor beyond its capacity. While the motor can indeed work with a solid 24-inch bar, which it comes with, you can actually reduce the bar and still get a great cutting depth with even more power.
---
Great for Beginners
If you are not an outdoors person, you may have no idea where to start when buying a chainsaw or using a chainsaw. But with the 460 Rancher, it is incredibly easy to learn for a beginner. It comes ready straight out of the box, the simplistic start technology means that you don't have to fight to start the machine, and attaching the bar and chain is simple enough for a blind monkey to do.
The saw is not too heavy to overwhelm anyone, and the anti-vibration technology means that you will spend the day using your chainsaw without immediately hating it. And with the raw power of the unit, you can cut down an entire tree in less than 5 minutes. This is a great chainsaw to use for anyone who will be cutting for their first time, as it really makes you feel like a lumberjack to use this chainsaw.
---
Fewer Emissions
As with the other Rancher Gas Chainsaws from Husqvarna, the engine in the 460 comes with special X-Torq power that keeps the emission output extremely low. This is excellent for people who are worried about a gas-guzzling chainsaw. The 460 emits less toxic waste than other chainsaws and it has better fuel consumption. In essence, you use less fuel and produce less waste.
---
Easy Cleaning
This is a clean machine. The 460 Rancher is safe, designed for easy cleaning, and basically maintains itself. It comes with an automatic chain oiler, which you can set to one of three levels, that delivers a constant supply of oil to the bar and chain. This ensures safe use at all times.
Related Articles:
Because your chain will always be well oiled, you will always have the maximum speed that this chainsaw can give. For the quickest cutting, you can always have your chainsaw running at 9,000 RPMs. This will make quick work of stumps, entire trees, and thick logs up to 20 inches in diameter.
---
Husqvarna 460 Rancher Review: Final Thoughts
My final thoughts about the Husqvarna 460 Rancher are pretty straight forward. This tool is strong, it is one of the upgraded Rancher models, it is packed with all of the standard Rancher features but has way more power and gives a better performance, and it is professional grade. I think that anyone who spends any time in the outdoors can directly benefit from using this chainsaw.
The chainsaw has minimal vibration, a smart air injection system, 60.3 CCs power, an inertia-activated chain break for optimum safety while in operation, an automatic chain oiler, a maximum speed of 9,000 RPM, and so many more features you really need to use the chainsaw to experience all of them.
If you want a portable chainsaw that is easy to carry and easy to maintain, this is it. Like I already said, the 460 Rancher is a more robust version of the Rancher Chainsaws that came before it. This is the best time to get your hands on an extremely affordable and high-performance chainsaw – the 460 Rancher.
---
Related Articles: