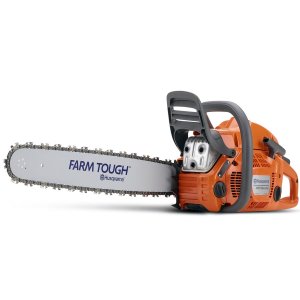 It is time for my Husqvarna 455 Rancher review. Perhaps this is a little late, but better late than never. Everyone should know about this fantastic gas chainsaw. It is ideal for anyone who owns land, or who has a large piece of property with many trees that need constant maintenance. The chainsaw is also great for people who do a lot of mobile gardening and pruning.
The chainsaw comes with a massive 20-inch guide bar and chain, and a 2-cycle engine that outputs an amazing 55.5 CCs of rock cutting power. You will chop through all kinds of hardwood or softwood with this amazing chainsaw. It even comes with a unique tool known as the 'scrench,' which you can use to make quick adjustments to the chain and bar while on the move.
Today we will take a look at all of the best features offered by the 455 Rancher. By the end, I guarantee you will want to rush out and get this fantastic chainsaw from Husqvarna.
---
Husqvarna 455 Rancher Review: Overview
Time for the overview. Now we get to look at all the impressive technology that you will be pleased to find living inside the Husqvarna 455 Rancher Gas Chainsaw. this baby is lightweight, it offers low vibration, it has some of the quickest starting out of any chain saw, and the air injection system keeps it forever clean and functioning.
---
Professional Power
Let's talk about power for a minute. You already know this chainsaw has a 2-cycle engine with 3.49 horsepower. But what you might not know is that this is indeed a professional-grade chainsaw. You can expect to cut through all the thickest cords of wood with this chainsaw like you would with another unit 3 times the price.
The deal is, so long as your chain is sharp, you can cut through literally any wood. You have absolutely no restrictions when you use this chainsaw. You can hear its raw power from the moment it starts. In fact, compared to most other units in the same price range, this is the most professional and most formidable.
Even though the Husqvarna 455 Rancher comes with a 20-inch bar on it, you can definitely run the saw with a 24-inch bar. Why would you do that? Well, because if you want to cut thick chunks of firewood throughout the summer, a 24-inch bar is recommended. You can easily fit one onto this machine. You are not restricted to only using the bar that comes equipped from the factory.
When it comes to wood, you can expect to easily buzz through at least 18 inches of solid living Oak. Not only that, but any other wood will also be easily cut with this chainsaw, and you can cut all the way up the entire length of the bar. That is how tough this thing handles wood!
---
Convenient Maintenance
The removable cover is one of the Husqvarna 455's best features. It is so easy to take the cover off and then clean the interior. If you have not used a chainsaw before, you will see soon enough how clogged the inside of your machine can get with tiny woodchips and other debris, no matter what kind of preventative features the unit has. It just happens. But with the removable cover, it is effortless to clean the machine and keep it running.
The automatic oiler that comes with this machine is amazing and it never stops. Your chain is always going to be lubricated at the exact level it needs to be, which is great for people who tend to forget to lube.
The chain brake works amazingly to lock the chain in place if something goes wrong. Basically, so long as you keep your eye on maintenance, make sure nothing is clogged, and fix any accidental clogs that occur, this machine effectively takes care of itself.
---
Intuitive & Innovative
This chainsaw comes with some seriously innovative features. And these features make the machine more intuitive to use. For example, the low vibration system drastically reduces the amount of vibration you feel while handling the chainsaw. This is critical for people who need to use their chainsaw all day.
With the air injection system, large chunks of dust and debris will be prevented from reaching your air filter. While it is impossible to stop all the debris, the air injection system does make it so that the inside of your machine does not get clogged as you would expect with an older and less innovative model.
Related Articles:
Then there is the Smart Start technology. This technology makes it so that the chainsaw starts when you want it to. Simply yank on the cord and the chainsaw fires up in an instant. It does this because of a more advanced pull cord, better fuel lines, and new technology that prevents the engine from flooding. You will never have to fight with an unruly chainsaw again – the 455 Rancher always starts.
---
Husqvarna 455 Rancher Review: Final Thoughts
After reading this review, I guarantee you already know what my final thoughts are going to be. I absolutely love the Husqvarna 455 Rancher Gas Chainsaw, it is simply the greatest. For a 20-inch unit with a 2-cycle engine and 3.49 horsepower, it does not get any better than this. Plus, the chainsaw only weighs about 13.2 pounds. That means it is extremely easy to wield.
If you want a chainsaw that is not only good for medium-sized cutting jobs but can do everything from small to large, this is the tool for you. You can store it easily in your garage, it takes only moments to maintain after every use, the side-mounted chain tensioning system allows you to make all kinds of fast adjustments to the chain while you are working, and there is an automatic chain oiler.
I cannot recommend this chainsaw enough. Sure, there are lots of other 20" chainsaws out there, but none of them have the kind of prestige that the Husqvarna 455 Rancher has.
---
Related Articles: