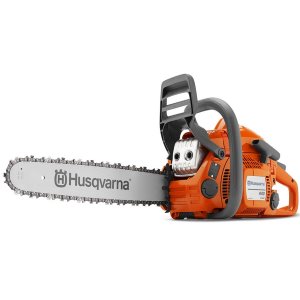 In my Husqvarna 440e review, I am going to tell you about this chainsaw's amazing features, its incredibly complex technology, its revolutionary design, and its cutting power. This chainsaw is going to change the way you operate in the woods. Need to cut down a tree in a matter of seconds? No problem with this awesome gas-powered chainsaw.
With a 16" bar and chain, 2,900 RPMs of idling speed, and 40.9CCs, this machine is unstoppable. It is colored orange, it comes with an automatic chain oiler, it has a side-mounted tensioning system, and it is lightweight and easy to use for any beginner or novice.
Professionals also love this chainsaw because of how easy it is to manipulate. Whereas most 16" gas chainsaws are bulky and annoying to use, this unit is not. It weighs less than 10 pounds, which makes it extremely fun to wield. Professionals will probably be able to cut down entire trees using just one hand and this chainsaw.
---
Husqvarna 440e Review: Overview
It is rare to find a chainsaw with as many features as the Husqvarna 440e. There are so many great aspects of this tool that I don't think I can go over all of them in a single article. This chainsaw weighs less than 10 pounds, it is easy to reoil and refuel, it can be handled by literally anyone (except children), and it looks great, too.
Let's take a look at the top features that make this one of my favorite 16" chainsaws ever built by Husqvarna.
---
High Power
This is an extremely powerful gas chainsaw. The 2-cycle engine outputs an outstanding 40.9CCs of power and 2.4 horsepower. All of this strength means that the chain is going to spin extremely fast and eat through any wood you throw at it, even Douglas and Birchwood.
Because the Husqvarna 440e chainsaw is so incredibly powerful, many professionals like to use it in their everyday work. You can easily cut stumps into manageable chunks, chop down small trees in just a few minutes, and do any kind of yard maintenance.
Plus, you get a lot of safety with all this power. The engine comes equipped with any inertia-activated chain break that keeps you 100% safe during operation. Then there is the automatic chain oiler, which ensures a constant supply of oil to the chain. This means your chain is always going to be smooth and effective.
---
Lightweight & Efficient
There is something to be said for having a lightweight chainsaw. The total weight of this unit is only 9.8 pounds. That makes it easy enough for a strong person to use with a single hand, though obviously that is not recommended. Being a featherweight chainsaw, you can expect full efficiency 100% of the time.
This chainsaw is reliable, it is built from lightweight components that are still very strong and durable, and the 16" bar and chain work to cut through huge diameters that you would not generally expect from such a compact and light tool.
---
Air Filter
As you probably know, the air filter is a key component of any chainsaw. Just as important is how often you replace the air filter, as a dirty air filter can cause serious problems with your chainsaw running at full capacity. With the Husqvarna 440e, the air filter is super easy to replace because it has a quick-release function. You can change the filter in just a few seconds.
More than that, the air injection system works to keep the majority of dust and debris from ever reaching your air filter at all. This air system is an extra barrier between the outside elements and your air filter, so you will not need to change it as frequently as you would with other chainsaws.
---
Reliable Starting
Thanks to the ingenuity at innovation at Husqvarna, this chainsaw has been fitted with Smart Start technology. What this means is that your chainsaw will start on the first pull every time, assuming it is filled with fuel. The pull start offers less resistance, while the fuel pump is designed not to cause any flooding.
It is a real treat to have an easy pull-start, especially if you are prone to ripping out your shoulder just from trying to start your old and outdated gas chainsaw. You'll have no more problems when you use this tool.
---
Low Vibration
Last but not least, let's talk about vibration for a minute. With a low vibration system, the 440e is designed to drastically reduce all vibration felt by you while using the chainsaw. It does this by giving you a more comfortable grip, a more ergonomic handle, and a more relaxed trigger.
Related Articles:
Because of the low vibration, you can easily use the chainsaw for hours on end without feeling the tingly sensation in your hands, wrists, and arms. This means you never have to stop working because of discomfort. It is much more relaxing to do heavy work with a tool that doesn't vibrate like a paint shaker.
---
Husqvarna 440e Review: Final Thoughts
Are you convinced yet? The 440e is undoubtedly my favorite 16" chainsaw from Husqvarna. It is lighter than other chainsaws, it never fails to start, it comes included with a cool scrench tool, and it operates at 2.4 horsepower. This is an extremely safe chainsaw for beginners, and it is a fun and lightweight tool that professionals will enjoy using.
I highly recommend this chainsaw to anyone who needs work done outside. Whether you are cutting hardwood or softwood, this chainsaw can get the job done right. It even comes with an inertia-activated chain brake for maximum safety precautions. Plus, the automatic chain oiler keeps your chain totally oiled and 100% safe to use.
If you like tools that are effective, highly efficient, built to be resistant to weather, fun to use, exceptionally safe, and jammed full of smart technology, you will like the Husqvarna 440e Chainsaw. Considering its extremely low price, this is an excellent value for the money.
---
Related Articles: