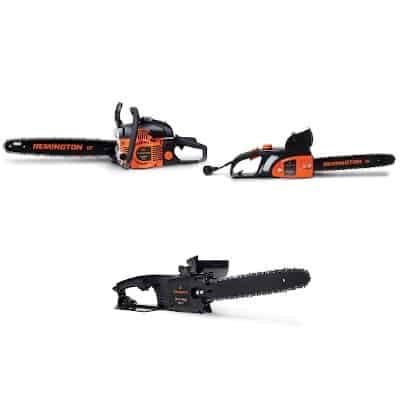 It is time to do some Remington chainsaw reviews. Now, everyone knows Remington makes the very best chainsaws. They have awesome gas-powered chainsaws, they have fabulous electric chainsaws, and all of them are indisputable of the highest quality. Whether you get an 18-inch chainsaw, a 14-inch chainsaw, or a 16-inch chainsaw – if you buy Remington, you are in good hands.
Today we are looking at three of the best Remington chainsaws. These are chainsaws that will drastically improve your cutting power while at home or on the job. Each chainsaw brings something unique to the table, and each one is perfect in its own way. We have three different sizes, each size loaded full of technology.
High-output engines, massive power, minimal vibration, the ability to cut through tough wood, quick-start technology, and so much more. There are endless features available when you shop Remington.
Top Rated Remington Chainsaws
---
Remington RM4618 18" Gas Powered Chainsaw – Best Overall
The Remington RM4618 18" Gas Powered Chainsaw is a powerhouse. If you want a chainsaw that can cut through anything, this is the one for you. It comes with an impressive 18-inch bar and chain, it works at 46cc output with a full crank, 2-cycle engine for immense power. Plus, there is minimal vibration when using the chainsaw, that way you have ultimate comfort. It doesn't even cost that much money, so it is great value.
Smart Chainsaw Technology
This chainsaw comes complete with quick-start technology, which works to give you a smoother and quicker pull when you start the machine. If you want to get to work faster, the quick-start system is ideal for you.
There is also an automatic oiler. The automatic oiler is going to be the best friend for your bar and chain, as it always keeps the exact amount of lubricant on the chain so that your saw cuts safely and smoothly through the toughest wood you will come across.
Extreme Comfort
This unit is extremely comfortable to use. It comes with a 5-point anti-vibration system and a full wrap handle that is cushioned to make the chainsaw balanced, comfortable, and extremely maneuverable in all your operations.
There is nothing more important than being comfortable while chopping stuff up with your big hungry chainsaw. With the 18" Remington Gas Chainsaw, you have comfort right in your hands. Not only is this a mean, wood-cutting machine, but it is comfortable too.
---
---
Remington RM1425 14" Electric Chainsaw – Budget Pick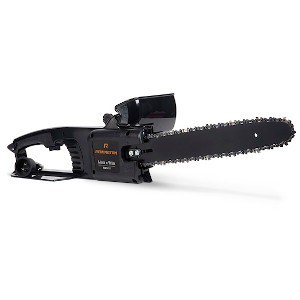 The Remington RM1425 14" Electric Chainsaw is the smallest chainsaw on our list. It only comes with 14" blades. However, this is the ideal electric chainsaw for yard work. You can easily operate it with one hand, you can reach up to get those tough higher branches, and it is fully assembled and ready to use the second you open the box.
This chainsaw is also environmentally friendly, which is a huge bonus. You get less sound, less vibration, and less pollution when you use the 14" chainsaw from Remington.
Reliable and Small
Everything about this chainsaw is reliable. Because it is so small, the chances of you burning out the electric motor are slim. It is compact with a lightweight design, it has a push-button oiler for easy oiling, and a chain tension adjuster on the external of the machine. All of its functions work great.
This is one of the easiest chainsaws to use. All you need to do is squeeze the trigger and the chainsaw roars to life with its environmentally friendly electric motor. It is ready to use the moment the package arrives. Open up the box, plug in the long cord, and have a full range of mobility in your yard.
Yard Work
If you are only doing yard work, you do not need a big heavy chainsaw. You especially don't need a chainsaw that runs on gas. For trimming hedges, keeping the yard clean, and cutting through pesky high branches, this electric chainsaw is ideal. It is designed for the easiest cutting possible.
---
---
Remington RM1645 16" Electric Chainsaw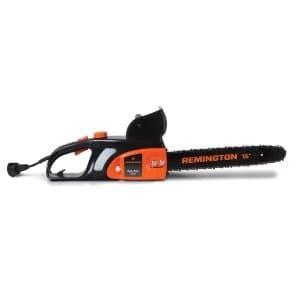 The Remington RM1645 16" Electric Chainsaw is flawless. How many automatic features can you fit into a single electric chainsaw? This unit has an automatic chain, an automatic oiler, quick adjustments to the chain tension that feels automatic, and so much more.
This is a great chainsaw for home use when you need to touch up things in the yard. It has a soft-touch grip and a handguard that makes usage comfortable and easy.
Lightweight
If you are working in the yard all day, sweating under the hot sun and dragging around sticks and tree branches, the last thing you want is to haul around a big heavy chainsaw. This Remington 16" chainsaw is super lightweight. You can carry it easily with one hand and even reach up to cut things in high places.
It has an ergonomic design that works with its lightweight build to be super balanced and to give minimal vibration feedback. The chainsaw is also small and compact, but with a large enough blade that it will take care of any wood trimming you need to do.
Electric is Power
Just because you plug this chainsaw into the wall does not mean it is going to be weak with electricity. On the contrary, the electric motor is extremely reliable with a durable 12-amp output that allows you to cut extremely quickly. You also get less kickback when using this chainsaw, which is excellent news for people who don't like chainsaws kicking back against them.
---
---
Remington Chainsaw Reviews: A Complete Buying Guide
What is there to look for in buying the best Remington chainsaw? You have to choose whether you want electric or gas-powered, portable, or corded. There are different sizes, different power outputs, and different speeds. Each Remington is a little different, but there are a few similar things to keep a lookout for when making your purchase.
Engineered Body
The body of your chainsaw is important. You want to make sure it is designed and engineered with functionality in mind. First, what is the body made of? What are the interior components? You want to ensure that your new chainsaw is lightweight, built with professional components, and is heavy-duty enough to withstand all kinds of intense tasks, from clearing brush to cutting stumps.
You also need to make sure the chainsaw you buy is comfortable. Does it have an anti-vibration system? Is the full wrap handle cushioned for your comfort? All of these things are really important so that you can have a better experience when using the tool for hours at a time.
Another thing to consider is how easy the tool to maintain. Does it have an automatic oiler? Is the lubrication system sufficient in maintaining the machine without too much help from you? The easier your machine is to maintain, and the more automatic lubrication features it has, the longer it will continue to serve you.
Related Articles:
Motor Power
How much power do you need? Obviously you want a lot of power, but how much do you really need? What kind of tasks will you be performing? Are you simply trimming the hedges, or do you need a legit chainsaw to cut through tree trunks?
Depending on your answer to the question, you may want to choose a gas-powered chainsaw over an electric chainsaw. Electric chainsaws can be powerful, and they still come with great automatic features and quick adjustments, but they lack the type of raw power that comes with a chainsaw that runs on gas.
Not to mention, an electric chainsaw comes with a cord. Gas chainsaws are way more portable. Your electric chainsaw is only good so long as there is a nearby outlet, which will restrict you to yard work. That said, electric chainsaws are great if all you want to do is yard work.
Versatility
Your chainsaw should be completely versatile. What I mean is that you should be able to do lawn care, wood trimming, yard work, and all kinds of other outdoor projects. The best chainsaw is one that can do everything. Because of this, I never suggest buying a small chainsaw. It might work for smaller tasks, but what happens when something bigger comes along? Always buy a chainsaw that offers maximum versatility.
Remington Chainsaw Reviews: Final Thoughts
All the Remington chainsaws are great. These machines are great value, they all do their tasks very well, and they are equipped with serious technology and smart designs. A lot of it comes down to if you want an electric chainsaw or a gas chainsaw. The Remington RM 14″ is a fantastic electric chainsaw if you are on a budget, while the 16" model is all-around good quality.
However, my choice must be the Remington RM4618 18" Gas Powered Chainsaw. It is just too good of a machine to say no to. It comes with an automatic oiler, it is extremely comfortable to use, it has a durable and lightweight chassis, and it is engineered with professional-grade internal components to withstand the most brutal cutting tasks.
If you are looking for a new addition to your outdoor tools, I highly recommend the 18" chainsaw from Remington. This thing is built strong to continue working for many years to come.
---
Related Articles: