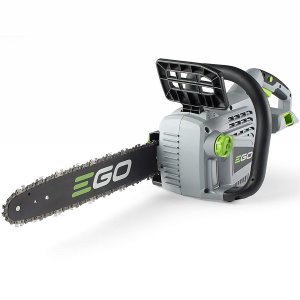 It is time for the EGO Chainsaw review. Today I will tell you all about EGO's Power+ Chainsaw and how it can benefit your life. With an incredibly strong brushless motor, chain speeds of up to 6,800 RPM, a robust weather-resistant construction, maximum safety controls, and a chain tensioning knob, this is one of the best cordless chainsaws ever.
The chainsaw uses lithium-ion batteries to give you incredible cutting abilities. If you are a person who loves the outdoors, who owns a lot of property, or who just likes cutting firewood with a chainsaw, this is the tool you need. You can buy it as just the tool, and you can even buy the chain and bar combo separately.
It is hard to imagine that such a lightweight chainsaw with so much power does not require any gasoline at all, but it is true. This unit comes with a 14" bar and chain that can eat through any log up to 14 inches in diameter. For all your woodcutting needs, you can definitely use the EGO Power+ Chainsaw.
---
EGO Chainsaw Review: Overview
There are so many positive things to say about this awesome chainsaw. It is no secret that EGO makes some of the best outdoor tools in the entire industry. They use advanced technology, incredibly powerful lithium batteries, and all kinds of revolutionary systems to exceed your expectations. The Power+ Chainsaw is no different.
---
Electric Over Gas
There are still a lot of people out there who believe that gas power is the only power to use for tools. But that is not the case anymore. The Power+ Chainsaw offers supreme power by only using electricity. In fact, this chainsaw exceeds the power of gas with none of the annoying side effects that come from using a gas tool.
Most gas chainsaws are noisy, they are annoying to maintain, and they spit disgusting fumes into the atmosphere. But with this chainsaw, thanks to its smart battery technology, there is almost no noise, you never have to fuss with complicated maintenance and oiling of the machine, and there are no toxic fumes.
You also get the amazing life given by one of the industry's most advanced battery technologies. The 56V ARC lithium batteries that are used to run the chainsaw have intelligent power management and revolutionary cooling systems. These batteries give you a longer life and more power than ever previously thought possible.
Additionally, you can use the intense 56V batteries to charge your chainsaw, your lawnmower, your leaf blower, and your weed whacker. There are over 40 tools that all use the same batteries.
---
Heavy-Duty Chainsaw
Make no mistake, the EGO Power+ Chainsaw is a heavy-duty industry standard. With its strong 14" bar and chain, it can literally cut through anything. Well, it probably can't cut through a steel beam – but anything that is wood and no larger than a house can be cut using this chainsaw.
On a single battery charge, you can get up to 130 cuts. Imagine cutting 130 pieces of timber on a single battery charge. It is simply an incredible technology that allows so much performance. And because of the chainsaw outputting 6,800 RPMs, you can do your cuts faster. Softwood, hardwood, branches, and fallen logs – you can cut them all in record time.
Then there is the actual construction of the chainsaw to consider. Not only will it stand up to all the brutal punishment it will receive from working in the outdoors, like being bashed against trees, filled with muck, and everything else nature can throw at it, but it is also resistant to the weather.
The rugged construction of this tool keeps it safe in all kinds of bad weather. Whether it is raining, snowing, or there is mud falling from the sky, this chainsaw is going to keep working. If you have the strength to go on, so does your chainsaw.
---
Lightweight
There is nothing better than a lightweight chainsaw. This tool is so light that you will barely notice it in your hands. In fact, using this chainsaw will feel like using an extension of yourself. This makes it easy to trim trees that are high over your head, to get into any weird position to do some cutting and to carry the actual tool around all day without getting tired.
Related Articles:
There is also very little vibration with this tool. That means that it will not wreak havoc on your wrists and arms after a long day of work. You can expect to work full days and never have tired arms because of a big and heavy chainsaw that vibrates too much.
Because the chainsaw is lightweight and easy to use, it is one of the better options for people who are unfamiliar with chainsaws. If this is your first purchase, you will be pleased to know that anyone can operate it. It does not take any particular skills, it is quiet, and it is powerful enough to finish all your tasks.
---
EGO Chainsaw Review: Final Thoughts
My final thoughts about the EGO's Power+ Chainsaw are nothing but positive. This is an ideal chainsaw for any outdoors person, as it lasts a very long time on a single charge, it is not prone to malfunction, it starts every time you need it, and it has speeds of up to 6,800 RPM to totally cut through any kind of wood.
There are lots of cordless chainsaws available, but I personally think EGO really knows what they're doing when it comes to design, safety, and power. This chainsaw even comes with a chain kickback break that makes it way safer for you to use.
Plus, when you use this chainsaw, you can expect longer runtimes, the power and performance that you would normally receive with a gas chainsaw, and the simplicity of a well-designed tool. You can even use the batteries from the EGO Power+ Chainsaw to power all of your other EGO tools. I highly recommend this chainsaw to anyone who is in need of a new unit.
---
Related Articles: