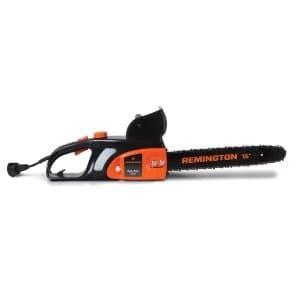 Today we will review the Remington RM1645 Versa Electric Chainsaw. This is a powerful little chainsaw with a small electric motor that can cut tree limbs quickly and effectively. It is not cordless, and so you must have the power to operate the chainsaw. This is one of the better units for using around your house.
If you have any kind of basic yard work to do, this is a great chainsaw to do it with. You don't have to worry about batteries or gas, and you can easily plug it in anywhere and start cutting. It comes with a 16" bar and chain with reduced kickback for extra safety.
The ergonomic design and the lightweight frame allow you to have maximum mobility while using the tool. It is balanced, it has low vibration, and it is easy to operate for anyone. This chainsaw will revolutionize the way you cut firewood and maintain your property.
---
Remington Electric Chainsaw Review: Overview
You may find yourself wondering what type of chainsaw is best for you. Should you buy a gas chainsaw with lots of power, or should you get a cordless chainsaw that offers full portability? But have you considered an electrical chainsaw that uses a cord?
You may not get the advantages of the other types when using a corded chainsaw, but you do have the advantage of saving money and saving time. You obviously can't take this chainsaw to the forest to start cutting down big trees, but you can use it all over your property for a variety of work, including wood trimming, outdoor projects, and yard cleanup.
---
Versatility in Your Hands
Every tool needs to be versatile. Whether it is a chainsaw, a power saw, or any other kind of powered piece of equipment, it must be versatile. When you use the Remington RM1645, you have loads of versatility to see you through a wide variety of jobs.
Because the chainsaw is so small and compact, it can easily be carried around your property and used to cut anything in sight. You can use it to cut down small trees, to prune the branches that have been getting in the way of your view, and to cut your firewood.
In fact, this is one of the better chainsaws for cutting firewood since you don't have to charge it and you don't have to fuel it. Simply bring the chainsaw to your woodpile and cut until you're finished.
---
Lightweight Design
The lightweight design makes the RM1645 effortless for anyone to use. Whether you are a youngster starting a small landscaping business or a senior who just wants to tend to their yard, this chainsaw is super easy to use. It doesn't have any confusing functions, no over-complicated design flaws, and no confounding adjustment knobs or dials.
In fact, the adjustments are all really easy to do. There is a small external tensioning screw that you can quickly adjust to keep your machine running at top performance. This is the quick-adjust chain tensioner. It is the only adjustment you really need to use.
Related Articles:
As for oiling the chain, which is important for keeping your chainsaw cutting at optimum levels, there is an automatic chain oiler. This means the exact right amount of lubricant is going to be applied to the chain so that it continues to cut safely and smoothly, preventing kickback and keeping your cuts precise.
There is also an oil level viewer so that you can easily see when oil must be added. This is the absolute only time you will need to fuss with oil, and it is not even a fuss. Simply pour some oil into the reservoir and the automatic oiler does everything else for you.
---
Electric Motor
The electric motor is definitely not as powerful as a gas motor, but it sure does get the job done. With this 12amp electric motor, you still have enough torque to rip through hardwood like it was nothing. In fact, this is one of the better corded chainsaws that you could use for wood cutting because of its high performance.
The 16" bar and chain are built to be extremely durable, while the chain is sharp enough to slice through softwood or hardwood in an instant. And the great thing about using a corded chainsaw is that you can continue cutting at full power for longer. You don't have to worry about the engine overheating, as your electric motor is designed not to do that.
The entire design of this chainsaw, from its wraparound handles to its small electric motor, is meant for it to be fast and efficient. The chainsaw is best used when pruning and trimming, as it can make extremely quick work of branches and thin pieces of wood. It has reduced vibration, a soft rear grip, and a sleek design that lets you cut branch after branch with effortless efficiency.
No more hauling around a big and heavy chainsaw! Use the Remington RM1645 to take care of all your yard work without hurting your back, stressing your wrists, or polluting the air with exhaust fumes!
---
Remington Electric Chainsaw Review: Final Thoughts
You can't find a better corded chainsaw than this Remington's model. It may not have the full portability that comes with a cordless unit, and it definitely doesn't have the strength that comes with a gas unit, but it does have reliability with the small 12amp electric motor. So long as everything is within range of a power source, you can cut for endless hours without needing to recharge or refuel.
There is an automatic chain oiler that keeps the chain spinning nicely around the bar, there is an ergonomic handle that is comfortable to use and negates almost all the vibration felt while you are working, and the chain tension adjustments can be made very quickly by tightening the external tensioning screw.
At the end of the day, all these automatic features make the Remington RM1645 Electric Chainsaw a favorite of homeowners and residential workers. This is a great tool for gardeners to have with them on any job.
---
Related Articles: