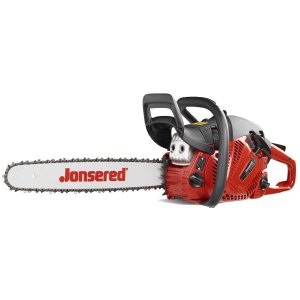 If you are reading my Jonsered chainsaw review, chances are you are looking for the best gas chainsaw available at an affordable price. Well, you are in luck because this is it.
The CS2245 Chainsaw is an 18" monster that works with a clean power engine to reduce toxic exhaust emissions by a whopping 75%, while still increasing the fuel efficiency of the chainsaw by up to an amazing 20%. Plus, all of this comes at an astonishing level of power. This chainsaw can chew through the hardest wood in the forest like a samurai sword through a stick of hot butter.
If you have a messy yard and don't know what to do, or if you live in an area where fallen trees are a problem, or if you just want a quality chainsaw to take with you on your next outdoor adventure, this is the best one. It is lightweight, it is easy for anyone to use, and it will start every single time.
---
Jonsered Chainsaw Review: Overview
It is fairly obvious just by looking at the CS2245 that is high quality. It is robust, crafted from durable parts, it has ergonomic handles and is easy to wield in awkward positions, and it is one of the most usable chainsaws for people who don't want to break their wrists lifting a heavy cutting tool all day long.
Let's take a look at the top features that make the Jonsered CS2245 Chainsaw worthy of a place in your garage.
---
Perfect Weight Distribution
There is nothing better than having a chainsaw with proper weight distribution. If your chainsaw feels too bulky on one end, it is going to be a huge pain to try and cut anything, especially things that are up high like when you are pruning a tree.
With the CS2245, the weight distribution is perfect. The chainsaw really feels like an extension of your arm. This makes it very convenient for use all throughout the day. Your arms won't get tired, and you won't get annoyed by having to cut extra wood.
Additionally, the handles of the chainsaw come fully insulated. This means there is much less vibration to numb your hands and arms. You can use the chainsaw for longer because your wrists won't feel like loose jelly after 5 minutes.
There are also strategic steel springs installed that increase the vibration dampening. These steel springs mixed with the insulated handles and the ergonomic design result in a full day of pain-free woodcutting.
---
Fuel-Efficient & Low Exhaust Emissions
Nobody wants to use a chainsaw that spits toxic emissions into the air nonstop. This is especially true if you are frequently using the chainsaw. If you are on the fence about whether you should get a clean electric chainsaw or a more powerful gas chainsaw, you should know that the CS2245 has a special engine that reduces all of the bad exhaust emissions that poison the planet up to an incredible 75%.
Additionally, your fuel efficiency is increased by a whopping 20%. These two features combined mean that you can use the chainsaw frequently with less fuel and you will be putting minimal exhaust into the atmosphere. This is an environmentally friendly gas chainsaw with impressive power.
---
Turbo Intake
What is the number one cause of a malfunction when using a chainsaw? It is definitely a buildup of dust particles inside the internal components that end up causing the machine to stop working at maximum capacity. Most chainsaws do not have a system to keep the sawdust and wood debris out of the inside.
However, the CS2245 comes with an innovative turbo intake air cleaning system that utilizes centrifugal force to fully separate and then completely remove almost 100% of the dust particles before they can reach the air filter. Not only do you have the protection of a quality air filter, but most of the dust won't even reach it. This will keep your chainsaw running at maximum performance for even longer.
---
No More Tools
You do not need any tools to operate this chainsaw. It comes ready to use out of the box, all you need to do is put the chain on the bar and then you are ready to go. To make adjustments to the chain later, there is a toolless chain tensioner mounted to the side of the tool. This gives you incredibly quick adjustments that you can do while the machine is working.
Related Articles:
Additionally, the cylinder cover is snap-locked, which means you can quickly pop it off and have immediate access to the internal organs of the chainsaw. This allows you to change the air filter in mere seconds. You can also change the spark plug and do a quick cleaning of the interior without having to loosen or remove any screws, bolts, or clips.
This is one of the best features because there is nothing worse than having to stop your day of work, scramble to find some tools, then painstakingly take apart your chainsaw just to do something as simple as removing the air filter. Being able to operate with no tools is the best.
---
Jonsered Chainsaw Review: Final Thoughts
To conclude everything that we have learned in this article, the Jonsered 18" Chainsaw is a masterpiece. It is designed with a unique turbo intake air system that keeps the internal components free of dust and debris so that your machine doesn't get clogged or break due to pervasive sawdust.
The CS2245 offers unmatched power for the price you pay, it comes included with a super sharp 18" chain, it has a side-mounted tensioner for quick adjustments to the chain, and it comes with a snap-lock cylinder cover so that you can easily access the air filter and other internal components in case you need to change the spark plug or do your own maintenance.
Always remember that the life of your tool highly depends on you. Even though this is an advanced cutting tool, it still depends on you to maintain it properly. If you take care of this chainsaw, it will work for many years to come.
---
Related Articles: