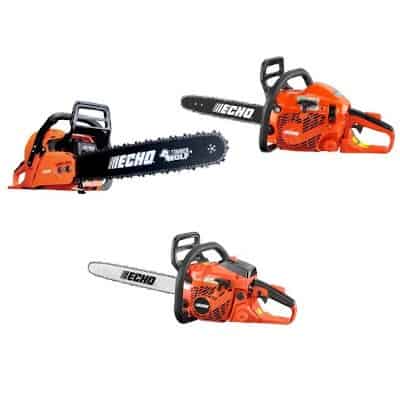 It is time for my Echo chainsaw reviews. Today we're going to look at the three top gas chainsaws from Echo. We have a large range of sizes, going up to a huge 20" chainsaw with a 59.8CC engine. These are some of the most hardcore chainsaws that you can buy at budget prices. I guarantee all the chain saws on this list are super affordable right now.
But these chain saws are not only affordable. They are great pieces of equipment for anyone who needs to cut wood. Whether you have trees in your yard, you want to clean up your favorite walking trail, or you just want to cut up some firewood for the winter period whatever your need, any of these hugely powerful chainsaws are going to be great.
Echo is a quality name that makes quality tools. You get excellent value for your money with an ergonomic chainsaw that is maneuverable and lightweight.
Top Rated Echo Chainsaws
---
Echo CS-590 Timber Wolf Gas Chainsaw – Best Overall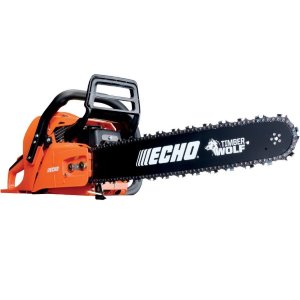 The Echo CS-590 Timber Wolf Gas Chainsaw is at the head of the pack. This is definitely one of the most powerful chainsaws Echo has ever developed. It offers immense power thanks to its 2-stroke, 59.9CC professional engine. This means you get outstanding performance at great value for your money.
Value, Value, Value
Everyone deserves good value for their dollar. When you purchase the 590 Timber Wolf Gas Chainsaw, you are getting serious value. This thing is loaded with features and it hardly costs you anything. It comes with a very sturdy 20" bar, a robust motor, and the safety features you need while operating outside.
The chain lasts up to 5x longer than previous models without being sharpened. The motor starts every time you pull the cord, and you can work for hours without taking a break because of the smart ergonomic design and comfortable handles.
Safe for Beginners
Safety is an obvious concern when you are a newbie. If you are not seasoned with a chainsaw, using a brutal, old-fashioned chainsaw can put you in danger. Too much vibration can cause you to drop the chainsaw right on your foot.
Luckily, when you use the 590 Timber Wolf Chainsaw, there is a vibration dampening system that keeps your hands from buzzing or tingling. This is ideal if you are new to using a chainsaw. Everything about the tool is simplistic, and it even includes safety tips to help you get started.
---
---
Echo CS-310 Gas Chainsaw – Budget Pick
The Echo CS-310 Gas Chainsaw is a great budget product. It does not eat much gas, it has an anti-vibration handle, a chain oiler, a sleek design, very strong internal components, and a hard outer shell. The pull cord works when you pull it, the handguard keeps your fingers safe, and the 14" bar and chain are both incredibly tough.
Small Tool, Big Power
You do not always need a giant chainsaw to get the job done properly. The 310 is one of the smallest units from Echo, but it still has unbelievable power. It starts well and continues to work all through the day, keeping your hands safe from vibration and cutting down trees with its strong chain.
This chainsaw is extremely quiet, it is a legitimate workhorse, it does not spew toxic fumes out of its exhaust like a bigger chainsaw might, and it is way more fuel-efficient than using a really big, gas-guzzling chainsaw. Sometimes the best things come in the smallest packages. Plus, you can leave this chainsaw sitting in your shed for over a year and it will still start like it is brand new.
Perfect for Branches
This small chainsaw is obviously not going to eat through a 40"-thick tree trunk. It just does not have the capacity to do it. But it is lightweight and portable enough that it can be used on your property to cut branches and to slash apart fallen trees.
Additionally, anyone in your family can use it because it is safe, very manageable, and not that heavy.
---
---
Echo CS-400 Gas Chainsaw
The Echo CS-400 Gas Chainsaw has the stuff to get all your work finished in record time. This chainsaw is the perfect size for a mix of yard work and more serious cutting. You can definitely cut down mid-sized trees thanks to the 40.2CC engine. But you can also use the chainsaw for everyday yard work because it is light, portable, and very manageable.
Lighter & Better
Say you have a huge tree that you need to cut. Your first thought is probably to grab a massive chainsaw with a 24" bar. But wait a minute. That is going to wear you out. Holding such a huge piece of equipment for such a long time is a strain on your body. By using a smaller and equally powerful chainsaw, like the CS-400, you can still cut the huge tree, but you can do it without breaking your back.
Having an 18" bar and chain is perfect for doing lots of different work. You can easily substitute a heavy and annoying chainsaw for this small and compact unit. It will still cut trees, it will still trim the overgrown bushes, and it will still cut your firewood.
Reliable
Nothing is better than having a reliable tool that works. I promise that when you purchase the Echo CS-400 Gas Chainsaw, you are getting a pristine piece of equipment from a company that really cares about making quality products. This is a tool that will never let you down.
---
---
Echo Chainsaw Reviews: A Complete Buying Guide
If an electric chainsaw is not going to do the job, you probably need a tough and reliable gas chainsaw. This is where Echo comes in. They make their chainsaws to be extremely strong. These are professional-grade gas tools that you can use at home or outside on the job. They have great reviews, they are super affordable, and they cut wood extremely easily.
But what do you look for in the best echo chainsaw?
Flawless Performance
Your chainsaw should work flawlessly every time you use it. You definitely do not want to buy a chainsaw that even suggests there could be a problem. What do you do if you are up in the canopy of a tree, cutting branches, and your chainsaw won't start? It is not a good look.
While it is difficult to determine the exact performance of a chainsaw just by looking online, you can read the reviews of other Echo products, and you will see a unanimous agreement that every chainsaw they build is flawless. You get excellent power, fuel efficiency, great longevity, and so much more. Plus, I have never heard of an Echo chainsaw overheating or not starting.
Related Articles:
Bar & Chain
Most chainsaws come with anywhere from a 10" to a 20" bar & chain. This is basically the size of the chain that is going to be slicing through logs and wood. I always recommend people to get a powerful chainsaw that allows you to install different sizes of chains.
Sometimes, you actually get more power with a smaller bar. So, if you purchase a chainsaw that comes with a 20" bar, it will probably be even stronger if you tone it down to an 18" or 16" bar. Always make sure whatever chainsaw you buy offers a lot of flexibility and allows you to do your own customization. This is true for just about every Echo chainsaw.
Lightweight & Portable
One of the most important things when buying any chainsaw is to make sure it is lightweight and portable. When shopping for your new Echo chainsaw, there are many different versions available. They all have great designs, but some are heavier and bulkier than others.
It all comes down to what your tasks are. If you only need a chainsaw for general maintenance in your yard or on your property, you would be better off with a smaller chainsaw, maybe only 14". This will make it more portable and lightweight so that you can easily carry it around your yard and do your work.
That said, even if you need a chainsaw for industrial types of cutting, you still want a lightweight unit. Nobody wants to be sore and tired before the day is finished because their chainsaw was unbalanced, vibrated too much, or was too heavy.
Echo Chainsaw Reviews: Final Thoughts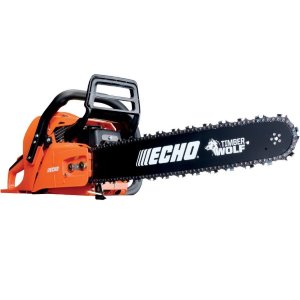 As you may have noticed, all three chainsaws are pretty much identical. The biggest difference is in the bar & chain sizes, the engines, and the price points. Other than those aspects, these are basically identical. The CS-310 is the cheapest model and therefore the best budget option, while the CS-400 is definitely a great 2nd place chainsaw with excellent power and full reliability.
But my money is going to the CS-590. The Timber Wolf chainsaw not only sounds cooler than the other ones, but it works better. It starts every time you use it, it is easy to maneuver, it is extremely lightweight and ergonomic, and it is one of the hardiest chainsaws you can buy for just a few bucks.
The Echo CS-590 gives an outstanding performance. It has a decompression valve that makes it easier to start the engine by pulling on the starter rope, its 59.8CCs of power can cut through an entire tree in mere minutes, and it looks fantastic. I highly recommend this chainsaw to any homeowner or person who works outdoors.
---
Related Articles: