Pros:
Cheaper than Stihl or Husqvarna
Easy to upgrade
Excellent Starter
Cons:
Cheap bar and chain
Chain tensioner is not the best
Welcome to my Echo CS 490 review, where I will tell you all about how this excellent professional-grade chainsaw can change the way you tend to your property. If you are in the market for a new chainsaw, this is it. It offers incredible power, it can easily chop through wood, and it is lightweight enough to use on low-hanging branches.
Whether you want to cut firewood, clear land, or simply maintain your property, this is the best chainsaw to do it with. It comes with an impressive 50.2 CCs of power and a 2-stroke engine. The chain is 20" and large enough to bite through lots of different materials.
This chainsaw works immediately out of the box with zero setup. It starts great, and it keeps working all throughout the day. This is a top-notch piece of equipment that you will love to use, and you may even find excuses to do some extra cutting.
---
Echo CS 490 Review: Overview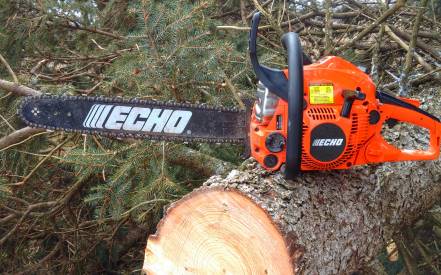 There is a lot to say about the Echo CS 490 Chainsaw. This chainsaw is sturdy, it has a durable body and an effective handguard, it cut down trees like they were toothpicks, and it comes ready to use out of the box. All you need to enjoy a full day of working with wood is a little bit of gas and some motivation.
Now let's go through a shortlist of all the great features this professional chainsaw comes with.
Ready to Use
There is nothing worse than getting a product and having to install parts or build it yourself. The CS 490 chainsaw comes ready to use in the box. The only thing you need to do is add fuel. Once the fuel is added, you can take the chainsaw outside and immediately begin using it.
You do not need to put the chains on the bar, you don't need to screw anything together, and you don't need to plug it in. This is not an electric chainsaw! It is a gas-powered tool from the master designers at Echo.
---
Easy Starter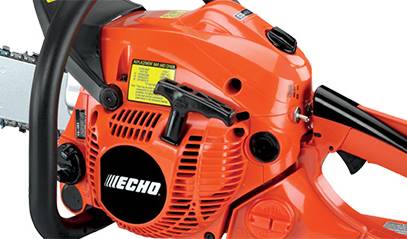 The Echo CS 490 chainsaw definitely comes under the class of easy starters. When I say easy, I mean it starts in 3 pulls every time I used it. This is a chainsaw that you can count on. It will not give you any headaches when you are trying to get it to start.
You can count on the CS 490 to start every time you pull the cord. This is extremely important when you are out in the field and you need to get to work.
Echo CS 490 Chain And Bar
The bar and chain on the CS490 are made by Oregon. Oregon is a world-renowned chainsaw chain manufacturer. They are known for their high-quality products and their durable chains.
The chain is an Oregon BPX, semi-chisel safety chain. This chain is 16 inches long and is made to cut through a variety of materials. It is also designed to be durable and long-lasting.
The bar is fairly cheap and is probably the worst feature of this chainsaw, but you can easily replace it with a solid roller nose.
Thanks to the inboard clutch and the replaceable rim sprocket, it is easy to access and change the chain. You don't need any special tools, and you can do it in a matter of minutes.
The Echo CS 490 also has a roller chain catcher, which is a nice feature and is usually optional on most chainsaws.
---
Full Maneuverability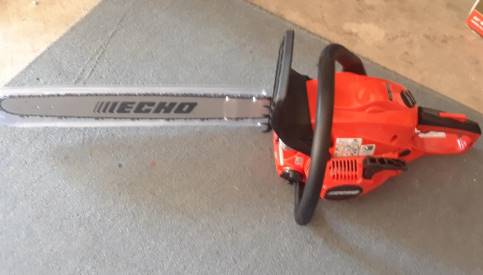 How do you feel about a powerful chainsaw that only weighs 10 pounds? Exactly, it's great! You get the full power of a gas chainsaw with the portability of a cordless chainsaw. This unit is so lightweight that you can use it for trimming branches high up in a tree, you can maneuver the chainsaw into uncomfortable positions, and you can carry it around with you all day without getting tired.
One of the biggest problems when using a chainsaw is fatigue. There is so much vibration that your arms get sore and it hurts to continue cutting. But with the 490 that is no longer a problem. There is very little vibration, and so your arms won't feel like jelly after 10 minutes of cutting.
Powerful Engine
The engine with this chainsaw is perfect. As a 2-stroke engine, it outputs 50 .2 CCs of cutting power. This translates to maximum performance. Do you want to cut all the way through a tree trunk? No problem! This chainsaw has the power to cut through anything. If you are a firewood cutter, a landowner, or a farmer, I guarantee you can find infinite uses for this robust chainsaw.
The powerful engine mixed with the monster 20" bar and chain combines to give you unmatched cutting power. The chain is super sharp and very easy to adjust the tension on. I should also mention that if you keep the chain well oiled, it is going to last you much longer. This is always something to be aware of while using the chainsaw.
---
All-Day Cutting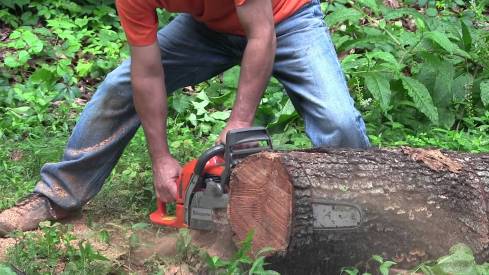 So long as you have an ample supply of gas, you can continue using this chainsaw for hours without stopping. There are many chainsaws that simply can't work all day. Their engines overheat, the machine gets fatigued, and it just can't stand up to the pressure.
But with the CS 490 you can rest assured knowing that a full day of work is possible without taking breaks. The engine is strong enough not to overheat or fail no matter how much wood you cut through.
Quality Components
OK, we have established that the CS 490 chainsaw has a great engine, it is easy to use, and it can cut through anything. But what about the internal components? Well, they are equally as tough as the engine and the chain.
Related Articles:
The pull mechanism works every time without a hitch, the carburetor is flawless, the cylinder works like a champion, and even the outer hull of the chainsaw is built from strong material. You will not be disappointed when using this chainsaw, and you definitely won't be ordering any replacement parts in the near future.
It has a magnesium crankcase, rim sprocket, and traditional controls. How many other $350 saws have those features?
---
Professional Grade
I like professional equipment, and you probably do too. Just one look at the Echo CS 490 Chainsaw and you know it is a professional tool. This is something you can use in literally any situation to cut wood. At home, at work, when outdoors in the wilderness, and even just to cut firewood. The bonus of using a professional piece of equipment is that you know you can depend on it for a long time.
Echo CS 490 Problems
If you read through some of the most popular forums, there will always be people complaining about problems with their chainsaws, no matter the brand. The same is true of Echo. Here are some of the most common problems people have with the CS 490:
The chain tensioner is not the best
The pull cord is a little tight
It can be difficult to start
All of these problems are easily fixed, and none of them are deal-breakers. The chain tensioner can be replaced with an aftermarket one, the pull cord can be loosened, and it just takes a little bit of time to get used to starting the saw.
Echo CS 490 Horsepower
While the power of a chainsaw is almost always measured in CCs, sometimes it is useful to know the horsepower. The Echo CS 490 horsepower is 3.13 which is around the same as similar saws in its class.
Horsepower is important, but it is not the only thing that matters. The chain, bar, and engine all play a role in how well the saw will perform.
---
Echo CS 490 Review: Final Thoughts
For my closing thoughts, I just want to repeat how amazing the Echo CS 490 Chainsaw is. It starts very easily on the first try, it cuts through seriously tough wood with plenty of power, and it runs for a very long time. The chainsaw is reliable, it is super affordable, and it will last you for many years to come.
If you need a new chainsaw to help you around your property clearing logs, chopping up firewood, and doing general maintenance, this is your best option. You will not need to fix it, buy extra parts, or do any kind of tweaking. The CS 490 comes ready to work.
The chainsaw is easy to fill with fuel, it has an ergonomic body, sharp chains, a powerful 2-stroke engine, and it looks amazing. For general purpose work, I highly recommend this chainsaw.
---
Related Articles: