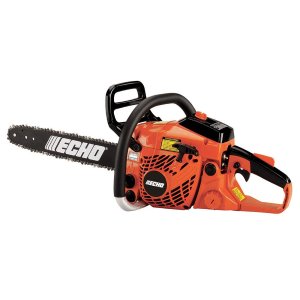 Today we will review the Echo CS-370 Gas Chainsaw. This saw comes available in three different sizes, either with a 14" bar, a 16" bar, or an 18" bar. The chainsaw features an automatic adjustable oiler, an inertia-activated chain brake, the i-30 starting technology, and a robust 36.3 CC professional 2-stroke engine. It even has a G-Force Engine Air Cleaner to keep the chainsaw running at peak performance.
This is an excellent mid-great chainsaw for any type of use. Residential, commercial, logging, or landscaping. Everyone can make use of the chainsaw. It is high in power but still small and portable, and so it is great for trimming trees and also cutting trees down.
You can rest assured knowing the chainsaw will start when you need it to, that it will work the whole day without overheating or giving you any problems, and that the chain will remain properly lubricated with the automatic oiler. You can also bet on consistent performance thanks to the robust engine and the smart air pre-cleaner, which keeps the air filter free of debris at all times.
---
Echo 370 Chainsaw Review: Overview
There is a lot to go over with the Echo CS-370 Chainsaw. We are going to talk about its raw power, its excellent features, its premium cutting ability, and its comfortable design. Everything about this chainsaw is designed to blend power, functionality, and comfort.
While the chainsaw is indeed heavy-duty, it is also lightweight and portable, available in smaller sizes for people who just need a reliable chainsaw on their property for firewood cutting, for storm cleanup, and other general tasks. This is a really well-rounded tool.
---
i-30 Starting System
The Echo CS-370 has an impressive starting system that works so that your chainsaw rumbles to life every time you pull the cord. The system is designed so that with only one or two pulls, the chainsaw will effectively start. This is important for many reasons, not least of which is that nobody likes fighting with their machinery before the day has even started!
The starting system is so advanced that the resistance of the pull cord has been reduced by an amazing 30%. That means that it is 30% easier to start than other similar chainsaws.
---
G-Force Air Cleaning
This chainsaw employs a whole new system of air cleaning. Thanks to the advanced technology, the chainsaw actually expels most of the dust and debris before it can ever reach the air filter inside the machine. Think of it like a deflector keeping away all the harmful dust that can slow your chainsaw down.
Because of this clever air system, your chainsaw will run at premium levels consistently, as there is nothing blocking the air filter that can slow down the engine. Also, you get to do less maintenance because the air filter stays cleaner for longer. This is a big win for you.
Additionally, the air filter itself is automotive-style, meaning it is extremely heavy duty. It is easy to access the air filter when the time does come to clean it, and because of its automotive-style, you get superior filtration where other chainsaw filters have been known to fail.
---
Outstanding Performance
Every last aspect of the CS-370 is outstanding. Even for such a small engine, you get an amazing burst of power each time you pull the trigger. You can purchase this chainsaw with a 14", 16", or 18" bar, and the power from the engine is enough to function properly with all of them.
If you are cutting thicker branches or cutting down small trees, I would recommend going with the 18" bar. If you have a lot of yard work to do, cutting firewood, pruning branches, or doing other wood-related projects, I would recommend something smaller like the 14" bar.
And no matter which bar you choose, the performance is still going to be outstanding. The engine generates enough torque to make all three options supremely effective. Plus, the chainsaw comes with an automatic oiler that matches the cutting conditions to keep your chain moving smoothly around the bar with consistent and effective lubrication.
Related Articles:
On another note, the entire design of the 370 is ergonomic and comfortable. The entire chainsaw was constructed with comfort and ease of use in mind, and so you will never be overwhelmed when using the chainsaw.
It is comfortable, it is easy for any person to operate, and the aluminum handle comes with a rubber over-mold that increases the comfort even more. This is one of the better medium chainsaws to use for long periods of time. The vibration is incredibly low, the weight of the unit is balanced perfectly, and the trigger is even ergonomic!
Also, because of the outstanding fuel efficiency, you very rarely need to fill the gas tank. You get a full day of work with minimal toxic emissions and minimal gasoline consumption.
---
Echo 370 Chainsaw Review: Final Thoughts
There are countless chainsaws you could buy that are roughly the same size, roughly the same price, and roughly the same in terms of performance. But at least when you purchase the Echo 370 Chainsaw, you get smarter features and more reliability than with other units.
There is a reason Echo Chainsaws cost a little more money than the competition. It is because they are made with better parts, they have engines that are more reliable, and they refuse to fail.
With the CS-370 you get an automatic oiler, a special air cleaning system that keeps your engine running smoothly, an extremely tough bar and chain, and the unique i-30 starting technology that brings your chainsaw to life with just one or two pulls of the cord. No more struggling to start your chainsaw.
Whether your old chainsaw is outdated, broken, or you just need a new chainsaw for work around your property, I highly recommend the 370 from Echo. It is affordable, it offers maximum performance, and it comes with everything you need.
---
Related Articles: