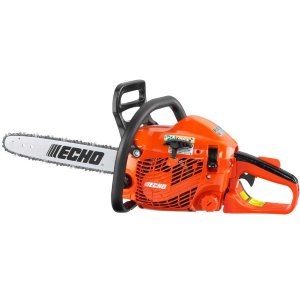 It is time for the Echo CS 352 review. This is an outstanding chainsaw that offers premium performance at a premium price. It comes with all the features you expect in a modern chainsaw without sacrificing the intense power of an old, heavy-duty industrial chainsaw.
This unit comes with unique starting technology, a professional engine, it is available with both 14-inch and 16-inch bars, and it is guaranteed to work well for all your yard work and bush clearing. In fact, this is one of the most popular chainsaws for cleaning up after big storms.
Along with having the best features, you also get the best support from Echo. It is easy to order extra parts, it is easy to replace anything that happens to break over time, and you get the reliability of having a chainsaw from a brand that everyone trusts.
---
Echo CS 352 Review: Overview
You can trust Echo's CS 352 Gas Chainsaw to see you through all of the most intense cutting operations. This chainsaw really is a beast, and in this overview, I am going to take you through all of its amazing features. I guarantee that by the time we are finished, you will be rushing to order this chainsaw to help with all your yard work.
---
i-30 Starting Technology
Nothing is more important than being able to start your chainsaw without having to fight. If you are sick of tugging on a super resistant starter cord, it is time for an upgrade. With the CS 352, you will never have to struggle to start your chainsaw again. This is all thanks to the i-30 Starting System.
This starting system works to drastically reduce the effort it takes to start the machine. This means no more tired arms and no more hassles. The system is designed specially to ensure the engine does not get flooded and your starter pulls effortlessly.
---
Anti-Vibration
Vibration is annoying. The most annoying part about running a chainsaw is the endless vibration. This makes your arms feel tingly and your hands feel like jelly. But with the new vibration reduction system the CS 352 chainsaw has, you will have way more comfort than ever before.
You will notice an immediate difference when using this chainsaw as opposed to older models. There is no gross buzzing feeling in your bones and in your hands. This makes it so that you can use the chainsaw longer without getting tired.
In addition to this, the chainsaw weighs only 8.8 pounds. That is light enough to fling around like nothing. You can easily carry this chainsaw through the woods while clearing trails, cutting up debris, and doing general maintenance to hiking paths. And your arms will never get tired because it simply is not that heavy.
You can also climb up trees and cut away branches without the risk of being thrown off balance. The chainsaw is light enough to carry up a tree with one hand, and it has almost no kickback that will knock you off your balance.
---
Performance in Motion
Chainsaws are all about performance. The whole point of buying a new chainsaw is for it to perform flawlessly on a daily basis. With the 34CC 2-stroke engine on the CS 352, you get maximum performance at all times. This engine spins the chain so fast that you can make quick work of an entire fallen log in minutes.
Performance is kept in motion by the automatic oiler, which is clutch driven to reduce the consumption of oil. Basically, the more you use the chainsaw, the more oil that is delivered to the chain. This means the chain is going to spin smoothly at all times. A well-oiled chain prevents kickback, lost time, and general wear and tear.
To increase the versatility of the chainsaw's performance, it comes available with two different bar lengths. You can get your bar at 14" or at 16" depending on your preference. This allows you to pick the appropriate bar for the job.
Keep in mind that because this chainsaw is so powerful, a 14" chain is going to cut faster and smoother than a 16" chain.
Related Articles:
To ensure the performance of your chainsaw is always perfect, it comes with a chain tensioner on the side of the machine that you can use for making rapid adjustments to your chain. This is incredibly easy and saves you time when you need to suddenly make an adjustment.
Plus, the cover for the air filter does not require any tools to open. Everything on this chainsaw is super convenient. All you must do is pop off the cover and then change the air filter. There is nothing complicated about it. You have instant access to all the important internal parts of the machine.
By using this chainsaw, you will save time, you will save yourself the hassle of digging for tools, and you will have a machine that performs at maximum capacity for many years thanks to all its great automatic features.
---
Echo CS 352 Review: Final Thoughts
Echo CS 352 is a great chainsaw. You can't dispute how handy all of its great features are, how nice it is to have toolless access to the air filter and other internal components, how powerful it runs despite being small, compact, and ergonomic, and how reliable it is for many years at a time.
If you want a chainsaw that will stay with you from season to season, forever giving maximum performance, this is it. The hull is super strong and unlikely to take damage, it starts with a single pull every time, the chain is sharp enough to slice through wood like butter, and the ergonomic design allows for all-day carrying with no fatigue.
I highly recommend this gas chainsaw specifically to homeowners who don't like the idea of an electric chainsaw. While this may not be the best for serious commercial use in the woods, Echo CS 352 is definitely great for keeping trails clean for cleaning up debris, and for general property maintenance.
---
Related Articles: