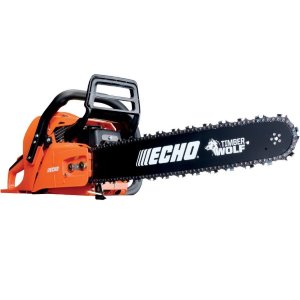 In my Echo CS 590 review, prepare to be wowed by the strength and quality of this great chainsaw. This is really a serious piece of equipment. If you want to hack down trees in mere minutes without breaking a sweat, this is what you have been looking for.
The CS-590 Chainsaw is a pretty big unit from Echo, and you can use it for literally any cutting job. Well, maybe it can't cut a 50" tree trunk that is 1000 years old, but it can definitely work everywhere on your property to clear bush, to cut your firewood, and clean up fallen trees and scattered debris.
This chainsaw comes with a robust 2-stroke engine, a strong 20" bar, and a decompression valve that makes the starter rope easier to pull. It has great maneuverability, it is excellent value for the money, it is ergonomic and easy to handle, and it is lightweight. This chainsaw has everything you are looking for.
---
Echo CS 590 Review: Overview
There are lots of great things to say about the Echo CS 590 Chainsaw. It has a lot of power, it cuts extremely quickly, it has the best in safety features, it offers outstanding performance, it is easy to start, it is lightweight, and of course it is excellent value for the price.
---
Outstanding Performance
Everyone who uses this chainsaw raves about its performance. It is rare to find such an affordable chainsaw that can do the work of a professional unit that costs hundreds of dollars more. Even though it only has a 20-inch bar, it can cut like a chainsaw with a 24-inch bar. It just has power. There is no other way to say it.
How much power? Well, the 2-stroke engine outputs 59.8 CCs. That kind of energy keeps the chain spinning fluidly for hours on end. Additionally, the chainsaw is not prone to overheating. You can use it in any kind of weather, either hot or cold, and the chainsaw just won't quit.
Because of its ergonomic design, you will have an easy time maneuvering the chainsaw in any kind of position. It is lightweight enough that you can easily climb into the canopy of a tree and start cutting branches without any risk that the chainsaw will throw you off balance.
---
Safety First
Safety is always the biggest priority when using a chainsaw. You don't want kickback, you don't want the chain to stall, and you definitely want your hands to be protected from any kind of impact. This chainsaw has all of the boxes checked for safety. The handguard keeps your fingers safe, and the vibration dampening technology inside keeps your arms from getting fatigued.
There is also a decompression valve integrated into the machine that makes it far easier than you would expect to pull the starter rope and get you cutting. By having a chainsaw start with the first pull every time, you are already off to a great day of cutting. There is nothing worse than fighting with your chainsaw for 15 minutes at the start of your day.
---
Quality Chain
Some chainsaws come equipped with garbage chains. You absolutely never want your chain to slip off the machine or to get very dull after just a few cuts. But with the CS 590, that doesn't happen. The chain that comes included with the machine is of the best quality.
Being extremely great quality means that the chain will last much longer before you need to sharpen it or buy a new one. You can chew through cords of wood day after day without needing to sharpen your chain or adjust its tension. It stays exactly where it needs to be.
---
Replacement Parts
Nobody wants to buy replacement parts for their chainsaw. You expect your machine to come with all of the best parts to keep you safe and to keep you working hard. However, if there ever were a problem with your chainsaw, it is nice to know that spare parts are just a day or two away.
Because you are dealing with Echo, there are lots of available spare parts for this chainsaw. You can easily phone the manufacturer, order a replacement part, and expect it delivered to your house extremely quickly. It is just like ordering a pizza, except a little more complicated.
Related Articles:
This is also great if you want to replace any of the plastic parts that come on the machine. For just a few bucks, you can replace the plastic guards with metal guards. While the plastic guards are fine and work well to protect you, metal guards are better and they are easy to replace.
In the unfortunate event that something breaks, which can happen when working in the woods with heavy trees, lots of mud, and unpredictable situations, it is also nice to know that you can get your chainsaw fixed without much hassle. One phone call and the parts you need will be on their way. This is an exceptional bonus to buying the CS 590.
---
Echo CS 590 Review: Final Thoughts
This is an awesome piece of equipment. You absolutely can't deny it. The chainsaw is strong, it is bright orange rather than some weird green or blue color, it runs on gasoline with great fuel efficiency, and it is strong enough to cut down a full tree within a few minutes.
Plus, because there is not much vibration. You can continue to cut down tree after tree without straining your wrists or hurting your arms. And because the unit is probably not going to overheat ever, you can feel free to use it all through a hot summer day, staying confident the motor will not overheat.
To conclude, the Echo CS 590 Timber Wolf Chainsaw is definitely my top pick in its class. No other chainsaw offers such great performance for the same price. There are of course better chainsaws at higher price points, but this is the best in its class.
---
Related Articles: