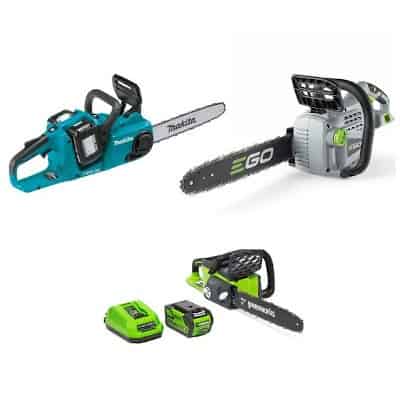 There are dozens of reasons why you might be looking for the best electric chainsaw. Perhaps you are sick of your gas-guzzling chainsaw that is bad for the environment, really loud, a little stinky, and way too powerful for what your tasks are.
To rectify the situation, I have put together a list of the three best electric chainsaws on the market today. Each chainsaw is cordless, each one outputs power that is similar to a gas chainsaw, each one has phenomenal speed, and each is a great value for the price.
I highly suggest taking a quick look at the features of each chainsaw before making your final purchase. While one is definitely the best electric chainsaw overall, the others offer something for everyone too. If you are looking forward to a summer of yard work, you definitely need a quality electric chainsaw.
Top Rated Electric Chainsaws
---
Makita XCU03PT1 Cordless Chainsaw – Best Overall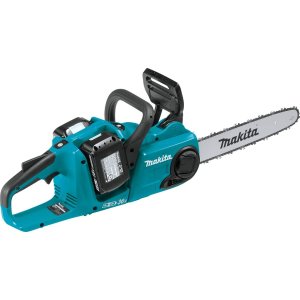 The Makita XCU03PT1 Cordless Chainsaw is a revolution in chainsaw technology. As a 14" chainsaw, the power you get with this machine is unmatched. The electric chainsaw comes with a brushless motor that delivers the same kind of power you get with a 32CC gas chainsaw.
If you want features, check out this chainsaw. It is easy to use, it is extremely safe, it offers tool-less adjustments, and as a kit, it comes complete with four batteries.
Electric Power
If you want an electric chainsaw that delivers unparalleled power, you need to look at the Makita Cordless Chainsaw. You won't even notice the difference between this and a traditional gas chainsaw. It is that powerful! For everyday work in your yard, I can't think of a better unit than this.
The speed trigger on this chainsaw is variable, meaning you control how fast the blade spins. The maximum chain speed is 3,940 FPM. That is quick enough to easily slice through thick wood like it were a stick of cheese.
Twin Batteries
Whereas with a normal cordless chainsaw, you can expect to get your power from a single battery, the Makita Cordless Chainsaw works using twin 218-Volt LXT lithium-ion batteries. Because of this, the power is nearly doubled over that of other traditional electric chainsaws. You get a maximum of 36 volts of power when cutting.
Not only do you get extra power, but you also get extra running time. You get 2 batteries of time rather than just one.
---
---
EGO Power CS1400 Cordless Chainsaw – Budget Pick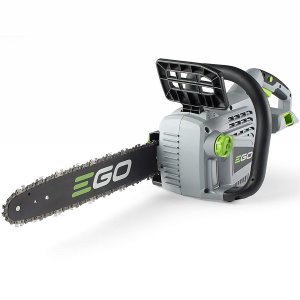 The EGO Power CS1400 Cordless Chainsaw is a great budget option for those who don't want to spend a lot. The chainsaw has a high-efficiency brushless motor that offers 6300 RPM. It is a 14" model with a weather-resistant construction, a chain tensioning nob, and safety control with chain kickback brake. For less than $200, you can't go wrong here.
Advanced Technology
The battery technology with this unit is impressive. Using 56V ARC lithium battery tech, you get intelligent power management, smart cooling technology, improved power, increased performance, and longer battery life.
Speaking of batteries, the same batteries that power your EGO Cordless Chainsaw can power all of your other EGO tools. That is over 40 different tools, including lawnmowers, leaf blowers, and even weed wackers. If you choose to go with the EGO Chainsaw, it may be worth buying all of your products from them so that you have perfect continuity in your toolkit.
Gas Performance
Even though this is a cordless chainsaw that runs on electricity, it performs just like a gas chainsaw. I'm talking about power and speed, approximately 6,800 RPM. That is enough power to cut through hardwood, branches, softwood, and much more.
Plus, you get all the benefits of electricity, such as reduced noise, no dangerous fumes, no damage to the environment, and no hassle of having to buy gas and fill your chainsaw with it. No more leaving gas cans sitting in the garage for the winter. With batteries, you can charge your chainsaw just like you would charge your phone.
---
---
Greenworks 20312 Cordless Chainsaw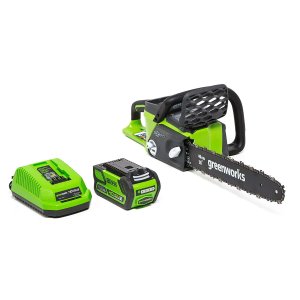 Looking for the best cordless chainsaw? The Greenworks 20312 16″ Cordless Chainsaw is here to help you. This may not be the best chainsaw in the world, but it is definitely heavy duty. It features a brushless motor, minimal vibration, maximum comfort, and a ton of performance even though it only runs on a single battery. And it's affordable!
Vibration & Torque
Everything in this cordless chainsaw has been upgraded to help you. The brushless motor now offers an incredible 30% additional torque. The cutting performance is drastically increased because of all that extra torque. You can now cut through even thicker pieces of wood in even less time.
Then there is the great bonus of having 70% less vibration. Anyone who has used a chainsaw understands how annoying vibration can be. It makes your entire arm feel numb and you don't want to work anymore. But with 70% less, you can work for longer and still be comfortable with the Greenworks Cordless Chainsaw.
Heavy-Duty Electric
The moment you pick up his chainsaw you realize how heavy duty it really is. While it is still ergonomic and easy to handle, it is definitely built tough. You can really feel the strength of the components the first time you put the blades to a piece of wood.
Because of how well-made this chainsaw is, you can expect it to last much longer than other models. There will be less wear and tear, which means longer life out of the product.
---
---
Best Electric Chainsaw: A Complete Buying Guide
Electric chainsaws are awesome. But they do come in different sizes and with different levels of quality. Not all electric chainsaws are created equally. There are electric chainsaws that run on cords, and then there are electric chainsaws that run on batteries. Today we will look at what you need to know when buying an electric cordless chainsaw.
Run Time
Run times are important. The last thing you want is to suck the batteries drive before you get halfway through that ugly stump you were trying to cut. I would generally prefer a cordless chain saw that uses twin batteries rather than a single battery. This will give you a longer life for your tool, and it will increase the overall power.
I recommend purchasing a cordless chainsaw that can deliver at least 130 cuts or more out of a single battery charge. This is plenty of time for you to work throughout the entire afternoon in your yard without needing to change batteries. Alternatively, it is always handy to have some spare batteries already charged so that you can switch them out when your chainsaw dies.
Related Articles:
Performance
One of the biggest issues with chainsaws that run on electricity rather than gas is that they can't stand up to the punishment. Maybe they offer high speeds, but they lack power. I always try to recommend people to get a quality electric chainsaw that mimics the exact power of a gas chainsaw.
How can you tell? Well, all companies are going to advertise the same way. The best thing to do is to scan the reviews and see what satisfied customers have said about how the electric chainsaw matched up against their old gas chainsaw.
If you do your research, chances are you can find a really good chainsaw that runs on batteries but feels and acts like a powerful gas chainsaw. These are generally going to be more versatile than a small corded chainsaw that only is good for chopping branches and hedges.
Clean Design
The design of your electric chainsaw should be clean. What I mean is that you should have no problems maneuvering your chainsaw in different positions. Whether you are laying on your back, standing on a ladder, or hanging upside down from a branch, you must be able to easily maneuver your chainsaw.
Any good electric chainsaw is going to come with an ergonomic handle, a good amount of padding in the handle to take away some of the vibrations, and a guard above your hand to stop you from being hurt in the case of an accident. Safety is extremely important with a chainsaw. And not just so that you don't cut yourself, but also to prevent spray from going in your eyes.
Read More: Best chainsaw under $400 – 3 top rated models
Best Electric Chainsaw: Final Thoughts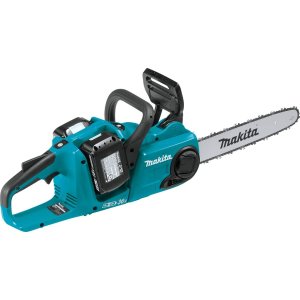 You have to admit, these three chainsaws are great. Each one would make an excellent addition hanging on a hook in your shed. They are cordless, they run flawlessly, and they do their jobs well. The EGO is a seriously reliable unit if you are on a budget and want to save some money, and the Greenworks 20312 is a well-designed chainsaw that offers great performance.
But the best performance comes from the Makita XCU03PT1 Cordless Chainsaw. It may only be 14 inches, but it emulates the raw power of a 32CC gas chainsaw. It has a variable speed trigger, fantastic speeds of up to 3,940 FPM, chain adjustments that are toolless, great safety features, and power-save capabilities.
If you are looking for an excellent electric chainsaw, completely cordless, that you can use for around the yard or to take with you in the bush, Makita has you covered.
---