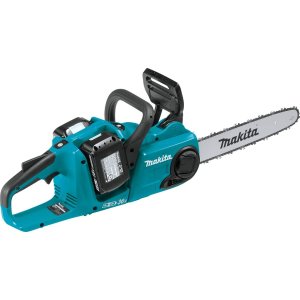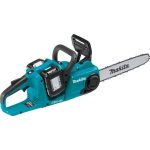 Long Battery Life
Easy To Use
Lots Of Power
Durable Build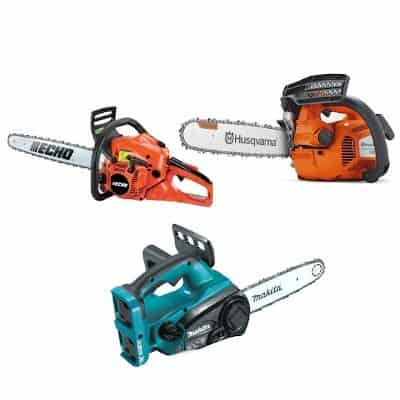 Today we are talking about chainsaws. But not ordinary chainsaws, these are all extremely high-quality chainsaws currently in the best chainsaw under 400 dollars bracket. Forget about budget chainsaws, these are some of the greatest mid-range chainsaws you can buy today, including cordless units and gas units.
The chainsaws on today's list are all premium models from respected companies in the industry. These awesome tools come with strong engines, incredibly quick chain speeds, low noise, low emissions, and all the modern features you need in a chainsaw.
Who could benefit from one of these affordable chainsaws? Anybody who owns a piece of property, who has trees growing around their home, or who works in the landscaping business. These chainsaws are great for cutting small trees down, for trimming the branches of any size of tree, and for making quick work of firewood.
Top Rated Chainsaws Under 400
---
Makita XCU02PT 18V Cordless Chainsaw: Best Overall
The Makita XCU02PT 18V Cordless Chainsaw is an impressive little unit. This is the ideal partner for outside work when there is cutting to be done. The chainsaw is very slim, very lightweight, and very durable. It uses a twin pair of 18V batteries for a total of nearly 40 volts of power, which is more than enough for completing the toughest cutting jobs.
Better than Gas
I personally think the Makita Cordless Chainsaw is much better than any similar gas unit. There are absolutely no toxic emissions, the noise level has been drastically reduced and now stands at only 87 decibels, and the tool-less chain adjustments are convenient and simple.
You get much better features with this cordless chainsaw than you do with a similar gas unit, and you don't lose any power either. This motor delivers incredible chain speeds and rugged power that could rival even the strongest 12" gas chainsaw. And it is healthier for the environment!
Maximum Durability
There is something to be said about having a durable product. Whereas most small cordless chainsaws are built with shoddy parts and cheap components, Makita does not skimp on quality. Everything that has gone into building this chainsaw is premium. I am talking about the best possible materials for all the parts.
This has worked to give the chainsaw increased durability, including a series of protective seals that keep dust, water, and debris away from the most important internal components of the machine. The durability, power, and lightweight properties ensure the Makita XCU02PT comes out on top as the best chainsaw under $400.
---
Echo CS-490 Gas Chainsaw: Budget Pick
The Echo CS-490 Gas Chainsaw is a professional-grade chainsaw with heaps of power and great ease of access. The chainsaw is well-made, it comes from a reliable manufacturer, and it works perfectly. If you want a lot of power to make quick cuts, you can definitely count on the CS-490 Chainsaw.
Easy to Use
There is nothing nicer than having a tool that is easy to use. With the Echo CS-490, it has never been simpler to master a chainsaw. Because of its ideal size, any beginner can pick up the chainsaw and learn how to use it. The starter cord works extremely well, the oiler is functional, and the adjustments to the chain tension can all be done quickly and painlessly.
It is also important to mention that the chainsaw comes equipped with all the basic safety features, such as a durable handguard and a chain brake system. It is extremely comfortable, too, which adds to the safety level.
Great Quality for Money
As a general rule, you get what you pay for in all things. That said, you get great quality at an incredibly rare price with the Echo CS-490. It has all the relevant features you need in a big powerful chainsaw, it is great with fuel, it outputs minimal emissions, and it is safe to use – making it one of the best chainsaws under $400.
If you don't feel like wasting a ton of money on a fancy chainsaw with a massive 24" bar, you should definitely choose the Echo 490. It is great for chopping wood, for felling small to medium trees, and for doing lots of hefty yard cleanup.
---
Husqvarna 435 Chainsaw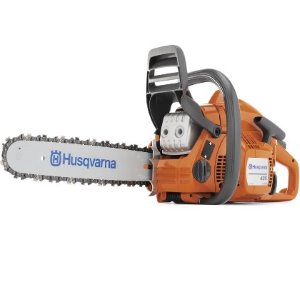 The Husqvarna 435 Chainsaw is a unique chainsaw with exceptional power. As a well-designed chainsaw, you get maximum maneuverability with the 435. It has an anti-vibration system that makes it much more comfortable to use, and it comes equipped with a convenient chain tensioning system.
This chainsaw gives you low fuel consumption, reduced toxic emissions, and it even comes included with a rope attachment for easy hoisting into trees.
More Power, Fewer Emissions
This is a chainsaw that is worth the price. It offers fantastic power in a small and convenient package. The chainsaw is very lightweight, and yet it has enough power to cut down mighty trees in mere minutes. For chopping logs into firewood, this is one of the better chainsaws to have handy.
And even though it comes with outstanding power and performance, you will be surprised to know that there are very few toxic emissions coming from this chainsaw. This is in part because of its low fuel consumption. It does not take a lot of fuel to run this machine, and therefore the toxic emissions are greatly reduced.
Strong Bar & Chain
The bar and chain on the 435 are excellent. The bar is sturdy, strong, and resilient to lots of different types of damage, including weather damage. The chain is equally as tough, with impressive cutters that do not get dull easily. You can use the bar and chain for a long time without needing to replace one or the other.
---
Best Chainsaw Under 400: A Complete Buying Guide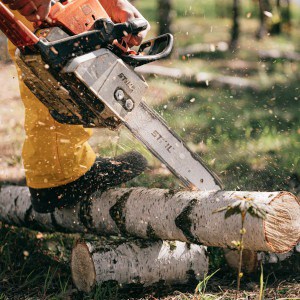 Chainsaws are available in a huge variety, depending on many reasons. They come in various shapes and sizes, designed for a specific task. Due to this range, finding a chainsaw of good quality that fits your budget is not a challenging task.
You have quite a few options when shopping for the best chainsaw under $400. Sure, there are some pretty pricey chainsaws out there that fetch upwards of $500, but if you are only tending to your property, cutting down some medium trees, or doing some light pruning, there is no reason to pay so much money.
Chainsaws that are priced below $400 are equipped with many benefits and features that could suit your needs. However, you must first ascertain the purpose of buying one. Whether you need a chainsaw for commercial use or home lumbering, some factors need to be kept in mind before purchasing a chainsaw under $400.
How To Choose A Chainsaw Under $400
$400 will fetch you an extremely high-quality chainsaw with lots of power, full portability, and unparalleled cutting performance. Here is what to look for in a quality affordable chainsaw.
Budget
Since chainsaws are available in a huge variety, I used this factor to narrow down the perfect model for my needs within a tight budget. Instead of looking at specific features of each model first, allot a budget. This fixed amount can be used as an important prerequisite for purchasing the right chainsaw to fulfill your expectations without spending an exuberant amount.
Use
Chainsaws can be used for numerous tasks such as heavy cutting, carving, and commercial uses. Based on this, choosing the right type of chainsaw is important. A list of the different types of chainsaws is included below.
Power Type
The power type of a chainsaw is an important factor to take into consideration based on your convenience. For example, purchasing an electric chainsaw would require a power source to be nearby for the entirety of its use. If you cannot work with a model that can function in a limited range, purchasing a battery-powered saw can be of more utility to you.
Bar Size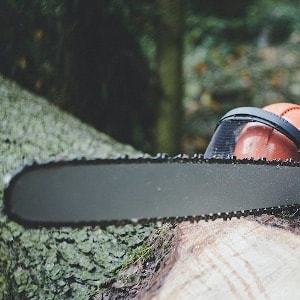 The bar size of a chainsaw determines the time taken for each task. This is because different models can cut through different diameters depending on what you want to cut. The bigger the diameter of the objects you want to cut, the bigger the bar size should be.
Skill Level
Working with chainsaws can be dangerous considering your level of skill and experience. Certain varieties of chainsaws can lead to fatal injuries for people who have not worked with them before. This factor should be kept in mind while purchasing a new saw as it could potentially lead to significant harm. The best chainsaws under $400 will have various safety features that make them safer.
Durability
Durability is critical in any type of machine, budget or otherwise. For under $400, you should easily be able to find a chainsaw with great durability. And what I mean by great durability is that the chainsaw is solidly made with premium components and high-end materials.
Any quality chainsaw should come with a durable body, some weatherproofing so that the tool does not fail when exposed to water and dust, and a quality air filtration system. Any good chainsaw should be able to continue working in the worst elements no matter what.
Also, any good chainsaw will have a special air filtration system that keeps dust and debris away from the air filter so that your chainsaw continues operating at maximum performance. With great durability, your $400 chainsaw will continue functioning for many years to come with no failures.
Comfort
Comfort is a huge deal when talking about chainsaws. Without comfortable handles and an ergonomic design, you will find yourself uncomfortable while operating the tool. This is not only dangerous, but it is tedious and taxing on your body.
Always check to make sure your chainsaw comes with comfortable handles, an anti-vibration system designed to decrease the fatigue of the user, and a lightweight build. You should be able to maneuver your chainsaw for hours without hurting your back or losing balance. And vibration is an absolute no-no in any modern chainsaw.
Another form of comfort is convenience. Never spend $400 on a chainsaw unless it has convenient features, like a reliable automatic oiler, a dependable chain brake system, and toolless adjustments to the chain tension, all of which the best mid-priced chainsaws have.
Related Articles:
What Types of Chainsaw are Available for under $400?
Chainsaws are available in a variety of types depending on the nature of the tasks. These should be looked at to ascertain the options and choosing the right one specific to your needs.
Here is a list of the three major types of chainsaws available in the market.
Gas-powered Chainsaws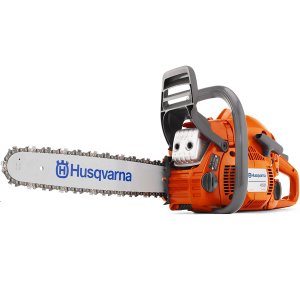 This type of chainsaw has been around for a while and is the most popular type. They are known for their powerful function as they can reach over three-horsepower in some models. They function on a mixture of oil and gas and can be used for more difficult tasks such as chainsaw milling.
Electric Chainsaws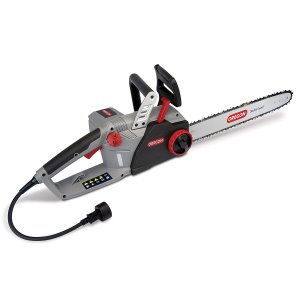 Corded electric chainsaws are not as powerful as gas-powered chainsaws but are reliable as they will never run out of battery or gas. They also do not produce as much noise as other types. They are low-maintenance as they do not need a gas refill or new batteries after regular intervals.
Battery-Powered Chainsaws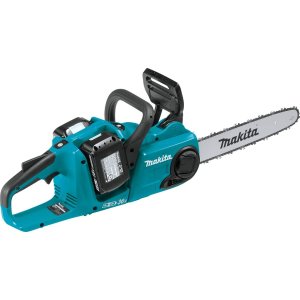 These chainsaws are easily portable and handy. They are also quiet and have enough power to chop most trees. The only noise emitted is while pulling the trigger, which is required because it is not equipped with an engine to idle. They are extremely easy to maintain, but they require regular battery changes.
Advantages of Having a Quality Chainsaw for Less than $400
Having a powerful tool in the house can be helpful, especially if you prefer to indulge in handy work yourself. A chainsaw is very advantageous to have, and if you purchase a model for under $400, it is a steal as the quality of the products is top-notch.
Let's take a look at some of the advantages of having the best chainsaw under 400 dollars.
Powerful
Whether it is for gardening or a DIY project, owning a chainsaw gives you a powerful tool while maintaining and crafting. Gas-powered chainsaws, in particular, are known for their tremendous power and ability to cut through thicker trunks. Purchasing a chainsaw for under $400 is cost-effective as you will not have to spend too much for a powerful chainsaw. These are proficient at using for household activities and hobbyists.
Lightweight
Most chainsaws under $400 are easy to maneuver as they are light and convenient to use. Electric chainsaws are particularly known for this feature as they do not need an additional load for refilling gas or fuel. Therefore, operating chainsaws is extremely easy and does not require an exorbitant amount of time and energy to use.
Environment Friendly
Barring the gas-powered chainsaw, these tools are eco-friendly as they do not produce fumes in the process of use. Battery-powered and electric chainsaws can function for longer without being confronted with inconveniences such as changing of batteries. Since they function on electric energy, they do not produce any residue that is destructive for the environment.
Versatile
Owning a chainsaw under $400 gives you the ability to indulge in numerous activities. Dabbling in gardening, crafting a personal project, or removing debris from your land is all possible with the help of a chainsaw. These tools allow me to fulfill any gardening task without any hassle. I never need to summon the services of professionals as the chainsaw is extremely handy.
Cost-effective
Considering that these chainsaws are under $400 and offer the highest quality ensures value-for-money. Although electric chainsaws are cheaper than gas-powered ones, they offer similar benefits and are durable. These tools will not only offer the best functioning but also last longer and are reliable.
What Features Does a Mid-Priced Chainsaw Need?
As mentioned earlier, chainsaws are available in a large range in terms of shape, size, type, and other features. An overview of the size and type of chainsaw you need must be considered first. These are determined based on the type of wood you need to chop or a specific activity that you need the tool for.
Nonetheless, the following features should be included when purchasing the best chainsaw under $400.
Anti-vibration Feature
Purchasing a chainsaw that possesses the anti-vibration feature increases the overall comfort while using it. They are also proficient at reducing fatigue while working as they do not require as much energy. They are easy to use if you have a huge amount of wood to cut.
Spring-assist Start
A chainsaw equipped with a spring-assist start is more convenient to use. This is because it reduces the force required to start by pulling. This feature is especially helpful for gas-powered chainsaws.
Automatic Oil Lubrication
Some chainsaws come with automatic oilers that lubricate the chain while you are working with it. This is a helpful feature as you need not be worried about activating it. The chain must be lubricated while in use as it increases safety and increases efficiency while cutting.
Chain Brake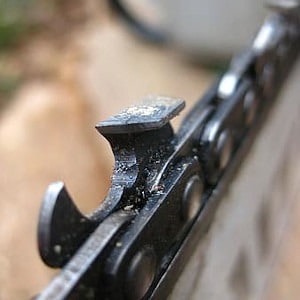 Most chainsaws under $400 employ a chain brake, which is essential to maintain safety while cutting. These are designed to terminate movement of the chain in the case of abrupt movements or a sudden impact. Some chainsaws are equipped with a chain brake that can be activated manually.
Choke Control System
A choke control system on chainsaws is designed to make ignition easier. It also prevents the engine of a gas-powered chainsaw from being flooded.
Filtration System
A chainsaw with an air-cleaning feature removes the larger pieces of debris before reaching the filter. This ensures the extended life of the air filter as it does not have to encounter large debris that could damage the filter.
Oxy-power Engine
An oxy-power engine that is present in some of the best chainsaws under $400 provides additional power while cutting wood. This reduces the overall effort required to use the chainsaw. This engine is also responsible for reducing fuel consumption and is, therefore, more eco-friendly. This is because the lowered fuel consumption cuts down the emission of harmful greenhouse gasses.
Front Guard Handle
A front guard handle on a chainsaw is a handy feature as it functions as a safety component of the tool. It allows you to cut wood while having a secure fixture to hold. This prevents injury and prevents debris and flying objects from harming you. The handle also gives you more space to maneuver with the chainsaw.
Tensioning System
Some chainsaws under $400 are equipped with an automatic tensioning system. It does not need any tools to make adjustments. This allows you to be creative with your chainsaw as the system allows the cutting of objects in a customized way.
Power is a Must
Power is important with a chainsaw. Without sufficient power, your chainsaw cannot cut down trees, it can't cut through limbs, and you will find yourself needing to force the chainsaw just to make a cut. This is obviously unacceptable in a mid-grade unit.
Never settle for a gas chainsaw that has less than a 50CC 2-stroke engine. In fact, I would recommend picking up a chainsaw that has a minimum of a 60CC 2-stroke engine, as you should always get more power for more money.
Investing in a chainsaw under $400 is extremely convenient as it gives you numerous benefits. Choosing the right model to fit your needs is essential as chainsaws are designed to fulfill specific functions. Depending on the activity and type of wood you intend to cut, you can choose from many chainsaw models under $400. This is an efficient and cost-effective way of purchasing the perfect chainsaw.
Best Chainsaw Under $400: Final Thoughts
It is hard to determine a winner today. These three chainsaws are all extremely different, and it really depends on what kind of work you are doing. The Husqvarna 435 is an excellent chainsaw for a low price that comes in handy for all kinds of different landscaping jobs, while the Echo CS-490 is another remarkable model that comes with a durable bar and a powerful engine.
However, my favorite pick has to be the Makita XCU02PT Cordless Chainsaw. While it may be a pretty small unit with only a 12" bar and chain, it packs one powerful punch. It cuts extremely quickly using a pair of 18V lithium-ion batteries, producing enough torque to spin the chain at roughly 1,650 FPM. That makes for some very fast cutting! Plus, both batteries are included in the package.
There are other great features, too, like the toolless chain adjustments, the zero-emission output, the comfortable handles, and the low noise level. For any homeowner who needs a quality chainsaw for landscaping tasks, this Makita is the unit I can recommend as the best chainsaw under $400.
---
Related Articles: