Are you in the market for the best chainsaw under $300? With this kind of price tag, you have a load of options. There are dozens and dozens of super high-quality chainsaws that you can get for this low price. You can get chainsaws with lots of automatic features, with strong engines, and with all the fancy bells and whistles.
Not only that, but you can get a great residential chainsaw with a strong bar and a sharp chain, anywhere from 10 inches to 20 inches. These units are robust, they are great when it comes to fuel, and they are reliable. $300 is plenty of money to get a dependable tool for all your cutting needs.
If you own a business in which cutting wood is an everyday task, you might think about picking up a few great chainsaws for under $300 to give to your crew members. Alternatively, if you own a piece of property and need a chainsaw for regular maintenance, you definitely don't want to spend more than $300. But don't worry, all the options we're looking at today are reliable and affordable.
Top Rated Chainsaws Under 300
---
Jonsered CS2245 Gas Chainsaw – Best Overall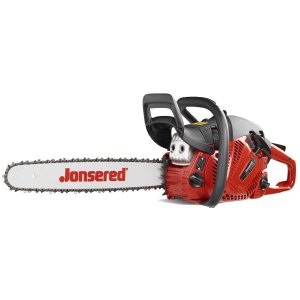 The Jonsered CS2245 Gas Chainsaw is a very handy piece of machinery with great fuel efficiency and smart design. This chainsaw is ideal for all kinds of medium work. For cutting small or medium trees, the CS2245 has got you covered. It can also make quick work of branches and firewood. The chainsaw has serious power, it cuts professionally, and it is designed to be ultra-comfortable.
More Comfort, More Convenience
Most gas chainsaws are not that comfortable to operate. They are big and heavy, and they are kind of awkward. But with the CS2245, everything is perfectly balanced. The chainsaw really feels natural in your hands while wielding it. The handles are more comfortable, the vibration is dampened to make cutting less of a nuisance, and everything is upgraded to be more convenient.
The biggest added convenience is how easy it is to start this chainsaw. A single pull of the cord results in an immediate start of the engine most times. There is nothing nicer than a chainsaw that rumbles to life without giving you a big fight or stressing your arm.
Cleaner Technology
The technology inside of this chainsaw is much cleaner than older models. There is a new air intake system that uses a unique centrifugal force to remove almost 100% of all the dust and debris from the air before it manages to get into your air filter. This keeps your chainsaw running at optimum levels without a clogged air filter slowing you down.
---
---
EGO Power CS1400 Cordless Chainsaw – Budget Pick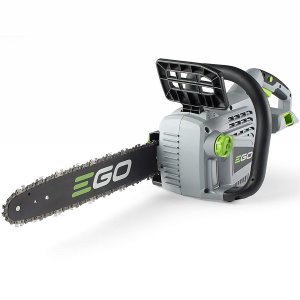 The EGO Power CS1400 Cordless Chainsaw is a seriously advanced cordless chainsaw. You have probably heard of 20V and 40V batteries, and you probably know that batteries which are that weak are not designed to be used with a chainsaw that offers incredible power. But with this unit, you get a 56V battery for extra life, extra torque, and extra RPMs.
Weather Resistant
everyone knows that when you are working outside the weather can be unpredictable. Because of this, you need a chainsaw that has a weather-resistant construction. With this chainsaw, you can work in the rain, in the snow, or in the hottest and windiest conditions without sacrificing power or convenience.
The robust build of this chainsaw means that its body won't malfunction when the weather is bad. Everything is built strong and built to withstand the most rugged outdoor environments.
14" Bar & Chain
This is a light cordless chainsaw. It does not weigh very much, and it is not very bulky. It comes included with a 14" bar and chain that can cut through anything. If you find yourself with a lot of pruning to do, you don't need a big chainsaw. A 14" bar and chain can easily cut through any kind of lumber that is roughly 12" in diameter. This unit is perfect for branches and firewood.
---
---
Greenworks 20312 Cordless Chainsaw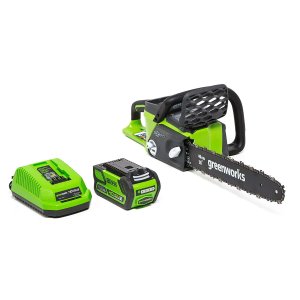 The Greenworks 20312 Cordless Chainsaw might be the best cordless chainsaw ever built. This impressive piece of cutting technology comes with a brushless motor, a G-MAX 40V lithium-ion battery, a low-kickback chain for user safety, and an electronic chain brake system for even more safety.
70% Less Vibration
Every chainsaw advertises minimum vibration. But when it comes to this small chainsaw from Greenworks, you really do get 70% less vibration. The incredible technology that has gone into the development of this chainsaw means that you will feel only 30% of the vibration you are used to with an older chainsaw. This means no annoying vibrating sensation crippling your arms and hands.
Brushless Motor
The brushless motor on this cordless chainsaw has an extremely long runtime, 30% more torque, and one of the greatest cutting performances of any chainsaw in its class. This is a work of art when it comes to battery-powered motors. At a minimum, you should get at least 100 cuts through solid timber with a single battery charge thanks to the impressive power of the brushless motor.
Also, the motor is extremely light, allowing you to work easier with more power. You do not sacrifice any torque or cutting ability even though you have a small and lightweight chainsaw that anyone can pick up and easily use. This is a user-friendly chainsaw with a roaring motor and a fast-spinning chain!
---
---
Best Chainsaw Under 300: A Complete Buying Guide
There is so much that you can get for under $300. There is no reason for you to sacrifice power or dependability just to get a cheaper chainsaw. All three chainsaws on the list work magically and they are all more affordable than their competitors. But what are some of the main features you can look forward to with an affordable chainsaw under $300?
Power & Safety
Power and safety are the two main components of any quality chainsaw. In terms of power, nothing with less than a 40V battery is going to cut it. $300 is a lot of money and you need a chainsaw that has some serious cutting power. If you are spending this much money, you do not want to get stuck on a job because your chainsaw is too weak
If going electric, always try to get a chainsaw that uses a 40V or 60V battery. This will give you enough power to charge the chainsaw all throughout the day while you are working, and it will give you the strength needed to rip apart cords of wood with your chain. Any reliable chainsaw should give you upwards of 100 cuts with a single charge of the battery.
Related Articles:
If you are going with gas, don't buy anything that has an engine smaller than 45CCs, as there is no need to do so. There are lots of extremely powerful chainsaws for under $300, and all the good ones have an engine that is at least 45CCs.
For safety features, a strong handguard is necessary to protect your fingers, knuckles, and hand from unwanted objects crushing them. Always make sure the handguard is reliable before making your final purchase. This can mean the difference between a broken hand and fingers that can still wiggle.
Secondly, you need to have a chain brake safety, which will keep the chainsaw from any harsh kickback. The kickback is what happens when your saw gets stuck, hits something hard, or generally disagrees with the wood and then kicks back. This sudden and extremely violent move can cause serious injury if the chainsaw kicks upward and hits you in the face.
Long-Lasting Performance
You definitely want your chainsaw to work immediately the first time you use it. But you also want your chainsaw to work for years to come. Long-lasting performance is important, and there is no better way to ensure long life out of your tool than with easy maintenance.
Try to find a chainsaw that comes with an automatic oiler, that offers a clean air system to prolong the life of your air filter, and that has a convenient starter so that you don't accidentally flood the engine repeatedly.
Best Chainsaw Under 300: Final Thoughts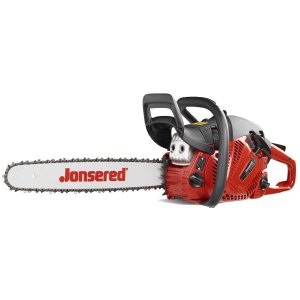 All the chainsaws on this list are of high quality. Choosing a winner is very tough, and it kind of comes down to what you prefer. Both electric chainsaws make ideal choices for a clean and reliable chainsaw that will take care of your property. Both of them are equally reliable and powerful. And if you don't want to gas chainsaw, I would definitely choose the Greenworks 20312 Cordless Chainsaw.
However, if you are in the market for a gas chainsaw, let me recommend to you the Jonsered CS2245 Gas Chainsaw. This thing has a clean engine that barely outputs any harmful emissions. It is extremely fuel-efficient, it cuts like a dream, and the handles are insulated for better comfort.
This Jonsered's model is extremely ergonomic, it has well-designed air intake technology to keep your air filter clear of debris, and it gives an optimal performance in every situation. With a solid 18 bar & chain, you can easily take care of any block of wood using this chainsaw.
---
Related Articles: