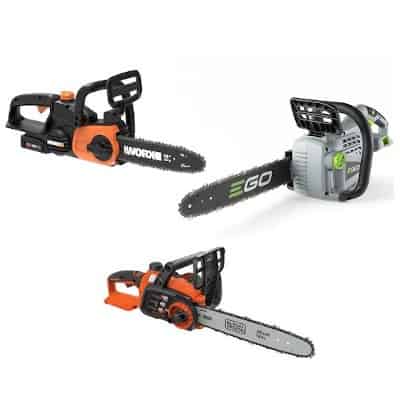 Who said the best chainsaw has to be expensive? You can easily get an extremely good-quality chainsaw for less than $200. And luckily for you, I have put together a list of the best chainsaws for under $200. These chainsaws are built tough, they are extremely durable, and they have very strong engines.
If you are looking for a chainsaw to use around your property but you don't want to spend that much money on one, this is the list for you. These three cordless chainsaws are dirt cheap without sacrificing quality. They are tough enough to do excellent work cutting down trees and trimming branches. Any kind of yard work you have can be done using one of these low-cost chainsaws.
Perhaps the best work they can do is for your firewood. These are awesome chainsaws for cutting small logs, branches, and trunks into firewood.
Top Rated Chainsaws Under 200
---
EGO Power CS1400 Cordless Chainsaw – Best Overall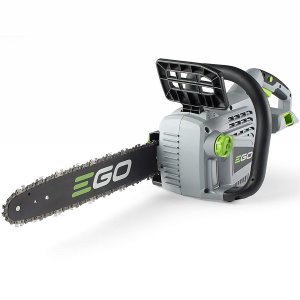 The EGO Power CS1400 Cordless Chainsaw is a powerhouse. For such a lightweight cordless chainsaw, you get an intense amount of power when you use the CS1400. I guess that's why they call it the Ego Power! The motor outputs a crazy number of RPMs, while the bar and chain are so solid that you can depend on them to bite through the toughest wood.
Safety & Control
This chainsaw has been designed with safety and control in mind. First, safety is directly linked to the control. Because this chainsaw is ergonomic and comfortable to hold, you will never be off-balance or awkward when holding the chainsaw.
Additionally, there is a chain kickback brake that adds to the safety, stopping the chainsaw from flying back at you in case of a dramatic kickback. Your hand is also protected by a very strong handguard. No trees are going to be crushing your fingers any time soon.
Gas Performance, Battery Power
Just because this chainsaw is powered by batteries does not mean it doesn't have the kind of strength you get with a gas chainsaw. The entire purpose of this chainsaw is to be an extremely useful tool and to do the same work as your gas chainsaw. Otherwise, what would be the point?
With the revolutionary design of the chainsaw and the technology that has gone into the batteries, you get the same power and the same outstanding performance as a gas chainsaw. That means strength, resilience, and dependability. And you get all of this without the negative effects of a gas chainsaw, like no fumes and no noise.
---
---
Worx WG322 Cordless Chainsaw – Budget Pick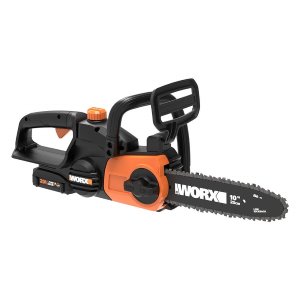 The Worx WG322 Cordless Chainsaw is not only less than $200, but it is also even less than $150! This is probably the cheapest chainsaw I have ever seen that is still worth buying. If you know anything about tools, you know that Worx is a reliable brand that makes reliable tools. The big difference here is that the chainsaw only comes with a 10" bar and chain, which may put some people off.
But let me tell you, a 10" bar and chain are perfect for doing lots of basic yard work. You can always find something to do with this chainsaw.
Quick & Clean
The best thing about having a tiny chainsaw is how fast you can use it. All the cuts are clean and quick, thanks to the great power coming out of the 20V battery. You don't have to make a fuss with gas and there is no cord to slow you down. You can easily bite through branches and firewood quickly and effectively.
The chainsaw is small and lightweight, easy to manipulate into weird orientations. The chain spins very fast and combines with the automatic tensioning system and the automatic oiling system to be one of the smoothest miniature chainsaws on the market right now. Did I mention it weighs the same as a bottle of soda?
Loads of Battery
Some batteries are too weak – they die too quickly, and you can never use your tool for more than twenty minutes. But that is not the case here. The battery used to power this chainsaw could also power your lawnmower!
---
---
Black & Decker LCS1240 Cordless Chainsaw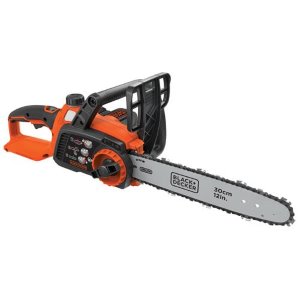 The Black & Decker LCS1240 Cordless Chainsaw is kind of a monster. It operates on an impressive 40V MAX lithium-ion battery that gives you a very long runtime between charges and a whole lot of power for those tough jobs. It also comes with a premium 12" bar and chain, an automatic oiling system, and chain tensioning without any tools.
Comfort & Control
This chainsaw is comfortable. The upper handle is full wraparound to make it easier orientating the chainsaw in weird directions while you are cutting. For pruning branches and cutting limbs off fallen trees, this is the chainsaw to do it with. It is extremely comfortable while you are bent over or reaching upwards to prune a tree.
Because of its lightweight design, you are not going to get tired. If you have a massive pile of wood ready to be turned into firewood, this is an excellent chainsaw to work all through the afternoon with. It is lightweight, it has low vibration, and it is more fun than it is a hassle.
40 Volts of Power
40 volts is ideal for a cordless chainsaw. Many chainsaws only come with a 20V battery, and that is simply not enough power to do real cutting. But with this chainsaw, you get a very powerful 40V MAX lithium-ion battery that allows you to cut about 60 pieces of lumber on a single charge.
---
---
Best Chainsaw Under 200: A Complete Buying Guide
Let's face it, when you are purchasing a chainsaw for under $200, you don't have a lot of options. But you do have some really good options. Just because the chainsaw is cheap does not mean it sucks. For example, the chainsaws on this list all have amazing features even though they are affordable.
Here is what you can expect in terms of features from a chainsaw under $200.
Small & Agile
Any chainsaw you pick up on a budget is probably going to be a smaller model. But this is great if all you are looking to do is yard work and smaller wood-cutting tasks. For a chainsaw with the bar and chain between 10" and 16", You can still get a ton of work done.
With a small chainsaw, you can expect an extremely lightweight tool that is easy to use without the stress of a giant chainsaw with a loud and obnoxious engine. You get less noise, you get better ergonomics, and you get a better experience throughout the day working.
I suggest purchasing a chainsaw that will fit your daily range of tasks. If you are cutting firewood from fallen trees, cutting branches from a tree in your yard, or anything similar, a chainsaw with a bar and chain that is either 10", 12", or 14" is going to be the best.
The only real reason to purchase a giant 18" chainsaw or bigger is for doing some extreme work, like milling or cutting down large trees. Anything else would be a waste of power and effort. Even a small 16" chainsaw can swiftly cut down a small tree, or a larger one that has already fallen.
Related Articles:
Automatic Features
Small chainsaws can still come with automatic features. I always suggest getting a chainsaw that has an automatic chain lubrication system. This allows you to fill the reservoir with oil and forget about it. The automatic system will lubricate the chain for you, extending the life of your chainsaw and keeping its performance at peak.
Other features to look out for are automatic chain tensioning systems, which keep your chain at just the right tension. There are also air intake systems that can keep the dust and debris away from your air filter and away from the internal components of your chainsaw. This will also extend its life.
Battery Power
Never forget about battery power. A cheap chainsaw is generally going to be a cordless chainsaw, and this means it will run on batteries. A 20V battery will probably get you by in most situations, but I highly recommend finding a chainsaw with a 40V battery if possible. The more volts, the more power, and the longer the chainsaw works between charges.
Best Chainsaw Under 200: Final Thoughts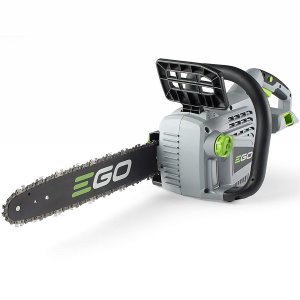 It is hard to choose the best when all the contenders are awesome. Any one of these chainsaws will make a great addition to your tool shed at home. The Worx Chainsaw is a double-budget unit that offers lots of modern perks, while the Black & Decker Cordless Chainsaw comes in just under $200 with a massive 40V battery and a seriously tough bar and chain. Both these chainsaws are great deals at under $200.
But the best by far has to be the EGO Power CS1400. This baby comes with a hi-efficiency brushless motor that outputs 6,300 RPM. It has an ultra-strong Oregon bar and chain, and the entire construction is weather resistant. This is one of the best chainsaws for using outdoors in brutal conditions. It stands up to everything.
And even though it is cordless, it still has a mega engine with mega power. Ego really knows how to make their chainsaws. This is a devastating tool that is for more than just firewood and yard cleaning. This chainsaw can easily cut through small and medium-sized trees.
---
Related Articles: