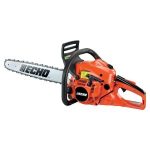 Plenty Of Power
Tough & Durable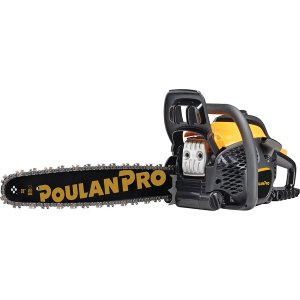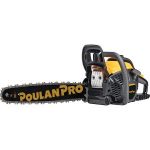 Powerful & Efficient
Easy To Start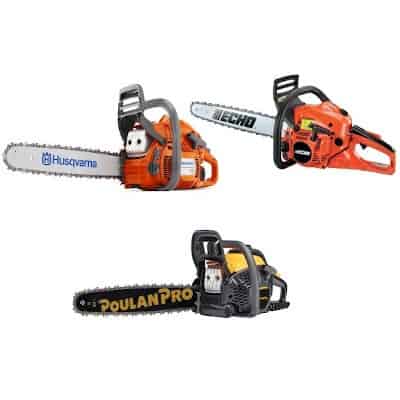 Are you looking for the best 50CC chainsaw? A 50CC chainsaw can handle all the most intense woodcutting, whether on your property for maintenance or firewood, or for industrial purposes like milling, felling trees, or limb removal.
Today we are going to look at the three best mid-powered chainsaws, each of them coming from a well-respected chainsaw manufacturer. These chainsaws have fantastic features that will make your residential cleanup a breeze. These models are easy to use, they are effortless to handle, and they are all very fuel-efficient.
If your old chainsaw has seen its last day and you are in need of a replacement, any of the chainsaws on this list are great. 50CCs is loads of power to tackle even the toughest jobs. You can expect excellent cutting ability, simple functions, and minimal vibration. A 50CC chainsaw is the perfect mid-grade saw for a wide variety of applications.
Top Rated 50CC Chainsaws
---
Echo CS-490 Gas Chainsaw – Best Overall
The Echo CS-490 Gas Chainsaw is an extremely nice little unit that packs a mean punch. Echo is notorious for making some of the best tools money can buy, and this model fits nicely into the best 50CC chainsaws category.
This unit comes with a very durable body, an easy pull cord, a sturdy handguard, a very tough bar and chain, and all the other features you need to get the job done right.
Top Piece of Equipment
There is nothing like having a quality piece of equipment that won't let you down. This saw has loads of power, it has a strong bar & chain, and it has the raw functionality to cut down trees one after the other. The entire saw is built from reliable components that have been designed for maximum durability. This chainsaw will last you practically forever.
The CS-490 is easy to use, it is comfortable to control, and it is lightweight and quick. It's probably the best little unit that can be used by homeowners to take care of their firewood cutting needs and to tackle pruning.
Ease of Use
Everything about the CS-490 is very easy to use. The handle is designed to fit nicely in your hand, the trigger is ergonomic and easy to squeeze, the pull cord has minimal resistance, making it very easy to start the chainsaw in the first place, and the engine is designed to give maximum power when you need it.
---
---
Poulan Pro PR5020 Gas Chainsaw – Budget Pick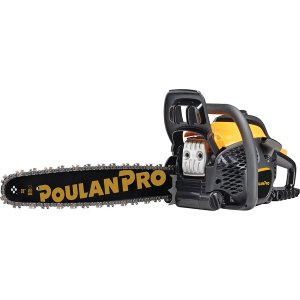 The Poulan Pro PR5020 Gas Chainsaw is a bit of a beast. This is a huge chainsaw with a destructive 20" bar and chain that can cut through anything. The engine is powered with OxyPower technology, it outputs 70% fewer emissions while still giving you 20% better fuel consumption. The pull starting system is effortless, the design is flawless, and this is a real monster for cutting big trees.
Big Tasks, Big Chainsaw
If you are searching for a high-quality chainsaw that can tackle big loads of work, this is it. It can make cleanup on your property an absolute breeze with its huge bar & chain and unstoppable power. Cutting firewood can be done effortlessly, taking care of pesky branches is as easy as a wave of your hand, and even trees can quickly be toppled using this very powerful chainsaw.
You can tell immediately when you pick up the unit how beastly it is. This is definitely a big upgrade from any electric chainsaw, as it outputs incredible power with its OxyPower engine. For anyone who owns a ranch or a large chunk of property, this is the best budget chainsaw for hard jobs.
Budget
Yes, this might be the cheapest 50CC chainsaw on the market. But that does not make it a piece of junk. It is a quality product that can bring a lot of value to your everyday tasks. It just so happens that the price is extremely low, but this is a good thing for people looking for a deal or to save some money!
---
---
Husqvarna 450 Gas Chainsaw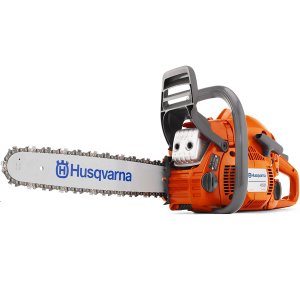 The Husqvarna 450 Gas Chainsaw is a real powerhouse. This chainsaw comes with a rock-solid 18" bar and chain, a 3.2 horsepower engine, and an ergonomic design. You can use it to cut medium trees, to do lots of yard maintenance, and you never have to worry about an excess of harmful emissions.
Powerful X-Torq Engine
The 450 delivers a whopping 3.2 horsepower, making it excellent for all kinds of different jobs, such as domestic cutting and pruning. The special X-Torq technology featured inside the engine reduces harmful toxic emissions by an amazing 60%. Not only that, but it increases your fuel efficiency by 30%.
By using this gas chainsaw, you get all the power and benefits of a 2-stroke engine without the bother of heavy pollutants or too much gas. A full tank of gas will last you much longer than it would have with an older model of chainsaw.
Plus, the engine is super durable and designed to withstand all kinds of punishment year after year. All the components have been forged for superior durability, while the air cleaning system keeps your engine running clean and smooth without harmful debris clogging your air filter.
Reduced User Fatigue
The combination of the 450's lightweight frame and anti-vibration technology makes this an ideal tool for extended use and the best 50CC chainsaw. The lack of vibration will spare your arms and hands the usual fatigue that comes with using a chainsaw. The rear handle is smartly designed with a soft inlay and an ergonomic shape to further increase your comfort, making it easier to work long hours with the chainsaw.
---
---
Best 50CC Chainsaw: A Complete Buying Guide
Chainsaws are a great tool for homeowners to invest in and learn to use. These days, they are not only powerful but also come with a guarantee of convenience. Whether you're looking to do some DIY projects or more serious woodwork, a chainsaw is handy to have around.
There are definitely a few things you want to keep in mind before purchasing a gas chainsaw with a 50CC engine. It needs to start quickly, it needs to have a durable engine that will stand up to lots of punishment, it needs to be safe, and it needs to come with loads of features.
Even among chainsaws, if you're looking for higher efficiency and power, then consider a 50cc chainsaw. I find that 50 cc chainsaws are powerful enough to be considered professional chainsaws. But it is also balanced enough to be the right fit for homeowners. It's the kind of power that would allow you to cut a tree in your backyard, for example.
Another thing to keep in mind when buying any gas chainsaw is that it should be fuel-efficient with very low toxic emissions. Most gas chainsaws you will find today on the market are relatively friendly to the environment, and this is definitely something to keep in mind when shopping.
With all the new features offered by some 50 cc models, the purchasing process has become more complex too. That is why I have compiled a list of factors to keep in mind while choosing the best 50cc chainsaw.
How To Choose A 50cc Chainsaw
Given the variety of 50cc chainsaws available in the market, you need to know how to sort through the information.
Applications Allowed (Guide Bar)
The first thing to keep in mind is how you plan to use your 50cc chainsaw. To understand if your chainsaw is built for your needs, you will need to inspect the guide bar.
The guide bar of a 50cc chainsaw is an informative feature that indicates the capabilities of the tool. The length will inform you of which applications are possible and which are not.
The longer the guide bar, the greater the power output of your 50cc. The length of the bar increases by a unit of 2 inches. The total length can range anywhere from 6 inches to 24 inches.
A smaller chainsaw, with a shorter guide bar, will necessarily have a lower kickback. That is, the force your body will have to sustain when the chainsaw is fired up.
A quality 50cc chainsaw will have an 18 to the 20-inch guide bar. Since 18 inches indicates versatile applications, you can perform tasks on materials with varying thickness.
A quick tip is that the bar should be 2 inches more than the thickest material you want to cut.
Power (Transmission System)
The best 50cc chainsaws are naturally powerful. While making your choice, check that the power is around 3HP.
Depending on how you want to use this power, your outlook will differ. Thus, an important factor you must consider is the transmission system involved.
For efficient power output, your chainsaw will need a decent transmission system in place. The system is meant to transfer the generated power into the actual torque and speed of the chain.
This will let you know you know how the power is utilized. With a decent torque, you can cut specialized as well as thicker patterns with ease. With reliable speed, you can make more difficult and high-level cuts.
Safety Mechanisms and Precautions
With any power tools, safety should always be a concern. When purchasing a 50cc, keep in mind that it is a powerful tool and thus requires even more precautions.
Any manufacturer of a 50cc chainsaw should be able to promise you safety to some extent. The machine should include safety features such as a chain brake and anti-kickback mechanisms.
It may be the case that certain safety features compromise visibility and usage. However, safety should be prioritized.
With greater advancements, the highest safety and highest utility are being worked on. Until then, remember that your personal safety is always your own responsibility when using a 50cc.
User-Friendliness
User-friendliness refers to how easy the chainsaw is to use for any kind of work. Additionally, it refers to how long you can use it without tiring yourself out.
Different 50cc models will have varying levels of user-friendliness. That means that while choosing, you need to check your own requirements. While some might need a chainsaw for more regular usage, others may only need it for some quick touch-ups.
A few user-friendly features are spring-loaded or electrical starters for switching on your chainsaw.
With the right knowledge, newer features can also be added to your current chainsaw to update it for easier operations, although the best 50CC chainsaws will have everything you need out of the box.
Efficient Design
A 50cc chainsaw is definitely a great tool, but it isn't a piece of cake to handle. It requires enough strength and practice to maneuver effectively.
For beginners, efficient design is important to ensure. If you aren't used to intense physical strain, streamlined design will thus take some load off. Ultimately, this will also promise greater safety and convenience.
Even for professionals, using a 50cc is difficult for longer durations. As a result, efficient design is indispensable when making your purchase.
Check for the total weight and vibration-reducing features of the chainsaw. These will help cut down on the physical demand of using a heavy-duty 50cc.
Advantages Of Having A Quality 50cc Chainsaw
The 50cc is a premium, heavy-duty chainsaw. As a homeowner, you should be aware of its benefits to make the most of your purchase.
Higher Power Output
On any chainsaw, cc indicates the power output. As you can see, 50 is one of the highest cc's available on the market. It comes with a powerful motor to give you more output.
Although 80cc chainsaws also exist, they are too heavy-duty for the use of homeowners.
For personal use, any 50cc chainsaw is more than enough to give you adequate power output for intense cutting work.
So you can expect no glitches or slow-downs for your next woodwork project!
Mobility
The one downside of high power is low mobility. With heavier motors and greater vibration, usage becomes cumbersome.
However, the market for 50cc chainsaws has responded to this disadvantage. Some of the best 50CC chainsaws are light enough to be used by homeowners who aren't lumberjacks!
They still deliver on power but make use of technological advancements to minimize effort.
With greater mobility, you can do better work outdoors, in your yard, and even do intricate work within your shed.
Budget-friendly
Power tools like chainsaws no longer cost a fortune. Since they are meant to be popularly owned, 50cc chainsaws are highly affordable.
The cost-effectiveness lies in the power-packed mobile design at lower rates than before. You can access cheap 50ccs as well as higher-end options. Your choice should depend on the features offered and your own requirements.
Related Articles:
What Features Does A Mid-Powered Chainsaw Need
When choosing a 50cc chainsaw, make sure it comes with all or most of the features I am mentioning below.
Power output, transmission systems, and guide bars are important overarching considerations. However, these are the more specific features to look out for.
Reliable Starting System
The first feature you will encounter is the starting system. A reliable starting system will not make too much use of the throttle. Ultimately, this will conserve your energy and save on time.
Some of the best 50cc chainsaws come with easy pull starts. Some 50cc chainsaws will have a choke and start feature as well.
Depending on your applications and experience, you can look at other designs too.
Anti-Vibration System
Heavy-duty chainsaws like a 50cc come with greater vibration that will tire you out with use. An anti-vibration function is thus meant to give you greater efficiency so you can work longer.
An anti-vibration feature keeps your nervous system and muscles stably engaged even as you work for long periods.
Simple Chain Adjustment Feature
Chainsaws allow you to adjust the tension of your chain. While some chainsaws need separate tools for this, a quality chainsaw should be tool-free.
A 50cc chainsaw with smart chain-tension technology will enhance convenience. You won't have to stop and fix the chain externally every time you require a tension fluctuation.
Side-Tensioning System
Side-tensioning systems are newer technology as opposed to the front-chain-tensioning systems. The latter is more difficult to adjust and, thus, outdated.
So the tensioning of the chain should be possible from one of the sides of the saw. This can then be done with the use of a double or single nut.
Easy Operation
A gas chainsaw with a 50CC engine is going to be powerful. But with power, you need comfort too. Look for premium features that allow for the easiest possible operation. You want your new chainsaw to be designed for fast action, quick cutting, and full mobility. The most important thing is that you can easily manipulate and control the chainsaw.
This is because if you don't feel comfortable with your chainsaw, you aren't going to feel comfortable with the work you're doing. Always look for the most ergonomic and easy-to-use chainsaw possible.
The best 50CC chainsaws will include an anti-vibration system, an ergonomic design, an asymmetrical handle, an ergonomic trigger, and a soft inlay for maximum comfort. All of these features are super important if you want a comfortable day of operation with your chainsaw. Anti-vibration is the most important because it will drastically reduce the fatigue you feel. All that power is useless if you get tired too quickly.
Engine Technology
Just because it is a 50CC engine, that does not automatically make it technologically savvy. I highly recommend keeping your eyes open for an engine that is durable, well-crafted with superb components, and high-tech features.
Any good engine will come with a special air purge function to remove air from the carburetor and fuel system so that you can easily start the engine. Also, any good engine will offer magnificent fuel efficiency and low gas emissions. This is always something to look out for, as many companies offer 50CC chainsaws with dull engines and no functionality.
Adequate Safety Features
Safety is never an option. If you are looking at a chainsaw and it does not have safety features, forget about it. You definitely want to have an inertia-activated chain brake system that drastically reduces the likelihood of violent kickback causing you injury. Kickback is when the chainsaw gets stuck and then forces itself in your direction. You definitely want safety features to protect against that.
Anti-Kickback Mechanism
Kickback is a dangerous consequence due to high power output. A high kickback will make the chainsaw fly off and cause potential damage.
To avoid such outcomes, an anti-kickback feature is crucial for any chainsaw. Since the 50cc has such high power, a model without this feature is too risky to operate.
Chain Brake
Chainsaws are generally manufactured with two brake systems. There is the manual brake, as well as the inertial brake.
The manual brake ensures that the chain stops functioning immediately after it is pushed. However, the inertial brake will only function in case of kickback. The latter also stops much quicker.
Both breaks are necessary to ensure your chainsaw can stop when it needs to in case of emergencies.
Additional Safety Features
For optimum usage, your 50cc should also come with features like a lock-out switch, chain-stopper, chain-catcher, etc.
A lock-out switch is important to ensure your 50cc doesn't accidentally start on its own.
Chain-stoppers and chain-catchers are useful for when your chain breaks. It prevents the moving chain from injuring you in such a situation.
To Sum Up
Chainsaws have really come a long way since their inception. The 50cc is perfect evidence of that.
After studying all the complex utility features, you must now have a better idea of what to look for. Although in my experience, the best 50cc is one that fits all your unique personal requirements.
That is why make sure to consider all these factors with your needs in mind!
Best 50CC Chainsaw: Final Thoughts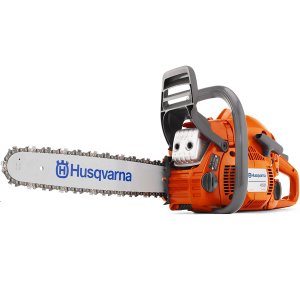 You are not going to find three gas-powered chainsaws with 50CC engines that are as good quality as these models. The Poulan Pro is an absolute powerhouse of a chainsaw with a massive 20" bar and chain and brutal cutting abilities. And the Echo CS-490 is another great model with usable features, a slim design, and medium-grade power for great work outdoors.
However, the best chainsaw is definitely the Husqvarna 450. It has everything you need to complete any kind of task. So long as you aren't chopping giant timbers with 30" diameters, you are going to be fine with this chainsaw. It is incredibly easy to start, with a reduction in starter cord resistance of about 40%. And, its ergonomic design and anti-vibration system yield maximum comfort.
With the Husqvarna 450, you get an incredibly advanced engine that uses a three-piece crankshaft for superior power. It doesn't use a lot of gas, doesn't create a lot of emissions, and it doesn't take a lot of effort to start the machine. If you have a laundry list of outdoor jobs needing to be done with a chainsaw, this is the best tool to do them with, and it is well-worthy of the title of best 50CC chainsaw.
---
Related Articles: