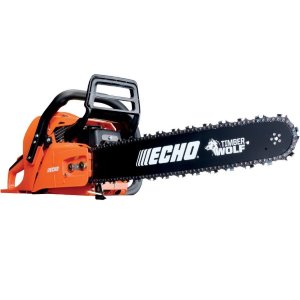 Long-Lasting Chain
Easy to Start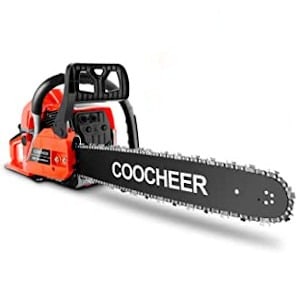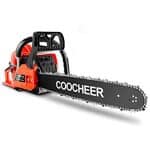 Starts First Time
Cheap Price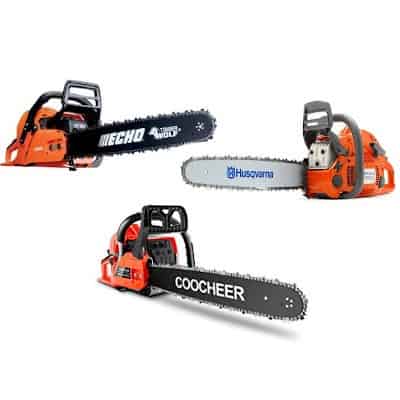 Today we are looking for the best 60CC chainsaw. A chainsaw with this much power has the ability to cut down some seriously thick trees. This is the type of chainsaw you want to use if you are a hardcore woodcutter. These chainsaws come with 20" bars and chains that deal maximum damage, cutting through medium or large trees in mere moments.
When you purchase a gas chainsaw with a 60CC engine, you are getting the best in performance output. You can expect every chainsaw we talk about today to come with automatic features, to have a robust engine built to withstand heavy use and maximum speeds of over 9000 RPM.
These chainsaws are great for commercial use, for woodcarving, for milling, and for felling trees. These are big chainsaws for big jobs. If you are only pruning the bushes or tending to your firewood, you may want to get a smaller chainsaw. These tools mean business!
Top Rated 60CC Chainsaws
---
Echo CS-590 20" Timber Wolf Chainsaw – Best Overall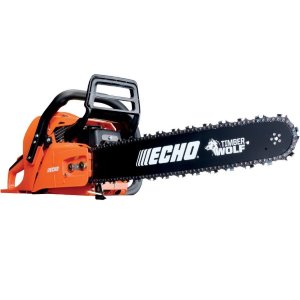 The Echo CS-590 20" Timber Wolf Chainsaw is an affordable powerhouse that fits nicely into the best 60CC chainsaw category. It is great for anyone who works in a professional tree service business.
The saw has good balance, it is quick to start, it has an excellent weight-to-power ratio, and it is made with quality components. It has all the power to cut thick trees and it has all the features to make your work comfortable.
Durable Parts
Everyone loves having durable parts. When it comes to the 20" Timber Wolf Chainsaw, everything is durable. Perhaps most noticeably is the chain. The chain has been known to last roughly 5 times longer than other saws. That is because it comes extremely sharp and does not need to be sharpened or replaced as frequently as you might expect with a lower quality of chainsaw.
Also, the body itself is durable. While built mostly from plastic, it is still super lightweight and won't be damaged if you drop the chainsaw or accidentally smash it against something repeatedly.
Lightweight & Portable
It is not every day you find a strong and powerful chainsaw that is so lightweight. The CS-590 is light enough that you can use it for both residential and commercial applications. This can be a fun chainsaw to use around your property for cleaning debris, cutting firewood, or even some casual pruning.
At the same time, is portable and powerful enough to tackle long days of work clearing trails, felling trees, and cutting thick cords of wood.
---
---
COOCHEER Ladyiok Powerful Gas Chainsaw – Budget Pick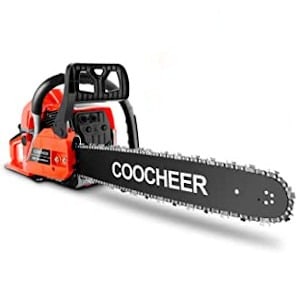 The COOCHEER Ladyiok Powerful Gas Chainsaw is a lesson in quality. The powerful engine on this chainsaw delivers incredible power to the 20" bar & chain, allowing you to slice through thick hardwood like it were butter. You get a chain that protects against harmful kickback, you get a decrease in fuel consumption by about 20%, and you get a massive cutting speed of around 8500 RPM.
Regular Cutting
This is one of the best chainsaws for regular cutting. If you find yourself in need of a powerful 20" chainsaw day after day, this is the ideal unit for it. It is affordable, it can work in super high temperatures without overheating, and it is excellent for cleaning fallen debris.
The chainsaw has a comfortable handle, it is incredibly easy to start with less than half the resistance of a normal pull-start, and it performs consistently. And that's what it all comes down to – consistent performance and overall quality. The bar and chain are durable, the engine is powerful and structurally sound, and the performance is undeniable.
Ergonomic Design
This chainsaw comes with a luxurious handle, designed to make you more comfortable by reducing the shake of the machine so that you stay balanced at all times. The rest of the design is meant for easy use of the chainsaw so that you can maneuver it effectively while cutting huge chunks of timber. The chassis is also built from high-quality material that keeps the chainsaw looking newer for longer.
---
---
Husqvarna 460 Rancher Gas Chainsaw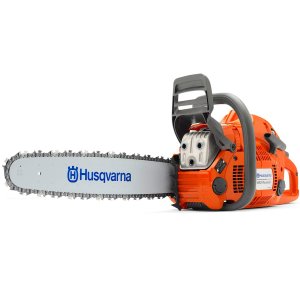 The Husqvarna 460 Rancher Gas Chainsaw is what every chainsaw should be. This is a professional chainsaw built with professional parts. It features smart start technology, it has a well-designed body, and it comes included with an X-Torq engine for superb power output. The 460 handles any kind of just with well-rounded power and versatility.
Bigger & Bigger
This is a big chainsaw. Husqvarna makes a lot of great tools, but this particular chainsaw is designed for those who need more power and more reach with a longer bar. While the base model comes with a 20" bar and chain, you can upgrade that further to a 24" bar and chain. This gives you even more options of what you can cut.
Trees don't stand a chance. With a 60.3CC engine and a 20" bar, you can eat through most of the thickest trees in the forest. Plus, the X-Torq engine comes with an inertia-activated chain brake for extra safety. The engine also produces fewer toxic emissions while being better on fuel.
Air System & Reliability
The 460 comes with an impressive air system that works by keeping dust and debris out from the air filter. Because your air filter is generally going to be clean, you will find your engine runs smoothly at all times. Without any dust clogging the filter, your engine continues to operate at maximum capacity.
This makes the chainsaw more reliable overall. In fact, this is one of the most dependable large chainsaws on the market and is easily one of the best 60CC chainsaws. It even comes with a Smart Start system for easy starting of the engine.
---
---
Best 60CC Chainsaw: A Complete Buying Guide
There is a lot to look for when purchasing a heavy-duty chainsaw with a 60CC engine. Not only does the engine need to be well designed, but the entire chainsaw should be crafted from quality parts to be durable and long-lasting.
When purchasing this type of chainsaw, you want consistent performance, reduced fuel consumption, great RPMs, and maximum comfort. Read on to find out what to look for when purchasing the best 60CC chainsaw.
How to Choose a 60cc Chainsaw?
While buying a 60cc chainsaw, there are certain factors that you should consider.
Quality
The quality of the 60cc chainsaw depends on the construction and make of the machine. One thing you have to keep in mind is that you will be using the chainsaw to cut through tough objects. You have to ensure that the machine does not break down or get damaged when you are in the middle of the task.
For this, you will have to pay heed to the materials that have been used to manufacture the chainsaw. Even if there is the plastic used in the machine, make sure that it is strong and not used for covers or triggers.
Convenience
The next thing that you will have to remember is how conveniently the machine can be used. Since the chainsaw is very powerful, you have to ensure that it can be maneuvered properly. The weight of the machine should be kept under consideration while checking the convenience of the product.
Durability
Purchasing a 60cc chainsaw is a major investment, and the decision should not be made lightly. Hence, you will have to ensure that the product is highly durable and lasts for a long time. You will not like investing in a machine that stops functioning after using a few times.
For longer use, you can look for a self-oiling system. This feature will keep your chains lubricated during the operation. This will increase the life of the chainsaw. Another thing that can increase the durability of the machine is its maintenance.
Safety
The last thing to consider while choosing the best 60cc chainsaw is its safety features. The risk of getting hurt while using a power tool is high. That is why you need to choose a machine that has durable covers as well as handles equipped with an anti-vibration system.
There should also be triggers that need two motions before the machine starts. This can prevent accidents in case there are children nearby.
Related Articles:
Advantages of Having a Quality 60cc Chainsaw
Buying a 60cc chainsaw has its perks, and you will want to know its advantages before you invest in one.
Provides More Power
The best thing about the 60cc chainsaw is that it has immense consistency. You can rely on the chainsaw without having to worry about its performance. Whether you are using it to cut logs of large diameters or thick trees, the ability of the chainsaw is different from electric saws. They are very powerful, which is the main reason for their exceptional performance.
More Versatility
The high power of the 60cc chainsaw does not mean that it is not perfect for light activities as well. The most advantageous feature of the chainsaw is that it is highly versatile. You can use the tool to carry out light-duty tasks that require finesse.
There is a shorter bar in the chainsaw, and when equipped with the right chain, it can be used for numerous kinds of works.
The Extra Length of The Bar
The best 60cc chainsaws are generally equipped with longer bars. The longer bar is used to work on heavy-duty tasks such as cutting thick logs. Due to the availability of the long bar, you will not have to endure engine failure, chain breaks, or even kickbacks.
These are the issues that you normally face when you are trying to do heavy-duty tasks with the help of shorter bars. The bar can get stuck in the wood, and you may damage the chainsaw extensively while cutting big objects with a small bar.
Well-Designed Machinery
This has a lot to do with price. While you can certainly purchase a cheap 60CC chainsaw for less than $200, the more money you spend, the more well-designed the machinery inside the chainsaw will be. If you want the best components, the most useful air ventilation system, the most ergonomic handles, and the smartest technology, money plays a big role.
Always try to find a chainsaw that has some metal parts. Mainly, look for a metal handguard. Most cheap chainsaws come with a plastic handguard that easily cracks and is not that effective at protecting your hands.
The same can be said about the handle of the chainsaw. I would generally only purchase a unit that came with an insulated handle and an ergonomic trigger, as these two things combined will make your day of work much more comfortable. Always remember that the more advanced the components, the better the machine.
What Features Does A High-Powered Chainsaw Need?
There are numerous kinds of chainsaws available in the market in current times. When you are searching for a 60cc chainsaw, you will have to focus on certain features that will help you choose the right product. Mentioned below are some of the important features that should be present in a 60 cc chainsaw.
Strong Engine
If you want to invest in a chainsaw that can work exceptionally for heavy-duty tasks, then you will have a device with a strong engine. No matter how tough the conditions are, the chainsaw should be able to slice through the object smoothly. Though there are numerous cordless and electric chainsaws present in the market, nothing works as efficiently as a 60cc chainsaw.
The first feature that you will have to concentrate on when you are looking for the best 60cc chainsaw is the engine and how powerful it is. If you wish to cut down large and strong trees as well as thick wood logs, then you will need the engine to be extremely powerful as present in a chainsaw.
High-Quality Bar & Chain
With a 60CC engine, you have tons of power. But you need a high-quality bar and chain to match that power. These are the most important parts of the chainsaw after the engine since a quality chain is what will cut through wood easily.
Even if your engine has a lot of power, a poor-quality bar and chain are critical to maintaining proper performance. Without them, you may as well be cutting with a giant butter knife.
When deciding how long your bar should be, keep in mind that a 20" bar is suitable for cutting any tree with a diameter of between 27 and 33 inches. Anything thicker than that and you need to upgrade to a 24" bar.
Also, always make sure the chainsaw comes equipped with a nice guide bar cover, as it will work to effectively protect the chain and bar from rust and accidental damage whenever not in use.
Length of The Bar
When buying a 60cc chainsaw, you will want to purchase one that can work for a long duration and is also very versatile. Most people will not want to buy different chainsaws for different kinds of work. That is why you need to see that the chainsaw that you have chosen has both short as well as long bars.
Both of the bars are necessary to carry out light-duty and heavy-duty tasks. Based on the kind of wood that you will be cutting, you will need to equip the bar that you think is suitable for the job. If you try to cut thick wood with a short bar, then not only will the work become time-consuming, but it may also damage the machine.
Easy To Use
Try to choose a chainsaw that is very easy to use. The design of the machine should be ergonomic so that you do not face any problems. Investing in any complicated machine may leave you exhausted and irritated when you need to use it often. That is why it is better to find a chainsaw that is very balanced as well as centered.
Avoid purchasing one that is very heavy or has awkward handles. Go for a simple design that you know you can use without any issues. The chainsaw should always be under your control and not the other way around. You should have to feel fatigued after you have used the machine for just one day.
Easy to Start
When buying a new chainsaw, it should come with an easy starting system. Any modern chainsaw should be able to start with the first one or two pulls of the starter cord. To make sure you have an easy time starting your engine, you should look for features like a low-resistance pull cord, a specialized air intake system, and a decompression valve.
Best 60CC Chainsaw: Final Thoughts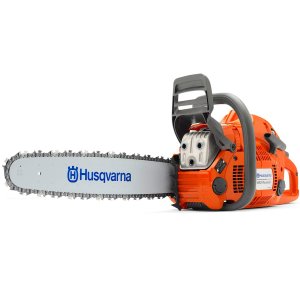 It is nice to see some legitimately powerful chainsaws. The COOCHEER is a well-designed powerhouse that can cut thick logs and take down massive trees, while the Echo CS-590 is equally as tough but perhaps easier to use. These are great contenders for number one, but the best 60CC chainsaw has to be the Husqvarna 460 Rancher.
The 460 has everything you are looking for in a heavy-duty chainsaw. It is excellent for commercial or industrial use. It has the power and the durability to stand up to all the toughest outdoor jobs. And while you can indeed use it at home, this is definitely a professional tool that shows its strength best when put to the test.
The 460 from Husqvarna comes with a unique X-Torq engine for better power, better fuel efficiency, and better speed. It is incredibly easy to start, it is fun to use, it is comfortable in your hands, and it comes with an anti-vibration system for increased user comfort. I highly recommend anyone to try this chainsaw and have no hesitation in crowning it the best 60CC chainsaw overall.
---
Related Articles: