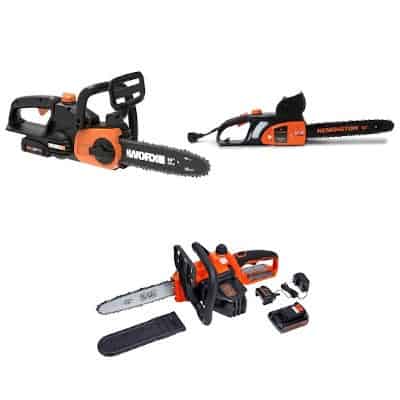 Are you in the market for the best small chainsaw? Are you looking for the best small chainsaw that is not gas-powered? Then this list is for you. Today we are going to go through three of the best small electric chainsaws, including units from dependable brands like Work, Remington, and Black & Decker.
Small chainsaws are great for use around the house, for cutting small logs, trimming trees, and doing general yard maintenance. Small chainsaws are super lightweight, they are easy for anyone to use, and they do not rely on gas. These chainsaws can be stored in your garage all year round and simply plugged in or charged when you need them.
You can expect fast cutting, lots of power, quick charging, automatic features, included accessories, and so much more when you choose one of these great small chainsaws.
Top Rated Small Chainsaws
---
Black & Decker LCS1020 Cordless Chainsaw – Best Overall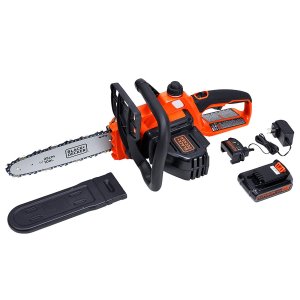 The Black & Decker LCS1020 Cordless Chainsaw is as small as they come. The blade on this chainsaw is only 10 inches. But don't let its tiny stature confuse you. This is an extremely powerful machine that can cut through wood in an instant. Also, you cut extremely smoothly when using this chainsaw.
Black & Decker
This chainsaw comes from a respectable name. Everyone knows that anything built by Black & Decker is going to be awesome, which is probably why this is one of the highest-rated small chainsaws on the internet. You can buy it as just the tool, in a full chainsaw kit, with a collection bin, with additional batteries, and so much more.
The entire construction of this machine is solid. Black & Decker really know what to do when it comes to heavy-duty machinery. The chain is designed to give you some of the smoothest cuts ever, while the handles are designed to do either horizontal cuts or vertical cuts.
Best Lubrication
Lubrication is important, especially when it comes to keeping your chainsaw in perfect working condition. With the LCS1020 Cordless Chainsaw, there is a great oiling system that keeps your chain lubricated at all times. Not only is this safer for you, but it is the only way to keep your chainsaw running smoothly forever.
And let's not forget about the chain tensioning system, which does not require any tools to use. You can easily turn the adjustment knob on the side of the machine to make all your important changes. It literally takes seconds.
---
---
Remington RM1645 Electric Chainsaw – Budget Pick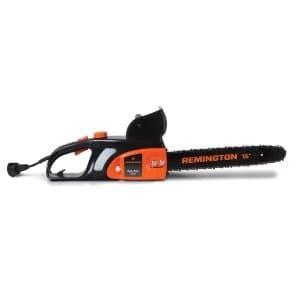 The Remington RM1645 Electric Chainsaw is ideal for home use. It comes with an incredibly powerful electric motor, it is super versatile and easy to use, it comes with an ergonomic handle and an automatic chain oiler, and you can quickly adjust the chain tension. Simply plug the 16" electric chainsaw into an outlet and you can immediately start cutting.
Yard Work Pro
The RM1645 is the best companion you can have in your yard. If you have some pruning to do, some hedging, some trimming, or if you are just cleaning the debris from a recent storm, this is ideal. You don't need any annoying batteries, you don't need to fill it with gas, and it barely eats your electricity.
Yard work has never been easier. The chainsaw does come with a 16" bar and chain, but the body itself is super small. This thing weighs almost nothing and can be used by people with any level of strength. To take care of your lawn and keep your garden and trees looking immaculate, this is the tool you have been looking for.
Ergonomic & Comfy
This is not a tool you will take into the great outdoors with you. You will be using it at home near a power outlet. And even if you do not use the tool all day, it is nice to know that it comes designed with comfort and accessibility in mind. The over-mold handle is extremely comfortable and offers perfect balance with extremely low vibration.
Basically, you can use this chainsaw all day and you will never break your back or hurt your hands. You will never get tired of lifting the chainsaw to make awkward cuts.
---
---
Worx WG322 Cordless Chainsaw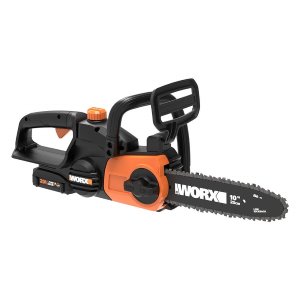 The Worx WG322 Cordless Chainsaw is spectacular. If you are looking for something that runs on battery power but can still make some of the fastest and cleanest cuts you have ever seen with a 10" chainsaw, this is the unit you need. It weighs only about 6 pounds, it has automatic chain lubrication, automatic chain tension, and super-fast chain speeds to make quick work of every job.
Everything Included
Have you ever purchased a tool that didn't come with a battery? Yeah, it is seriously disappointing. But with the WG322 Cordless Chainsaw from Worx, the package comes included with a 20V battery, a battery charger, and a protective cover for your blade to keep it safe while not in use.
Small Package, Big Power
A 10" bar and chain may not seem very large, but you can do some serious damage with a 10" rotating chain that becomes sharp as a razor when you hit the power button. This chainsaw will rip through any log or branch that is within a reasonable size. It does this with immense power and unbelievable torque.
It may be important to note that the batteries used to operate this heavy-duty small chainsaw are the same batteries used to operate lawnmowers, saws, and other industrial tools from Worx. There is absolutely no shortage of power even though this is an extremely small, compact, and lightweight chainsaw.
---
---
Best Small Chainsaw: A Complete Buying Guide
You know it is time to buy a new small chainsaw, and you obviously want the best. If reading the reviews in this article has not convinced you of a choice, it may be worth taking a look at some of the ideal features that the best small chainsaw should have.
You definitely want a small chainsaw to be as portable as possible, as lightweight as possible, and as powerful as possible. Nobody wants to get tangled up in accord, and nobody wants their battery dying on them halfway through the second log.
Portability
Portability is super important when buying the best small chainsaw. While I do understand that corded chainsaws come with extremely long cords, what if the cord just doesn't reach? There is nothing worse than having two extension cords running across your property like the longest snakes known to man. This is not ideal, and so I generally urge people to purchase a cordless chainsaw that gives you maximum portability.
Battery Life
If you choose a cordless chainsaw over a gas chainsaw, one of the biggest things you are probably worried about is battery life. What if you take your small chainsaw into the wilderness and your battery dies? That could result in a loss of time and a serious loss of money.
Related Articles:
And so, when choosing your chainsaw, it is important to understand how long the included battery will last. Anything over 20V is probably going to be OK. The more volts the better. Try to find a portable chainsaw that comes with multiple batteries and a charger unit that can charge two batteries at the same time. You never want to run out of juice at an inopportune moment.
Weight Distribution
Most small chainsaws are going to be very lightweight. But not all of them are going to have proper weight distribution. The tool may be lightweight but feel wonky when you hold it. This is not ideal for long hours of cutting through wood.
I highly suggest, if possible, handling the chainsaw before you make your purchase. I understand many people make their purchases online, so I would recommend checking to see if the manufacturer advertises comfortable handles, the ability to make horizontal and vertical cuts easily, and proper weight distribution.
Having your chainsaw feel natural in your hands can mean the difference between a long and annoying day or a few quick hours of easy cutting.
Best Small Chainsaw: Final Thoughts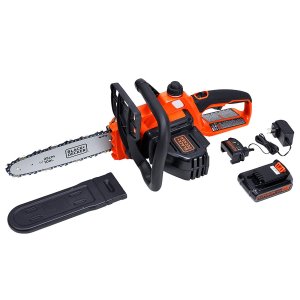 It is always hard to make a decisive choice between three of the best. When it comes to choosing the best small chainsaw, I think it is important to go cordless. While the Remington RM1645 is a great machine for yard work, I can't stand anything that is corded. It may be alright for you, but for me having a cord is an immediate disqualification. That said, it is probably the best corded chainsaw ever.
While the Worx WG322 is a commendable 2nd, it just can't beat the power, effectiveness, and durability of the Black & Decker LCS1020. The Black & Decker Chainsaw works on a single 20V battery, it gives you an incredibly long runtime, and it stays charged for up to five times longer than other similar units.
For heavy-duty work on the job or light work at home, you cannot get a better small chainsaw than this. It works great, it gives off no toxic emissions, and it comes with everything included for you to immediately start using it out of the box.
---
Related Articles: