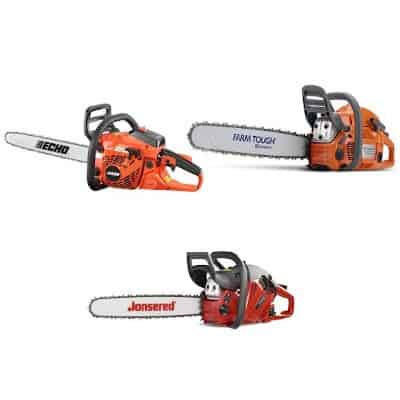 Today we are looking at the best gas chainsaw. You will not find a single mention of anything electric in this article. This is all about tough and durable chainsaws that run on gas. These chainsaws are ideal for landowners who use their chainsaws frequently to cut down trees, to keep their yards clean, and to clean up after heavy storms.
These awesome gas chainsaws are also ideal if you enjoy building things. They come with extremely powerful engines, great automatic features, most are lightweight, and these are all modern, meaning they offer extremely low levels of vibration and better starting abilities.
All three chainsaws are fuel-efficient, super affordable, and produce very limited exhaust emissions. You can expect durable machines that will improve the way you work outside. If you have had your chainsaw for the past 20 years, I would say it is time for an upgrade. And one of the gas chainsaws on my list would make a great replacement for an old and outdated unit.
Top Rated Gas Chainsaws
---
Husqvarna 455 Rancher Gas Chainsaw – Best Overall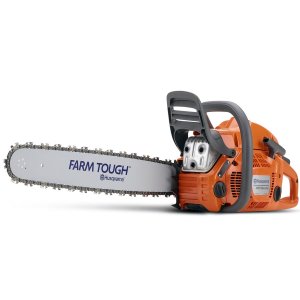 The Husqvarna 455 Rancher Gas Chainsaw is by far one of the best. This is a professional chainsaw that can cut huge pieces of wood in a very short time. If you have serious work that needs to get done, you deserve a serious chainsaw just like the 455 Rancher.
Everything You Need
This chainsaw has everything you need. It comes with a massive 20" bar and chain for cutting through thick logs, it has of 55.5CC engine, 3.49 horsepower, and it only weighs about 13 pounds. It also comes with unique technology inside the engine that makes it fuel-efficient. The engine also emits very few harmful emissions.
There are a lot of safety features that come included with this chain saw as well. It has an inertia-activated chain brake and an automatic chain oiler. The automatic chain oiler works to ensure the chain runs smoothly at all times. You can expect to never have a jam when you use this chainsaw.
The air injection system also works to keep your chainsaw reliable for longer by preventing dust and debris from ever reaching the air filter. This is an ideal feature to enhance the longevity of your chainsaw, keeping it functioning well for many years to come.
Quick Start
There is nothing worse than fighting with your chainsaw for 10 minutes trying to get it to start. You can forget all about those troubles when you use the 455 Rancher, as it comes with Smart Start technology that ensures a quick start with the very first pull of the starter. There is no more struggle and no more hassle. You can get to work faster without any stress.
---
---
Jonsered CS2245 Gas Chainsaw – Budget Pick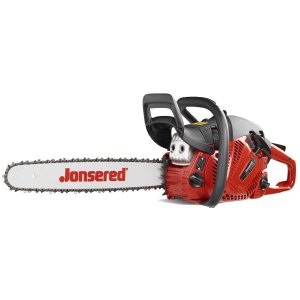 The Jonsered CS2245 Gas Chainsaw is great. Out of the three chainsaws on this list, this is the cheapest. But that does not make it unworthy of a place in your garage. It has a clean power engine that reduces its toxic emissions by 75%, it has an increased fuel efficiency of 20%, and it has a unique turbo intake air system that removes sawdust particles before they can ever harm the machine.
Comfortable Handles
Handles are an extremely important aspect of a chainsaw. Once the machine is running, you will have your hands on the handles the rest of the time. With this chainsaw, the handles are insulated to provide maximum comfort. There are specialized steel springs installed in the machine that gives a lower vibration to save your hands from overwhelming fatigue.
Also, the ergonomics of the machine have been increased to give better comfort to the operator. All of this equals long days of using your chainsaw with absolutely no discomfort on your end.
No Tools, No Hassle
You do not need a single tool to operate the CS2245 Gas Chainsaw. The chain tensioner is side-mounted to allow instant adjustments to the chain without using a single tool. You only need to use your hands. Even the cylinder cover is snap locked so that you can get instant access to the air filter and the spark plug without touching any screws.
Additionally, the chainsaw is ready to be used the instant it comes out of the package. Simply place the chain on the bar, fill it with gas, and get cutting. You do not need a single tool.
---
---
Echo CS-400 Gas Chainsaw
Talk about reliability. The Echo CS-400 Gas Chainsaw gives outstanding performance with unmatched durability. You can rely on this chainsaw for all your tough outdoor work. It comes included with engine oil, fully assembled, and ready to take on the outdoors. Even the starting system has been tweaked to make it easier to pull the starter.
Professional Engine
The engine on the Echo CS-400 is professional. It is a 40.2CC, 2-stroke engine that gives unrivaled power to the 18" bar and chain, allowing you to make quick work of the biggest jobs. It is no problem to take this portable chainsaw on the go, as it will buzz through any kind of wood you will encounter in the forest.
Also, the unit is portable and lightweight so that you can use it in your yard to do general maintenance. This is not a complicated machine, and so it is easy for beginners to master in only a couple of minutes.
Safety First
Safety is a big deal with chainsaws. But when you use the Echo CS-400, safety is not an issue. The handles are designed with comfort in mind, allowing you to always be relaxed when cutting wood, and there is a special handguard that will block any potential hazards from crushing your fingers. This is a very safe chainsaw.
---
---
Best Gas Chainsaw: A Complete Buying Guide
What do you look for in the best gas chainsaw? You definitely want minimal noise, you want minimal vibration, minimal exhaust emissions, minimal hassle, minimal stress.
At the same time, you want maximum power, maximum fuel efficiency, maximum safety features, and maximum access for easy maintenance and cleaning.
Easy Maintenance
Gas chainsaws are notoriously more difficult to maintain than electric chainsaws. You have to deal with oil, fuel, bigger engines, and more complicated parts. One of the best things to look for in a new chainsaw is easy maintenance.
One of the best ways to maintain your chainsaw automatically is with an auto oiler. An auto oiler will ensure a consistent and constant supply of oil to the chain while your chainsaw is running. This will keep the chain in immaculate condition for the duration of your chainsaw's life.
It is also worth having toolless features for quick adjustments and quick replacements. If a spark plug goes bad on your chainsaw, it is nice to install a new one by simply popping off the cover, taking out the old spark plug, and putting in a new one.
The quicker you can do maintenance and cleaning on your machine, the quicker you can get back to work. Time lost is money lost, and it is definitely worth spending extra money on a unit that is easy to take care of.
Related Articles:
Dust Particles
Dust particles are the worst. The debris from cutting wood is often the number one reason for malfunctions on a gas chainsaw. Tiny pieces of wood and sawdust float into your machine and cause serious damage. Luckily, most modern gas chainsaws come with unique air cleaning technology that uses centrifugal force to remove almost 100% of the dust particles before they can even reach the air filter.
This is a serious feature to look out for when shopping, as it will prolong the life of your chainsaw and keep it running at optimal performance. Any kind of air cleaning technology will keep the internals of your machine perfectly clean so that you don't have issues later. It also makes it so that you do not need to change your air filter as much.
The Environment
This may not matter to you, but many people like to have environmentally friendly tools. If you do not want a lot of toxic emissions, I highly suggest looking for any chainsaw that promotes low exhaust emissions. There are many gas chainsaws that contain unique technology designed to maximize fuel efficiency while minimizing the dirty fumes that come from the exhaust. Keep your air clean by getting an environmentally friendly chainsaw.
Read More: Best chainsaw under $400
Best Gas Chainsaw: Final Thoughts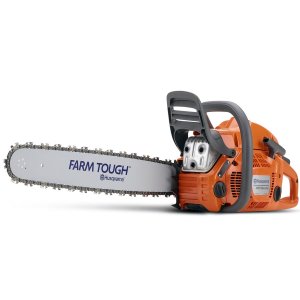 It is so difficult to pick the best gas chainsaw. The Jonsered CS2245 is a great machine at an even greater price, but as a budget unit, it is definitely not the best. It is good, but not the best. Then there is the Echo CS-400, which is an all-around fantastic wood-cutting tool that delivers professional results in a neat and organized package.
But by far the best gas chainsaw must be the Husqvarna 20″ 455 Rancher Gas Chainsaw. It is ideal for yard maintenance, for wood removal, for using outside in the forest, and for completing very tough jobs. You can get a lot done on a single tank of fuel.
The Husqvarna 455 Rancher comes with a lot of safety features, it has an easy tensioning system on the side of the machine, it has an enormous bar and chain, it boasts impressive speeds, it comes equipped with a 3.49 horsepower engine, and it has some of the best durability in a portable chainsaw. I highly recommend this unit for anyone looking to update or replace an old chainsaw.
---