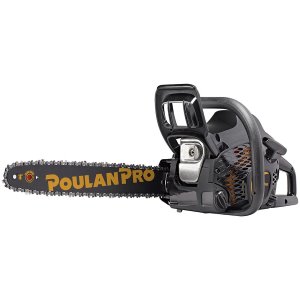 Today we are talking about the Poulan Pro PR4016 16" Gas Chainsaw. This is one bad wood-cutting machine. And when I say bad, what I really mean is this chainsaw is a beast. It has some serious cutting power. You may be thinking about buying a cordless 16" chainsaw, but you should know nothing can compare it to the raw cutting abilities of the Poulan Pro!
For such a small chainsaw, this unit comes equipped with a huge 40CC, 2-stroke engine and a rugged 16" bar. This is the ideal chainsaw for cleaning up after a storm, for cutting firewood into manageable chunks, for felling medium trees, and for some light-duty industrial work. You can use this chainsaw for just about anything.
What I really enjoy about this chainsaw is its black exterior and yellow accents. This looks like a cool chainsaw, and that may not seem important, but I think it is very important that whatever tool you are using all day looks great. And in addition to looking great, this chainsaw comes with some stunning features.
---
Poulan 16 Chainsaw Review: Overview
We have quite a bit of ground to cover. The Poulan Pro Chainsaw has a lot of fabulous features. From the amazing filtration system to the automatic oiler, this machine will continue to surprise you. Its engine is robust, its bar and chain bite through any solid wood, and the 2-year warranty makes this an amazing value for the price.
And speaking about the price, this is a super affordable piece of equipment! You cannot find an equally impressive chainsaw for this amount of money. You are getting a steal of a deal, I can promise you that.
---
Automatic Features + Smart Filtration
Automatic features are key in any modern tool. When it comes to this chainsaw, you get all the automatic features you could ever need. These features allow you to properly operate the chainsaw with optimum safety and max performance.
The best automatic feature must be the auto oiler. The automatic oiling system works by providing a consistent amount of oil to the chain. This allows your chain to operate efficiently without drag or too much wear, thereby extending its life and keeping you cutting smoothly.
The best thing about the automatic oiler is that you don't have to think about it. Once you fill the reservoir with oil, the automatic system does the work for you. This is the easiest chainsaw maintenance you could ask for.
Now let's talk about the air filtration system. This is a superior system for keeping dust and debris, specifically sawdust, away from your air filter. Because the air system works to keep your filter clean, you will have better fuel consumption. Without dust and dirt clogging your air filter, it is easier for your engine to run. Basically, the cleaner the air filter, the better the power.
A clean filter also means fewer filter changes. You will spend less time worrying about changing the air filter and more time focusing on work. This will keep your chainsaw running at optimum levels for much longer.
---
Ergonomics 101
Along with having a superior air filtration system and superior automatic features, you can expect this chainsaw to have a superior ergonomic design. You will notice the difference the moment you hold the Poulan Pro PR4016 in your hands. It just feels better, especially when compared to an older model chainsaw that is unwieldy and unbalanced.
All the controls are right where you need them for easy access, and the handles are designed to be more comfortable so that you spend less time having to massage your hands after squeezing the trigger for too long.
In addition to this, the handles are designed for minimum vibration. This will negate the majority of vibration from bothering your hands and arms, making it more fun and less stressful to operate the chainsaw.
And because it is so ergonomic, you can easily maneuver the chainsaw in any kind of direction. It is lightweight, allowing you to climb up the side of trees, climb up ladders, and to go up in a boom to cut high branches. You will never be thrown dangerously off your balance due to poor construction or an unruly operation of the tool.
---
Pull Start Now
Starting your chainsaw is critical, as you obviously can't do any work if your chainsaw doesn't start. With the new Effortless Pull Starting system, the chainsaw will start with a single pull of the starter cord. This new form of starter cord uses a spring-assisted mechanism to reduce the resistance and give you an easier time with starting.
Plus, the purge bulb is easy to use and is designed not to flood the engine accidentally. You will get a fast and simple start with fewer yanks of the starter cord. This is all very simple once you are facing the machine and looking at all the components, unlike many gas chainsaws that can be confusing to people who don't understand them.
---
Poulan 16 Chainsaw Review: Final Thoughts
To end my review, I just want to say again that I recommend this chainsaw from Poulan Pro to anyone who owns a home and has a lot of yard work to complete. One of the best things you can do with this chainsaw is to cut fallen trees into firewood. This thing is very comfortable, and it makes cutting fallen trees very easy. It's just like bending over to tie your shoes!
Additionally, the Poulan Pro 16″ Chainsaw offers more power, more reliability, and more functionality than almost any other chainsaw of its size. If you choose this chainsaw, you will not be disappointed. It comes included with a unique multitool, is has a smart filtration system, it has impressive technology inside of its engine that makes it fuel-efficient and eco-friendly, and it is easy to maintain.
If I had to write a list of cons about this chainsaw, I don't think there is anything I could come up with. This is simply a perfect piece of machinery that does its job exactly as advertised.
---
Related Articles: