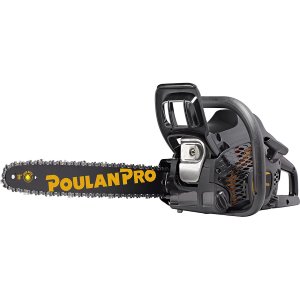 This is a pretty cool machine. The Poulan Pro PR4218 Gas Chainsaw is everything you have been looking for in a medium-sized cutting tool. This chainsaw comes with a black shell, which makes it look fresh and new. It is not every day you get to choose a black chainsaw.
The Poulan Pro 18 also has tons of power. It offers 40% less effort when you want to pull the start cord, it comes equipped with a robust bar and chain, and there is a smart combination tool integrated directly into the handle. This thing has loads of neat features that help you save time and effort when working.
If you have a lot of firewood cut, you are interested in felling some medium-sized trees, or you just have a bit of cleanup around the property, this is the ideal chainsaw for you. It even comes with an automatic oiling feature to keep your chain cutting at maximum power.
---
Poulan Pro 18 Chainsaw Review: Overview
I don't care what kind of wood you will be cutting, the Poulan Pro PR4218 is going to make easy work of it. This thing has a seriously sharp chain, a very strong engine, an automatic oiling system, an ergonomic design, and so much more.
The great thing about the Poulan Pro Chainsaw is that it's fun to use. Or at least, it turns a day of cutting wood into a fun activity rather than a chore. Let's take a look at each of the most impressive features one at a time.
---
Advanced Features
Every last feature on this chainsaw is advanced. Even the design of the body itself, including the handles, have been tailored perfectly to give the best possible comfort to the user. And that is only the start. Even the handles have been fitted with unique technology that lessens the overall vibration.
With the anti-vibration system, you will notice a huge difference in the way your hands feel when you are operating the chainsaw, specifically when you are cutting through larger pieces of wood. You don't get a fuzzy feeling in your arms or hands, and you don't get tired.
One of the more interesting ideas is the onboard scrench, which is a multitool that you can use to do all of your adjustments on the chainsaw. There is actually a place for this multitool where you can easily pop it off the handle and immediately do adjustments to the tension of your chain. This is a fabulous idea and it really makes things more convenient.
And speaking of convenience, how about an auto oiler? Everyone needs an automatic oiler on their chainsaw. These have become standard features on every modern, residential gas chainsaw. This is the best way to keep your chainsaw well-oiled because the proper lubrication is constantly applied to your bar, thereby minimizing the maintenance you will have to do later because of a reduction in the wear and decay of your bar and chain.
---
Effortless Features
You definitely want advanced features with your new chainsaw, but you also want effortless features. I am talking about the EPS, otherwise known as the Effortless Pull Starting. This is a special technology that has managed to reduce the effort of pulling the starter cord by an amazing 40%.
From now on, it is going to be simple and effortless every time you start your engine. The purge bulb is easy to use, especially for beginners, and it makes it so there is less chance of your engine flooding. If you want to stop breaking your back by yanking on pull cords, this is the best chainsaw for you.
---
Less Cleaning
Nobody likes doing maintenance. When you finish with your tool, you just want to put it down and take a break. Unfortunately, maintenance is a critical part of keeping your tool tip top. But at least when you purchase the Poulan Pro Chainsaw, it does not need as much maintenance as other similar units.
Yes, the automatic oiler reduces the need for excess maintenance. And because the engine is unlikely to flood thanks to the Effortless Pull Starting system, you will need to do less maintenance. But there is also the SuperClean air filtration system, which is a third bonus for doing less maintenance.
You see, the air filtration system keeps dust and debris out of your chainsaw. It is a great piece of technology that keeps the inflow of sawdust and other debris out of your air filter and out of your machine by forcing it back outside. This keeps your air filter cleaner for longer so that you don't have to change it out as often.
Additionally, because of the air filtration system, you are unlikely to get mass amounts of dust on the inside of your chainsaw, which will also mean less cleaning in the long run. You still have to maintain your chainsaw, but at least it will be easier with all the advanced features.
---
Poulan Pro 18 Chainsaw Review: Final Thoughts
There are so many reasons why I like this chainsaw. First, it definitely works with outstanding performance. The unique engine outputs an immense amount of power with very little fuel consumption and extremely reduced harmful emissions. Not only is this a gas chainsaw with something to prove, spotted barely uses any gas and is safer for the environment.
One of my favorite things is how the Poulan Pro PR4218 looks. It is clean, crisp, and a very cool tool. Speaking of clean, the SuperClean air filtering system is far superior to those on other similar chainsaws. You get a much longer life out of your filter without needing to sacrifice power, therefore keeping your chainsaw performing at its peak.
To sum up everything, I want to just highly recommend this machine to everyone. The Poulan Pro Chainsaw is fantastic for anyone who owns a piece of property and has an endless supply of yard work to finish. This is the best chainsaw for medium tasks, cutting firewood, and cutting down small and medium trees.
---
Related Articles: