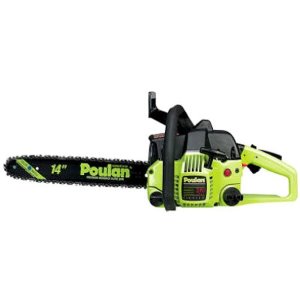 Today I will review the Poulan P3314 14" Gas Chainsaw. This is another phenomenal product from Poulan, and it comes included with a monster 33CC, 2-stroke gas engine that gives you incredible speed and unstoppable power. If you are looking to cut down some medium trees, to do some serious yard work, or just to cut firewood, this is the best unit for you.
In fact, this is the ideal chainsaw for using around your property for cutting anything with a reasonable diameter. The air filter system is top-notch, the 14" steel guide bar is rugged and durable, and the primer bulb is designed for super-fast starting.
This gas chainsaw is excellent on fuel, it is easy to use, it is lightweight, and it looks very cool with its green exterior. The gear-driven oiler is totally automatic, and the design is smart with an ergonomic handle, a comfortable top handle, and a durable protective handguard. This is definitely one of the safest chainsaws you can use for landscaping.
---
Poulan P3314 Review: Overview
There is a lot to look for in a small 14" chainsaw. It must be extremely lightweight, it needs to start properly and without a fuss, and it needs to be extremely safe. Today we will go over all the great features of the Poulan P3314 Chainsaw, and you will learn how this chainsaw can help you get work done faster and easier.
---
All the Best Safety Features
The P3314 Chainsaw comes with all the best safety features. It has an enhanced pulley starting system that makes it way easier to get the chainsaw rumbling right away, rather than struggling and hurting your arm. This is extremely important for the safety of your shoulder socket!
Plus, the chain brake has been improved dramatically to have a more sensitive reaction to sudden movements. This means you are much better protected in the event of kickback since the chain will immediately stop spinning.
The chain brake is designed so that the chain stops spinning when there is sudden inertia caused by kickback, which happens when the chainsaw becomes wedged in a piece of wood, or if you hit something with the tip of the guide bar, and then the chainsaw shoots violently upward, often straight at your face.
With the enhanced chain brake, there is much less worry about a serious injury occurring when you encounter unexpected kickbacks. Plus, the guide bar and chain are specially designed to reduce the chances of kickback. This makes the chainsaw very safe, especially for new users who are not quite sure how to operate the tool properly.
---
Yardwork Pro
This chainsaw is a yard work professional. With its compact size and lightweight design, you can easily go about all kinds of different landscaping tasks. It is easier than ever to cut apart fallen branches, to prune trees, and to take care of the hedges. All because the Poulan P3314 is very portable and actually fun to use.
You will find the hours going by in extreme relaxation as you chop firewood, breakdown larger trees into manageable pieces, and chop down the small trees that are in your way. While you cannot cut extremely large trees, this pint-sized chainsaw does have enough power to take care of the medium trees that are a nuisance on your property.
For anyone who does landscaping professionally and needs a portable gas chainsaw, I highly recommend this unit from Poulan. It is great for taking care of hiking trails, cleaning parks after storms, and for any other kind of landscaping job.
---
Affordable & Efficient
Probably the most ideal thing about this chainsaw is its affordability. If you are not a professional, there is no reason to spend $1000 on a chainsaw. Even $500 on a chainsaw that is only going to be used for landscaping tasks is a little bit excessive.
But Luckily, this chainsaw is cheap – and not cheap as in poor quality. The chainsaw is simply affordable, meaning it won't hurt your bank account. It is the ideal price for a small chainsaw that might only be used in the summer months for cleanup and other generic tasks.
It is efficient for cutting medium trees and for prepping chunks to go into the chipper, and it won't be a big deal if the chainsaw does fail somewhere down the line because of its affordability. To compare, this entire chainsaw, with the bar and the chain included, costs about the same as a replacement chain for a bigger and more expensive unit.
The bottom line is that nobody wants to waste their money. Quality is definitely important, but I firmly believe you get just the right amount of quality with this chainsaw for its price tag – no waste at all! It works like a champ, you can abuse it all year long, and it will keep working until the very last moment. It probably is not the best machine for professional loggers, but for homeowners and landowners, this is definitely a great deal.
---
Poulan P3314 Review: Final Thoughts
I know you have a lot of options when it comes to chainsaws. There are many different models available with a single click of your mouse. Because of this, I know how hard it is to pick the right chainsaw. But let me assure you that the Poulan P3314 Gas Chainsaw is definitely the right unit. There are plenty of reviews from satisfied customers, and many of them have nothing but good things to say.
When you take into consideration how easy this chainsaw is to use, how great it looks, how reliable its features are, and how mighty its 33CC engine is, there is no reason to keep shopping around. You can do all the best yardwork with this chainsaw. It has everything you need, from the standard safety features to the automatic oiling mechanism.
For my final thought, I just want to recommend Poulan P3314 once again. If you are looking for a replacement unit for an old and outdated machine, this is a great modern tool. It is extremely lightweight, and it can help you with all your cutting needs.
---
Related Articles: