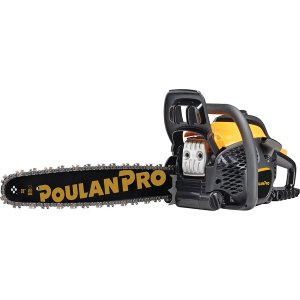 Finally, it is time for a full review of the Poulan Pro 20 Inch Chainsaw. This machine is a beast. There are other chainsaws from the same company, but this one is large and in charge. It has an awesome black and yellow finish, with an aggressive chain that works to bite through every slab of wood that you throw at it.
For anyone who wants an industrial-strength chainsaw that they can also use at home on their property, this is it. The Pro 20" boasts a 50CC gas engine and startling cutting speeds. You can use this tool to fell trees, to cut limbs (off trees, of course), and even for milling. There is no end to the hours of fun you will have with this chainsaw.
Additionally, the Poulan Pro 20" is more powerful than older models, it outputs fewer emissions, and it has better fuel consumption. The starting system is better, the types of features you get are better, and the technology has been improved. This is an all-around well-designed chainsaw both for residential and commercial use.
---
Poulan Pro 20 Inch Chainsaw Review: Overview
The Poulan Pro 20″ Chainsaw has all the standard features you would expect out of a modern tool. It is great on fuel, it doesn't harm the environment, and it has oodles of power to cut, slash, and hack – but mostly just saw. It makes quick work of debris and branches, and it has the raw strength to bring down small to medium trees.
---
Better Technology
The great thing about buying a new piece of equipment is that it comes with more technology than your old piece of equipment. With this chainsaw, you get loads of innovative tech that you would never find in an old and outdated chainsaw.
For example, the unique OxyPower engine technology ensures that you have maximum power at all times to complete the toughest tasks. Even though the chainsaw only comes with a 50CC engine, it still delivers incredible cutting power. The chain spins quickly, and thanks to its durable metal teeth it chews through wood like nobody's business.
And of course, with innovation comes better fuel efficiency. This chainsaw, which official model number is PR5020, offers an astounding 20% lower fuel consumption to save you money in the long run. It is also very green since it spits 70% fewer toxic emissions into the atmosphere. No more black smog chugging out of your chainsaw as if it were a train.
One final piece of technology that has been enhanced is the starter mechanism. There is now a 30% reduction in the pull force required to start the chainsaw. This means the chainsaw will start effortlessly after just one or two yanks of the cord.
Plus, the purge bulb has been reinvented in a way. The bulb now works better than ever, providing the carburetor with just the right amount of fuel so that the chainsaw roars to life with fewer pulls of the starter cord. This also works to reduce the chance of damage to your carburetor. You won't get flooding anymore.
There is also a specially designed choke/stop control that is less confusing than older types of choke controls and works to yet again boost the starting power of the chainsaw. This new style of choke/stop control makes starting your chainsaw more reliable because it reduces the risk of the engine being flooded.
As you can tell, they have really put in all the stops to make sure your chainsaw starts when you want it to.
---
Combination Tool
While not a large or impressive feature, this is still pretty cool. There is a combination tool integrated directly into the handle of the chainsaw. It stays there completely out of sight and out of the way until you need it. You can then click off the tool to make all of your important adjustments. You can also use it to do quick maintenance after a short use of the chainsaw.
---
User Friendly
This unit is more user friendly than any previous model. The handles have been designed for maximum comfort, keeping you in constant control of the chainsaw while operating. It is also designed to be perfectly balanced. You will never be thrown off balance when using this chainsaw because of a weird engine design that makes the chainsaw too heavy.
This is an excellent chainsaw for beginners. It is very intuitive from the moment you hold the tool in your hands. Everything is just where it is supposed to be, with a large trigger that does not cramp your hand when you hold it for too long. There are red and blue color-coded switches, there is a solid handguard to keep your fingers safe, and everything is clearly labeled so nobody can get confused.
It may be a large chainsaw with a whole mess of power, but even someone who has never used a chainsaw before will feel very comfortable figuring out how everything works. Poulan Pro 20 Inch Chainsaw is user friendly and takes very little time to master.
---
Poulan Pro 20 Inch Chainsaw Review: Final Thoughts
I have said it before and I will say it again, the Poulan Pro 20" Chainsaw is a monster. And I mean that in the best way possible. If you need a new companion for yard work, for taking care of pesky trees or simply cutting firewood, this is the very best in the business.
When you decide to go with the Poulan Pro 20″ model, you are getting maximum power, ideal fuel efficiency, a chainsaw that looks as great as it performs, portability, maneuverability, and advanced features for the modern lumberjack.
In fact, everything about this chainsaw is user friendly. If you are looking to make some changes around your property, or maybe cut down your neighbor's tree when they aren't home, this chainsaw can get it done. It is easy to unpackage, to fill with gas, and to start cutting. There is not much it can't do – other than perhaps explaining to your neighbor what happened to their tree.
---
Related Articles: