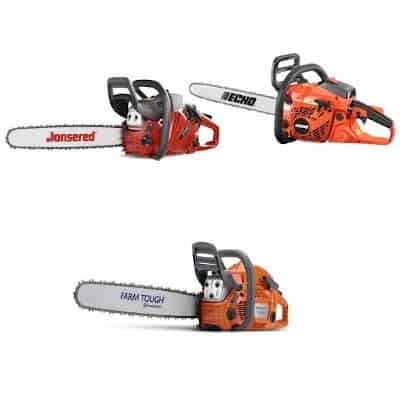 The best 18-inch chainsaw is coming your way. I have put together a guide of the best medium chainsaws that all come with an 18-inch bar and chain. These are all gas chainsaws that offer extreme power, lots of maneuverability, full portability, fuel efficiency, and low emission output.
If you want a robust chainsaw with a powerful engine that is not very large and overwhelming, you will find it on this list. We are going to dig into the features of these three very popular chainsaws, all of which are developed by the best names in the industry.
By upgrading from your old chainsaw, you will be happy with modern features, less maintenance, easier starting, and a more comfortable experience with an 18-Inch chainsaw. All three chainsaws are super affordable, and they all come highly recommended. You can use them for yard work or for heavy-duty applications.
Top Rated 18 Inch Chainsaws
---
Husqvarna 455 Rancher Gas Chainsaw – Best Overall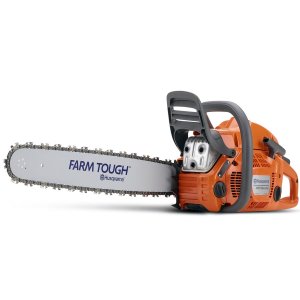 The Husqvarna 455 Rancher Gas Chainsaw is a masterpiece. This chainsaw has everything you could ever want in a cutting tool. And while it comes with an 18" bar and chain, you are able to purchase it with a 20" bar and chain. That means the 18" bar can easily be replaced with one that is bigger, making this chainsaw ideal for more serious tasks and wood-cutting jobs, as well as lighter applications around the home.
Start Every Time
If you want your chainsaw to start every time, I highly recommend going with the 455 Rancher. It has integrated technology that makes it easier to start the engine. The pull cord is actually designed to give less resistance to the operator, making it easier to yank on the chain without exerting yourself.
The combination choke/stop control is also useful for the best starting because it reduces the chances of engine flooding. Of course, it is still possible, but this feature greatly reduces the risk.
Modern & Manageable
There is nothing better than a modern tool. The 455 has a chain tensioning system mounted on its side for quick adjustments, which you almost never find in an old model. It also has an automatic chain oiler so that you don't need to stress about keeping the chain lubricated.
And the design is simple. If you need to change the air filter, simply pop off the cover and change it. No need to start a surgery just to change the air filter.
---
---
Jonsered CS2245 Gas Chainsaw – Budget Pick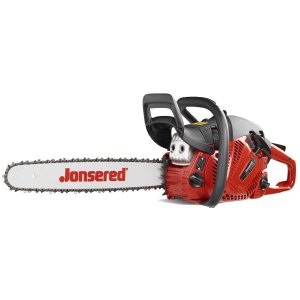 The Jonsered CS2245 Gas Chainsaw is a spunky unit. All the raw power of an industrial chainsaw in a small and lightweight package. The red body looks great, the wrap-around handle is ideal for cutting in awkward positions, and the air intake system keeps dust particles out of the machine and away from the air filter.
This is actually one of the more affordable chainsaws you will find. The price is a little shocking considering the large 45CC-engine, the solid bar and chain, and the longevity of the tool.
Everything is Improved
Everything is improved. Fuel efficiency has gone up in this model of chainsaw by about 20%, while the nasty exhaust emissions have been decreased by an almost unbelievable 75%. Even more unbelievable is the fact that none of the power has been sacrificed to make these improvements. This chainsaw has intense speed, raw power, and it is very safe.
Perfect Weight & Features
You can feel the difference the moment you pick up this chainsaw. It is balanced with the perfect weight to allow for maximum maneuverability and portability. This is helped even more by the insulated chainsaw handles, which are comfortable and super ergonomic.
Along with these features, everything else is also perfect. The ergonomic design is perfect, the color is perfect, the quick-release cylinder cover is convenient, and the turbo intake air technology is highly advanced to keep your machine clean and functioning for years to come, and it feels good in your hands.
---
---
Echo CS-400 Gas Chainsaw
The Echo CS-400 Gas Chainsaw is a genuine chainsaw with nothing to hide. Lightweight and portable, outstanding performance, and one of the best starting systems in any chainsaw – I highly recommend this machine for anyone interested in improving how they work outside.
Not only can you cut firewood, branches, and small fallen trees, but you can use this chainsaw for industrial purposes on a job site. It is easy to maneuver, it is not that heavy, and the 40.2CC engine is professional.
Outstanding Performance
This is a quality chainsaw. The engine is professional, the design is ergonomic and comfortable, and the performance is simply outstanding. For a small 18" chainsaw, it does not get much better than this. So long as you keep the chain properly oiled, you can expect lightning speed with all your cuts.
Also, the engine is the perfect size for most tasks, and it is not prone to overheating even in the harshest weather. Combined with a strong outer casing, there is almost nothing that can stop the power of this chainsaw.
i-30 Starting System
The i-30 Starting System is a revolution in how you start your chainsaw. No more ripping on the cord until your arm feels like it is about to pop out of its socket. The starting system has been tweaked to give minimal resistance when you pull on the cord. With reduced effort in starting the chainsaw, you will start every round of cutting much happier and without a broken arm.
---
---
Best 18 Inch Chainsaw: A Complete Buying Guide
When I'm talking about chainsaws that are 18 inches, what I mean is a chainsaw that comes with a bar and chain that are both 18 inches long. Generally, these machines are best used for medium-sized tasks, like cutting thick branches, making quick work of fallen trees, and even construction jobs like cutting planks of wood.
To make the most out of your 18-inch chainsaw, here are some recommended features to look out for.
Power vs Comfort
With a medium-sized chainsaw, you want to mix power with comfort. It is important that the engine has enough strength to let you rip through massive cords of wood, but it is equally important that you have comfort. These are medium chainsaws, and so they need to be ergonomic and lightweight enough for anyone to handle.
I highly recommend that your 18" chainsaw is not any heavier than about 13 pounds. Any heavier and you may as well buy a larger 20" chainsaw. This will give you an ideal weight ratio for the amount of power, especially if your engine outputs around 3.5 horse.
Related Articles:
Homeowner Helper
What are you going to use your chainsaw for? Are you a homeowner who plans on chopping down some trees on your property, cleaning fallen logs or branches, or even trimming the hedges? If so, 18 inches is definitely as big as you want to go. This is a great choice of size for homeowners.
Anything larger than 18 inches will be too big and bulky to carry, and anything smaller is only really good for trimming branches that are thin. To ensure you, as a homeowner, get the most out of a new chainsaw, make sure it comes included with some smart features.
Because you may not be a professional with a chainsaw, it is nice to have an easy start, meaning a pull cord that offers easy resistance. Also, a clever air system that keeps dust from ruining your machine is handy, plus low vibration. All these features will make you happy working around your house with a chainsaw.
Reduced Emissions
Do you have neighbors? If so, they probably won't appreciate a dirty gas chainsaw spitting black clouds of smoke to hover over their yards. Even if you don't care, it is nice to be considerate. Just think of the guy on your block with the annoying chainsaw from 1938 making noise at 6 AM.
Because of this, I recommend finding a modern 18" chainsaw that has low exhaust emissions. You don't want any fumes to poison the air of your neighbors. The good news is that all the chainsaws we have listed today have reduced harmful emissions and increased fuel efficiency, so any one of them is a very green option.
Best 18 Inch Chainsaw: Final Thoughts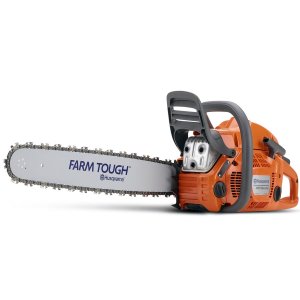 We have looked at some pretty amazing pieces of equipment today. The Jonsered CS2245 Gas Chainsaw is an outstanding model that comes at an extremely low price. If you want a budget chainsaw for major applications, the Jonsered will do. 2nd place must go to the Echo CS-400 Gas Chainsaw, which is ideal for maintaining large properties.
But the best chainsaw award goes to the Husqvarna 455 Rancher Gas Chainsaw. It has a massive 55.5 CC engine, it has loads of safety features, you can do quick chain adjustments while in the middle of working, and there is simple access to the air filter.
This Husqvarna's model offers low fuel emissions, amazing fuel efficiency, Smart Start technology to easily start the chainsaw with one pull, and almost no vibration. I highly recommend this chainsaw for anyone who needs to clean their property, to cut apart fallen trees, or to do work high up in a tree or in a boom.
---
Related Articles: