Are you looking for the best homeowner chainsaw? Are you a homeowner with a large piece of property, lots of trees, and a whole lot of work to be done? If so, you have come to the right place. Today we are looking at the very best homeowner chainsaws, two versions that run on gas, and one version that runs on battery power.
By getting the best chainsaw for using around your property, you can drastically reduce the time you spend hacking away at wood, chopping firewood, and trimming the bushes. Chainsaws are great for lots of general labor jobs around your property, and they are industrial-strength, able to cut down entire trees without a problem.
With each chainsaw, you can expect intense power, fast chain speed, loads of safety features, an ergonomic design, a stable bar and chain, and other outstanding features.
Top Rated Homeowner Chainsaws
---
Husqvarna 455 Rancher Gas Chainsaw – Best Overall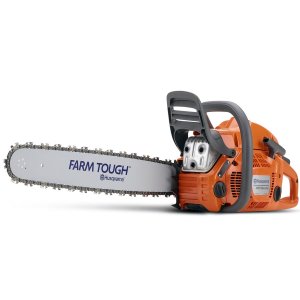 The Husqvarna 455 Rancher Gas Chainsaw is a powerhouse. This is the kind of chainsaw you want for taking care of your property. It has incredible power, it only weighs 13 pounds, it has 3.49 horsepower, and it is not that bad for the environment.
Stay Oiled
The 455 Rancher comes with an automatic chain oiler. This is a revolutionary feature for a modern chainsaw. The automatic oiler works by delivering a constant and consistent flow of oil to the chain. This means your chain will continue to rotate around the bar like clockwork, staying perfectly oiled for the entire time you use the chainsaw.
This really takes away the fuss of having to oil the chainsaw yourself. You just set the automatic oiler, forget all about it, and keep on working at maximum performance.
Fuel-Efficient
Thanks to the 455 Rancher's X-Torq engine, you will use less fuel than you are used to. Fuel consumption is decreased by a lot, which means fewer fuel costs for you, a longer day of using your chainsaw without refilling, and fewer toxic emissions going into the atmosphere.
This is probably one of the cleanest gas chainsaws ever invented. Less fuel, fewer emissions, but no sacrifice in power. You get all the bonuses of a professional gas tool with the reliability, safety, and clean power of an electric chainsaw. This is definitely a great piece of equipment to keep in your garage for taking care of your property.
---
---
Worx WG384 Cordless Chainsaw – Budget Pick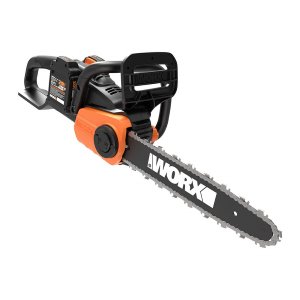 The Worx WG384 Cordless Chainsaw is a fantastic battery-powered tool. Gas tools are awesome, but some people prefer to use portable chainsaws that run on battery power. And why not? This unit comes with incredible power and it is fueled by a pair of 20V batteries rather than disgusting gasoline. The chain is tough, the motor never lets up, and the batteries last for a full day of hard labor.
All About the Batteries
When it comes to any piece of cordless equipment, it is all about the batteries. Almost all the batteries you get with a portable tool are going to be 20V, but at least with this modern 14" chainsaw, you have the ability to use two batteries at the same time. That is 40V of power for better performance and increased speed.
When purchasing the chainsaw, you can buy it with two batteries and the charger included. To make the deal even sweeter, the package comes with a blade protection cover and a dual-port charger. You are able to charge both batteries at the same time.
If you have other portable tools from Worx, it is important to note that all the batteries will work together. They are all interchangeable between different tools. This is a sweet deal, even if you only need the chainsaw for a bit of work around your property.
Brushless Motor
The brushless motor is not screwing around. The motor has been specially designed to give you a huge boost in power so that you can cut through huge trees. The chain blade may only be 14 inches, but the power is intense enough to cut through the thickest logs.
---
---
Jonsered CS2245 Gas Chainsaw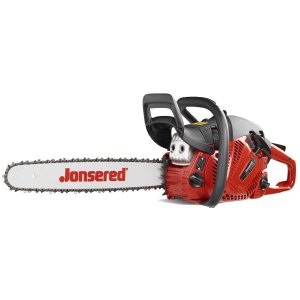 The Jonsered CS2245 Gas Chainsaw really does work. This is another outstandingly clean chainsaw. The engine technology is used to reduce the nasty exhaust emissions up to an incredible 75%. This thing burns extremely clean, and it increases your fuel efficiency by an astounding 20%. Fewer emissions, less gasoline, and way more power than an electric chainsaw.
Comfortable & Ergonomic
As a homeowner, you may find yourself spending long afternoons going about your property to take care of mess after mess. What you don't want is a heavy chainsaw that is unwieldy to use, that hurts your hands, and that leaves you feeling fatigued and exhausted after the day is done.
With the CS2245, that is not the case anymore. The chainsaw comes with insulated handles and smartly-designed steel springs that make it extremely comfortable to use. The unique design means that the chainsaw has extremely low vibration while functioning. You will not get tired while using this chainsaw.
Plus, it is ergonomic and easy to handle. You will have a great time cutting wood all day with this chainsaw. It even comes with a handguard to protect your precious fingers from being hit.
Clean Power
Everyone wants clean power these days. If you are skeptical about buying a gas chainsaw because of images you have of black smoke spewing out of the exhaust and the loud rumbling chainsaw noise, do not fret. The CS2245 has reduced toxic emissions by up to about 75%. No more black smog shooting out of your chainsaw. This is clean power with great fuel efficiency and smart air intake technology.
---
---
Best Homeowner Chainsaw: A Complete Buying Guide
What is there to look for in A chainsaw for your home? Obviously it needs to be portable, it needs to be powerful enough to do all the different tasks around your home, it needs to burn cleanly so that you don't pollute your own environment, and it needs to store properly through the winter when you are not using it.
You need to decide if you want a gas chainsaw or a cordless chainsaw. Or, if you have a small piece of property, you may even want a less powerful corded chainsaw. It is totally up to your specific needs.
Maneuverability
It does not matter if you go with gas or electric, you still need serious maneuverability. Since you are attending to your own property, chances are you need to trim those high branches that are an eyesore out of your window. This means you need a lightweight chainsaw that you can carry up a ladder without it feeling like you're carrying a sack of bricks.
I highly recommend checking how ergonomic the chainsaw is that you wish to buy. Ergonomics are super important with a chainsaw, as it will not be maneuverable if it's not ergonomic. You definitely want to make sure the chainsaw is balanced properly, that way when you hold it, the chainsaw feels like an extension of your own body.
Related Articles:
Easy to Use
If you are an ordinary homeowner and not a lumberjack, you definitely need a chainsaw that is easy to use. This means automatic features, like an automatic chain tensioning system, an automatic chain lubrication system, and certainly an automatic chain brake because it helps you stay safe.
If you have never used a chainsaw before, I do recommend choosing cordless. It is easier to put a battery in a chainsaw and get to work than it is learning how to fuel a chainsaw, mess around with the oil, and have to care for the more intricate components that are found in a gas chainsaw.
Longevity
Longevity is a big one. As a homeowner, you are probably not using the chainsaw every day. You need a reliable piece of equipment that you can store for long periods of time and that will still work great when you pull it out of the shed. Because of this, I would generally go with something electric. So long as the batteries are charged, your tool is going to work.
Gas chainsaws are good too, but you want to make sure the gas tank is empty, the machine is cleaned before it goes away, and that it stays in a relatively dry place. This will keep your tool working longer.
Best Homeowner Chainsaw: Final Review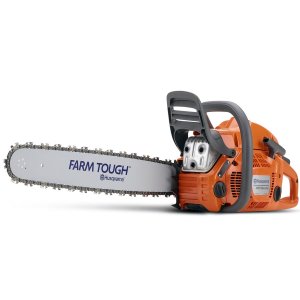 This is a tough one. The best cordless chainsaw for homeowners is definitely the Worx WG384. The Worx is affordable, lightweight, and awesome for people who don't want to use gas. On the other hand, the Jonsered CS2245 is a very tough chainsaw that offers incredible cutting power.
But I must say, the Husqvarna 20″ 455 Rancher Gas Chainsaw is at the top of the list. This is by far the greatest chainsaw for any landowner or homeowner. When you need brutal cutting power, the reliability of a professional and heavy-duty chainsaw, this is the best choice.
The Husqvarna 455 Rancher comes with a side-mounted tensioning system, 55.5CCs of power to cut wood, it is lightweight, has low vibration, Smart Start technology, and the best air injection. This chainsaw is better for the environment, it has better fuel efficiency, it cuts wood in less time, and it has an automatic chain oiler to keep your chain running slick.
---
Related Articles: