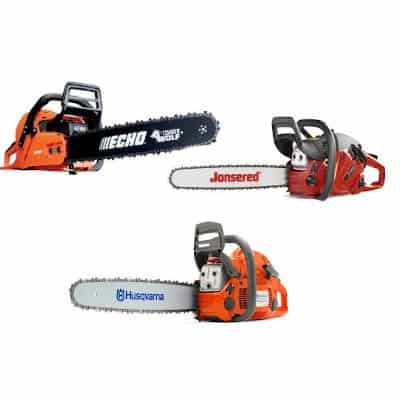 Are you tired of buying cheap chainsaws? If so, you are probably in the market for the best professional chainsaw. Stop wasting your time, effort, and money on purchasing cheap chainsaws from the internet that don't stand up to all of your professional work.
Today we are going to look at the three best professional chainsaws that you can add to your tool shed. These chainsaws work wonders. They come with impressive engines, they have the best durability in their class, they are super affordable, and they offer modern features not found in your chainsaw from 1975.
You get reduced emissions, increased power, increased fuel efficiency, enhanced safety features, better reliability, and more use. By the end of the article, I guarantee you will know which professional chainsaw is the best for you. And don't worry – we won't be looking at any electric models today!
Top Rated Professional Chainsaws
---
Husqvarna 460 Rancher Gas Chainsaw – Best Overall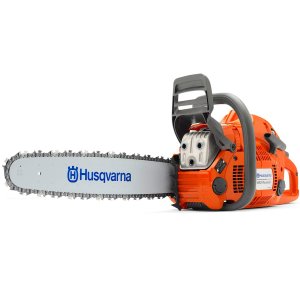 The Husqvarna 460 Rancher Gas Chainsaw is one of the best-rated chainsaws for a reason. This is the ideal chainsaw for professionals. It is super robust, it can handle any intensity of job, it has a 60.3CC gas engine, it has great safety features, it produces massive torque to cut quickly through wood, and it has an automatic chain oiler for the best longevity of the equipment.
You can expect to use this chainsaw for a very long time without ever needing replacement parts or service done to it. It is definitely one of the most professional chainsaws from Husqvarna in its price range.
2-Cycle Engine
Any good engine is a 2-cycle engine. The 460 Rancher's engine is 60.3CCs and will never let you down. With all that power and torque, the chain spins at an incredible 9,000 rotations per minute. This is maximum power for cutting trees. Combined with the automatic chain oiler, which delivers a consistent supply of oil to the chain, keeping it forever spinning smoothly, you can expect your machine to live a very long life.
Robust Design
The moment you hold this chainsaw in your hands, you can feel how robust the design is. This machine is not made from cheap parts. All the internal components are heavy duty and extremely reliable. The bar and chain are hardened metal for cutting through the toughest wood, and the shell of the chainsaw is tough to avoid any possible cracks or crushes.
---
---
Jonsered CS2245 18" Gas Chainsaw – Budget Pick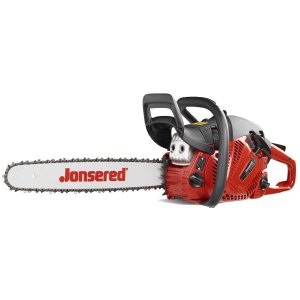 The Jonsered CS2245 18" Gas Chainsaw is an extremely powerful tool that cuts like a dream. If you have an endless supply of work to do with your chainsaw, this is the machine to do it with. You get excellent fuel efficiency with insanely low exhaust emissions. The turbo intake air system is unique to keep your chainsaw running smoothly, and it delivers unmatched power.
The engine is 45CCs, which is a significant amount of power to see you through almost any scenario in which you are cutting wood. You can chop down full trees, you can trim the hedges, you can cut apart logs, and basically anything else.
Unique Turbo Air Intake System
The worst thing for your chainsaw is too much dust inside of it. Dust can build up and clog important components and slow down your chainsaw. But with the unique air intake system, centrifugal technology separates and removes almost 100% of the dust particles before they ever reach the air filter.
This is an amazing feature that keeps your chainsaw running smoothly for much longer than normal. You can rest assured knowing that the inside of your machine is clean and running at full operational capacity.
Low Vibration
Anyone who has used a primitive chainsaw is acutely aware of how annoying vibration can be. Vibration slows your workday, makes you extremely tired and basically ruins your arms.
But with the CS2245, there is almost no vibration because of a special vibration dampening technology. This ensures comfortable usage for you, allowing you to work longer without enduring pain and discomfort due to vibration.
---
---
Echo CS-590 Timber Wolf Chainsaw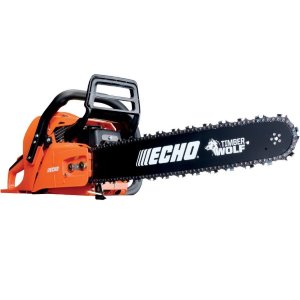 The Echo CS-590 Timber Wolf Chainsaw is the top of the line in terms of Echo chainsaws. It comes included with a 59.8CC engine, a decompression valve that makes starting the chainsaw super easy, and a very tough 20" bar.
If you want a chainsaw that is great value for your money, that is maneuverable and lightweight, and incredibly good at cutting thick cords of wood, the CS-590 Timber Wolf is right up your alley.
A Cutting Beast
There is no denying the incredible cutting power of this chainsaw. One hard pull on the cord gets your chainsaw roaring and keeps it roaring throughout the entire day. You don't risk overheating and your chain will never get dull. Well, it will get dull eventually, but it takes roughly 5 times longer to dull the chain on this saw than on most others.
Best in Class
Let's take a moment to talk about money. When you buy this chainsaw from Echo, you are getting the best chainsaw for the lowest money. What I mean is that no other chainsaw this good is this affordable. You are basically getting all the professional power of a high-end chainsaw for an incredibly low price.
I highly recommend this chainsaw to anyone who needs a professional piece of outdoor equipment but who does not want to spend all their money. This is definitely the best in class for what you receive.
---
---
Best Professional Chainsaw: A Complete Buying Guide
There is nothing better than having a professional chainsaw. A professional chainsaw basically means a chainsaw that can do the type of work a chainsaw supposed to do. We are not looking at electric power baby chainsaws, no tiny chainsaws that can't cut down trees – our only focus is professional chainsaws.
But what do you look for in a professional chainsaw? What makes it "professional?"
Wood-Destroying Power
Chainsaws cut wood. This is what they do. They don't cut anything else and they are basically useless for any other task. So, when you are looking for a professional chainsaw, that means you are looking for a chainsaw that cuts through any kind of wood, regardless of thickness, regardless of the environment, and regardless of user strength.
A professional chainsaw should cut through cord after cord of thick wood effortlessly without the user needing to give up all their energy. Your chainsaw needs to work on ironwood, pine, chestnut, oak, and everything in between.
How do you know how great a chainsaw's wood-destroying power is before you buy it? Well, always check the type of engine. A typical 2-cycle engine that is at least 55CCs is going to get the job done and get it done well. Plus, you should at least have a maximum speed of around 9,000 RPM. This will ensure the blade spins quick enough to make easy work of all that wood.
Related Articles:
Ergonomic & Well-Designed
There are too many poorly designed chainsaws flooding the market right now. When you are choosing your new professional chainsaw, it needs to have a proper design. If your chainsaw is not ergonomic and not designed for the best user control, you will find it unwieldy to carry all day. This is unacceptable.
You can tell if your chainsaw is ergonomic and well-designed just by the way it looks and what basic features it has. If the chainsaw comes with special vibration dampening technology, chances are good that some solid effort went into the design.
Also, if there are any intelligent starting features, like anything that makes it easier and more reliable to start the chainsaw, I would say it is pretty professionally designed. And always look at the handles. Insulated handles, metal handguards instead of plastic ones, and perfect balance make for the best wielding of a chainsaw.
Trusted Name
Some names are synonymous with professional tools. However, other names are notorious for producing cheaper products that are inexpensive and more prone to breaking. Even if you don't know the companies that are famous for making good products, a quick search online can reveal which names to trust and which names to avoid.
Just like when buying any product, always go with the reliable manufacturer when you want your equipment to be professional.
Best Professional Chainsaw: Final Thoughts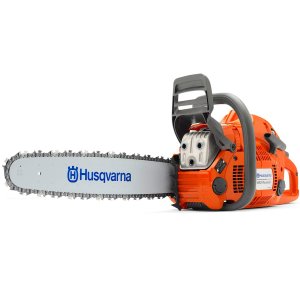 What a great group of chainsaws. The Jonsered CS2245 is a reliable budget unit that can get you through all kinds of industrial situations. And even though it is a pretty lightweight chainsaw, it still offers professional power. Then there is the Echo CS-590, which is one of the best for portable cutting since it is ergonomic, easy to handle, and cuts extremely quickly.
However, the best professional chainsaw has got to be the Husqvarna 20″ 460 Rancher. This chainsaw has a 60.3 CC engine with a maximum torque of 3.4 Nm. It comes with an inertia-activated chain brake for safety, an automatic oiler for the chain, quick adjustments to the tensioning system, and easy access to all cleaning and maintenance aspects.
If you want a professional chainsaw that offers great fuel efficiency, low exhaust emissions, and the best power for its size, the Husqvarna 460 Rancher is the chainsaw for you.
---
Related Articles: