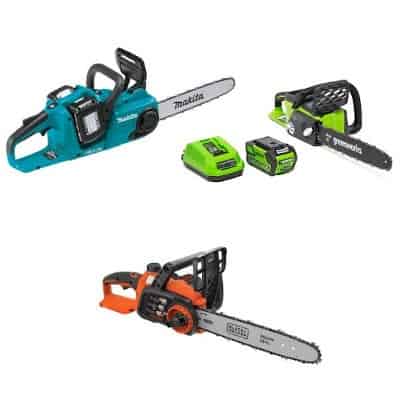 Are you in the market for the best cordless chainsaw? If you need to do some cutting, but you don't want the hassle of cords, you definitely want a good cordless chainsaw. The cordless chainsaws on this list are great for seriously heavy-duty work.
The best cordless chainsaws come with useful brushless motor direct-drive systems, loads of power, variable speed triggers, super intense chain speeds, great cutting performance, chain adjustments without using tools, and even built-in LED switches for on or off.
Whether you choose to get the Makita chainsaw, the Black + Decker chainsaw, or the Greenworks chainsaw, you will tackle your next cutting job with ease. Whether you're chopping down trees, doing yard work, or anything else, these awesome cordless chainsaws are going to get the job done. You can now master the outside world with the performance of a quality chainsaw that is battery powered.
Top Rated Cordless Chainsaw
---
Makita XCU03PT1 Cordless Chainsaw – Best Overall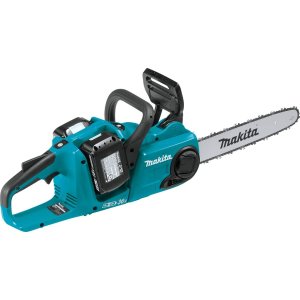 The Makita XCU03PT1 Cordless Chainsaw offers the performance of a gas-powered chainsaw without the gas! This baby comes included with batteries and it boasts increased speeds of up to 3,900 FPM. It has a sleek design that allows you to handle it like it were an extension of your body, and it has a built-in lock-off lever that will prevent the blade from accidentally engaging.
More Power
If you are used to using a gas-powered chainsaw for all of your heavy-duty work, you may be concerned about how well a battery-powered chainsaw will hold up. But with the Makita Cordless Chainsaw, you never have to worry. This machine comes with some intense power. In fact, its impressive drive system gives the same amount of power as a 32CC gas chainsaw.
Additionally, power comes with speed. The variable speed trigger allows you to move from zero to 3,940 FPM in barely any time at all, giving you improved cutting performance along with the improved cutting power. Plus, you don't need any tools to adjust the chain. This makes it extremely convenient.
Lock-Off
Safety is a big issue when using chainsaws. One of the most important things with buying a new cordless chainsaw is to make sure it has great safety features. With the Makita Cordless Chainsaw, you get an integrated lock-off lever that will prevent the chain from ever accidentally engaging.
Additionally, you get a large oil port with a view window that lets you quickly and effectively add oil and check the oil levels. This way you never run into trouble with your oil levels.
---
---
Black & Decker LCS1240 Cordless Chainsaw – Budget Pick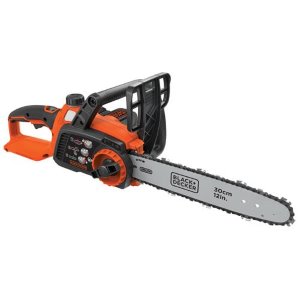 The Black & Decker LCS1240 Cordless Chainsaw is an outstanding budget chainsaw. You can buy this unit as the tool only, or as a full kit that comes with a collection bin for leaves and with heavy-duty batteries. This is probably one of the greatest cordless chainsaws for do-it-yourself gardening around the house. You will have a much easier time at home chopping down branches with your new cordless chainsaw.
Small-Sized Power
This cordless chainsaw is small, compact, and overall very good for trimming trees, getting the annoying branches out of the way, and caring for your hedges. I would not recommend using this chainsaw to start cutting down full-grown trees left and right, but it is great for yard work.
The chainsaw comes with a 40-volt MAX Lithium-Ion battery that gives you a great runtime between charges. It has a 12-inch premium bar and chain, an automatic oiling system, and the power to keep you happy.
Comfortable Cutting
One of the greatest things about this small-sized chainsaw is that it is really comfortable. You can use this thing with just one hand, that is how portable and lightweight it is. And while it is not a massive chainsaw for industrial work, it is great for someone who just needs to use it around the house.
The ergonomic design and the full wrap-around handle make cutting extremely comfortable even in awkward orientations. Plus, you can easily adjust the chain without using any tools.
---
---
Greenworks 20312 Cordless Chainsaw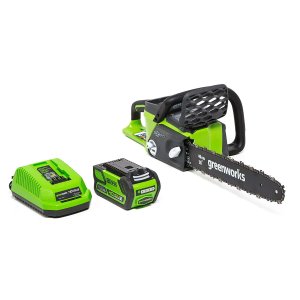 If you are looking for a great cordless chainsaw, the Greenworks 20312 Cordless Chainsaw should be on your shortlist. This is a great tool with a long runtime, a whole lot of torque, and way more power than previous models. In fact, this chainsaw has 70% less vibration to make all of your hardest jobs fun and easy without that annoying tingling sensation spreading up your arms.
Brushless Motor
With the new brushless motor on the 20312 Cordless Chainsaw, you get 30% more torque than before. What this means is that the cutting performance is drastically increased. Plus, the oil tank is translucent, which is very handy.
The smart design of the brushless motor means you get 70% less vibration. This will make you more comfortable and less itchy while working with your chainsaw. The motor can be powered by a single battery for at least 100 cuts. Plus, the battery works to power over 25 different tools.
User Safety
As always with chainsaws, safety is super important. Greenworks has designed this machine with a chain brake and a low kickback chain that dramatically increase your safety while using the machine. The electronic chain brake works by preventing any accidental kickback, which could result in a terrifying injury to your legs, arms, or anywhere in between.
Also, because the machine is so powerful and it works so well, there will be less wear and tear. That means that your tool will last longer and stay safe for longer.
---
---
Best Cordless Chainsaw: A Complete Buying Guide
What kind of features do you need to look for in the best cordless chainsaw? You definitely need speed, and you need the power to be equivalent to a standard gas chainsaw. There must be safety features, and ergonomic design is always preferable. Let's take a look at the most important features that your new chainsaw should have.
Power
Going from electric power or gas power to cordless is always a bit of a gamble. You just don't know if the power will be the same. When shopping for a cordless chainsaw, it is imperative that you check what the power level is. Look at the motor and see how high quality it really is, and make sure it can stack up against an ordinary gas chainsaw.
With power comes speed. If you have a powerful enough chainsaw, chances are it is going to offer great cutting performance. If your chainsaw blades don't spin fast enough, you will never bite through those thick pieces of wood. Along with the power, make sure it has the speed to match.
Design
Cordless chainsaws are usually extremely light, made from some kind of plastic, and loaded with cheap parts. This is unfortunate but true. I always suggest picking up and wielding the chainsaw if possible, that way you can really feel how strong the design is and how well your chainsaw is going to hold up for years at a time.
Another thing is the overall design. You should have a total range of motion with your cordless chainsaw. Considering it has no cords, and it is not as bulky as a gas chainsaw, it should be super easy to handle. The last thing you want is a chainsaw that makes it harder to use them necessary.
Related Articles:
Safety Features
Safety features are crucial for any piece of equipment. Whether it is a cordless chainsaw or cordless drill, it needs to be safe. There are lots of different tweaks that the different companies put on their tools to make them safer, so always make sure your chainsaw has useful safety features integrated into it.
Convenience can also be considered safe. You never want your electric chainsaw to start up accidentally, so a lock-off feature can be convenient and safe. It is also nice if there is a large oil filling port that has a view window, as you will always be able to keep track of your oil levels.
Another great thing for safety and convenience is a built-in light. Whether there is a built-in front flashlight or even just an LED somewhere on the machine – extra light is always valuable. This can help in darkly lit scenarios.
Best Cordless Chainsaw: Final Thoughts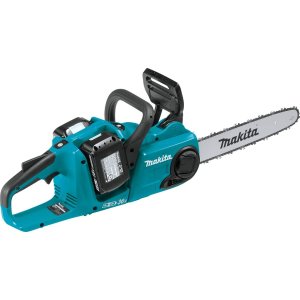 If you are someone who loves chainsaws, you are probably having a difficult time deciding which of these three cordless chainsaws is the best. All three of them offer supreme performance, they are all extremely safe to use, and they are designed with portability and function in mind.
But with that said, I have to choose the Makita XCU03PT1 Cordless Chainsaw as the best overall option. This is a machine made for the outdoors. It comes with four batteries if you buy the kit, it comes with variable speeds and cuts up to 3,940 FPM, and it has the intense power of a 32CC gas chainsaw without the need for gas.
I have used a lot of chainsaws in my life, and I definitely recommend the Makita Cordless Chainsaw. It has all the features you need, it is safe to use, and the toolless adjustments make operation and maintenance extremely simple and convenient.
---
Related Articles: