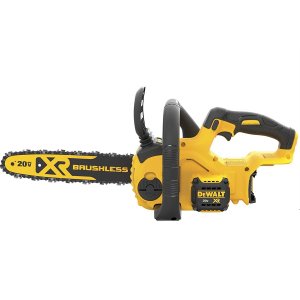 Today I have a very special DeWalt 20V Chainsaw review just for you. I am going to go through every last feature of the DeWalt DCCS620B Cordless Chainsaw until you just can't take it anymore. This chainsaw comes with a 12" Oregon bar and chain. It has a high-efficiency brushless motor. It has seriously long runtimes even with only batteries powering it. And it is lightweight!
The chainsaw comes in the traditional yellow DeWalt color, it has impressive chain speed, a tensioning system that is toolless, a tightening knob for the bar, and it is compact and lightweight – did I already say lightweight? Basically, this chainsaw is super comfortable and easy to use for anyone.
It comes available either without the battery or with the battery, and you can also use the special 20V lithium-ion batteries with almost any other similar tool from DeWalt. This is an excellent piece of equipment to add to your toolbox.
---
DeWalt 20V Chainsaw Review: Overview
We have a lot of features to go over today. The DeWalt DCCS620B is one of the most impressive pint-sized chainsaws on the market right now. This unit only weighs 8.8 pounds and will last for hours on a single battery charge. You will get hundreds of cuts per day with this chainsaw. Plus, its batteries function with over 180 other DeWalt products.
This chainsaw is not only great for homeowners and landowners, but it is also ideal for tradesmen. It is important that I note this is not the kind of chainsaw that is going to cut down the ancient tree in your backyard that is 700 years old. This can cut 2×4 chunks of wood, fallen stumps, rotting logs, tree branches, wooden planks, and so much more.
---
Low Kickback
Nothing is more annoying than the kickback from a chainsaw. Halfway through a piece of wood the chain jams and you get a nasty shock that can be dangerous and cause you to drop the chainsaw. With this cordless unit from DeWalt, that is not an issue. You get extremely low kickback because of the quality Oregon bar and chain.
Because of the low kickback, this chainsaw is ideal for using on construction sites and doing small outdoor cutting applications. You can easily cut through wood panels without the kind of kickback you would receive from a cordless saw. Also, the chainsaw can be much more effective than a Sawzall. You don't get as much sawdust in your face, and a chainsaw is easier to handle.
With this chainsaw, it is even easier to handle than most. The body is super slim and designed to be compact. It weighs less than 9 pounds and offers some of the best user control out of any portable chainsaw. This translates into maximum comfort. There is very little vibration and very little kickback, and so you can be comfortable using this chainsaw all throughout the workday.
---
Toolless Adjustments
It is extremely nice when you can make all of your adjustments by hand without scavenging for a tool and wasting your time. With the cordless chainsaw from DeWalt, you get a tensioning system for the chain that is completely free of having to use tools. Plus, there is a tightening knob on the machine for the bar. By tightening the knob, you get the best clamping force on the bar.
---
Excellent Batteries
You can purchase this chainsaw with or without the 20V battery. This is ideal if you already have a lot of DeWalt tools and batteries since they are interchangeable. There are over 180 products that use similar batteries, allowing you to have a massive collection of tools that all work with the same battery.
Related Articles:
This is ideal for using on the job since you will always have a full battery on deck to use. With the lithium-ion technology inside of the batteries, you get maximum amps for the best cutting power. Plus, the batteries are strong and last for a longer time.
The batteries are also compact, meaning they will not make the tool extremely heavy. This is important if you want to keep wielding your chainsaw freely without the burden of a big heavy battery.
---
Affordable
We should talk about the price for a minute. First of all, this chainsaw is affordable. But it is not cheap. It is more expensive than many competitors, but that only reflects on the quality of the product. While it may be double the price of similar chainsaws from other brands, it does offer twice the power and twice the reliability.
Basically, you get more power, a better piece of equipment, and longer life out of your tool for a little bit extra money. But I cannot stress enough that the extra money is not a lot. You definitely will not be breaking the bank by purchasing this cordless chainsaw. And in any case, you will save money in the long run because your tool won't break or malfunction, and you won't need to send it away for repairs.
---
DeWalt 20V Chainsaw Review: Final Thoughts
I should conclude by reinforcing my opinion that DCCS620B is the best small cordless chainsaw from DeWalt, and perhaps the best cordless chainsaw in general. There is no arguing with over 1,500 positive online reviews. 80% of customers give this tool five stars, which is incredible considering how fickle people are with their reviews.
In any case, this tool has it all. It has easy maneuverability, it is compact for the best user control, it has a long runtime with a single battery, the chain speed is very fast, and you get the same kinds of power that you would get from a small gas chainsaw. There is simply nothing wrong with this tool.
I highly recommended for homeowners and for tradesmen. This tiny portable chainsaw is a great alternative to using a Sawzall or some other normal saw tool. You can wield it easier than you can most cutting devices, and let's face it, using a chainsaw is just more fun.
---
Related Articles: