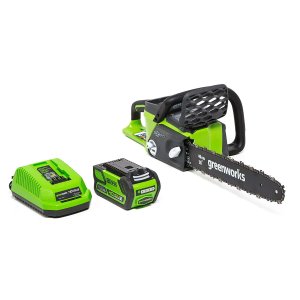 Welcome to my review of the Greenworks 16" 40V Cordless Chainsaw. This is an awesome little unit with some of the best reviews on the internet. When you want a chainsaw that really delivers power and safety, this is it. It is small, it is portable, and it packs a mean punch.
Even though this is only a cordless chainsaw, you can bet it delivers the same kind of strength as a gas chainsaw. It comes included with a very strong 40V battery for long run times and intense power. The chainsaw works with a brushless motor that gives you more torque than you would believe.
This is an awesome chainsaw for any homeowner who has lots of work to do around their property but doesn't want to deal with the annoying hassle of a gas chainsaw. The handguard is cleverly designed to protect your fingers and hand at all times, and the 70% reduction in vibration keeps you comfortable for a whole day of woodcutting.
---
Greenworks 40V Chainsaw Review: Overview
We have a lot to go over with the Greenworks 16" Cordless Chainsaw. We are going to talk about the batteries, all the safety features, and about how this powerful little chainsaw can change the way you work outside.
If you are looking for a massive chainsaw for cutting down big trees, this is not the one for you. But if you want to tend to your property, cut wood, build a firewood pile, and anything else, this is an awesome piece of equipment to do it with.
---
100% Safety
No tool is more reliable than its safety features. And when it comes to the 40V Cordless Chainsaw from Greenworks, safety comes in spades. First of all, this chainsaw already offers extremely low kickback. This is one of the smoothest cordless chainsaws to cut wood with, as you can expect very little resistance. However, the chain that comes included from the factory is a low-kickback chain. This increases user safety by a lot.
Additionally, the electric chain brake prevents kickbacks from happening pretty much 100%. This means that even if you hit a snag, the kickback will be either negated or minimized to keep you safe.
Then there is the handguard, which is one of the more well-design handguards I have seen on a portable unit like this. It is designed to cover your entire hand in case a piece of wood comes flying towards your tool – the handguard will protect your fingers and knuckles.
Related Articles:
Finally, let's talk about the vibration. Nothing is more dangerous than excess vibration with a chainsaw. Too much vibration can cause massive user fatigue, it can cause your arms to go completely numb, and both of these things can cause accidents.
When you use this chainsaw, you get a 70% reduced vibration. This means ultimate comfort and no more tingly sensation in your limbs. Because of that, you can work safely and in comfort without making any critical mistakes.
---
Battery-Powered Power!
Too many people complain about battery-powered tools. And sure, most of them are not very reliable. But that is not the case for Greenworks 40V Chainsaw. The brushless motor offers an incredible 30% increase of torque, giving you an even better cutting performance than you will find on most gas chainsaws in this same price range. The amount of power you get is simply stunning.
And don't even worry about the chainsaw dying unexpectedly. A single charged battery can give you roughly 100 cuts through thick timber. Assuming you have a secondary battery on the charger and ready to go, you can use this chainsaw the entire day on about 2 battery charges. And when I say an entire day, I mean eight full hours.
Speaking of batteries, the 40V lithium-ion battery from Greenworks is fully compatible with over 25 other tools from the manufacturer. This means that if you like Greenworks and you like this chainsaw, you can buy other tools and interchange the batteries. This is a huge bonus that will save you money in the long run.
---
Lightweight & Fun
There is nothing worse than an overweight chainsaw. When you have to lug your chainsaw around your property all day and your arms hurt because it is too heavy, that is no fun for anyone. And even though this chainsaw is small with only a 16" bar and chain, it is still very lightweight. I am talking 10.4 pounds.
With a chainsaw this light, you can easily wield it all day without any of the normal fatigue that comes from a bulky chainsaw. You can flip this chainsaw around, cut sideways, cut above your head, and cut in any weird orientation that is necessary. This is because the chainsaw is very light and very ergonomic. It is easy to handle and easy to maneuver.
Of course, the biggest bonus to this comes in the way of fun. This chainsaw can turn a boring or tedious job into something fun. Who doesn't like cutting through thick chunks of wood like a ferocious lumberjack?
---
Greenworks 40V Chainsaw Review: Final Thoughts
I have already said all I can say about this chainsaw. It is a masterpiece of engineering. It has longer runtimes than most cordless chainsaws, you will experience less wear and tear, and it is compatible with all of the G-MAX 40V lithium-ion batteries that come with the other tools from Greenworks.
The brushless motor gives you an increase of 30% torque, the oil tank is translucent so that you never accidentally run out of oil, and the chain brake system works to keep you safe from any dangerous kickback. This is an excellent chainsaw for beginners and for casual workers who just want to maintain their property.
Basically, I can't recommend Greenworks 16" 40V Cordless Chainsaw enough. In a world of cheap plastic and poor-quality tools, this is a breath of fresh air. The tool works exactly the way it should, it has a long life, and if you maintain it, the chainsaw will perform amazingly for many years to come.
---
Related Articles: