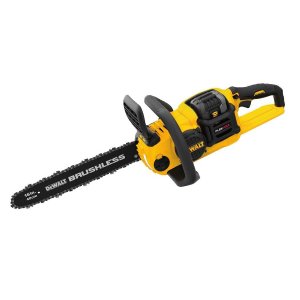 Today we are talking about the DeWalt 60V MAX Brushless Chainsaw. This is one of the most powerful cordless chainsaws on the market right now. It comes complete with a 60V MAX battery, whereas other chain saws only use a 20V battery. As you can guess, this unit is about 3 times stronger than your average cordless chainsaw.
Not only that, but this chainsaw comes loaded with awesome features that make cutting firewood and doing other cutting tasks a breeze. The chainsaw features a chain brake for protection against violent kickback, an included combination tool, a bar retention knob that gives you optimum clamping force, and it can complete roughly 70 cuts per charge.
If you are looking for an all-around great chainsaw that is highly versatile, this is the one. It is very affordable, you can purchase it online and receive it shortly after, and it has stellar reviews. The 16" bar and chain are strong to the point of being almost unbreakable. Plus, the chainsaw only weighs about 12 pounds.
---
DeWalt Chainsaw 60V Review: Overview
There is a lot I can say about the DeWalt 60V Cordless Chainsaw. It is lightweight, it has a robust motor, it has an extremely long battery life, and it comes included with backward compatibility for its battery to be used with ordinary 20V MAX tools.
---
High-Efficiency Brushless Motor
There is a lot to be said about a brushless motor that is high efficiency. You can do way more cutting with much less effort because the motor does everything for you. You can quickly buzz through an entire tree trunk in minutes without worrying about the motor overheating or failing.
Combined with the seriously high-quality bar and chain, this chainsaw is a destroyer of wood. You can cut all your firewood in a single round because you get 70 cuts per charge. This is a combination of a strong motor and a powerful battery. There is no type of wood that you cannot cut with this great machine.
---
Lightweight & Portable
The DeWalt 60V Chainsaw is lightweight and portable. This is incredibly important for any cordless tool, as you need portability to carry it around your property all day long. Because of the extremely long charge you get with a single battery, you can easily wander off with this chainsaw and not need to worry about charging it. That makes it very portable.
At only about 12 pounds total, this chainsaw is never going to be a burden on your muscles. You can use it for hours without hurting your back or straining your wrists. This is a huge bonus and a big upgrade from your typical gas chainsaw that is way too heavy.
Lightweight chainsaws are better for taking up into trees with you, they are better to wield hunched over while you cut apart logs, and they are easier to maneuver in awkward orientations. I would choose a lightweight chainsaw over a stronger and heavier gas chainsaw any day.
---
Auto-Oiling
Automatic oiling is a great feature to have for your chainsaw. It allows you to not worry or stress about making sure your chain is properly lubricated. The auto oiling system does it for you, supplying a constant serving of oil to your bar and chain so that no friction is created, thereby prolonging the life of your chainsaw.
To make matters even easier, there is a small, quarter-turn cap so that you can quickly refill the oil when it starts to get low. And talking about convenient adjustments, the chain tensioning system is toolless to give you instant adjustments to your chain, that way you always have your chainsaw running at peak performance.
---
The Best Batteries
There are a lot of cordless chainsaws with a lot of different kinds of batteries. And while every company claims their batteries are the best, the batteries from DeWalt really are the best. You do not get a better charge from any other battery. It just won't happen. When you need your tool to work in a remote area where you can't constantly have batteries charging, you need a DeWalt battery.
In the case of this chainsaw, you receive a 60V MAX lithium-ion battery with your purchase. You also receive a charger. A single 60V battery has the power to keep your chainsaw juiced for at least 70 cuts. If 70 cuts are not enough, you may want to invest in additional batteries to take with you.
Related Articles:
However, 70 cuts on a single charge is roughly equivalent to what you would get out of a full tank of fuel on a similarly sized chainsaw.
What I'm trying to say is that you get all the bonuses of a powerful gas chainsaw, except this one is battery powered, better for the environment, extremely lightweight, and even easier to use than a gas chainsaw. It even comes included with a hard cover for the bar to keep it safe.
---
DeWalt Chainsaw 60V Review: Final Thoughts
This is a great chainsaw. If I had to leave you with some final thoughts, it would be to buy this chainsaw and stop stressing about the price. The chainsaw is super powerful. It is so hard to find a 60V chainsaw this powerful, as most of the other cordless chainsaws are only 20V – a fraction of the power of this DeWalt.
This is probably DeWalt's best cordless chainsaw yet. It features tool-less chain tensioning, a high-efficiency brushless motor, automatic oiling for constant lubrication, and an ultra-sharp chain that makes quick work of any type of wood.
The bonus of using this 60V chainsaw is that you can cut bigger pieces of wood. This thing is obviously great for yard work, but it is one of the only cordless chainsaws you can take with you for bigger jobs. I would say you could even fell some small trees with this chainsaw, and even some medium trees if you know what you're doing.
The point is, the DeWalt 60V Chainsaw is a great choice!
---
Related Articles: