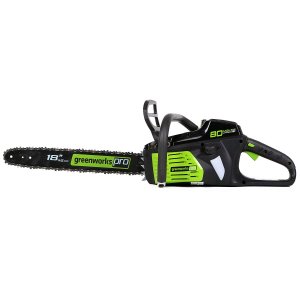 The Greenworks Pro 18" 80V Chainsaw is an absolute masterpiece of a tool. With 80 volts of power, you can expect to get at least 150 cuts with a fully charged battery. That is more than 50 cuts when compared to other leading cordless chainsaws. The power you get with this chainsaw is equivalent to that of a 45CC gas engine!
For light-duty work, you can't get a better cordless unit. The brushless motor found inside this chainsaw is extremely reliable, allowing you to do way more than you thought possible with an electric unit. The chain is ultra-sharp and can cut through thick timber, whereas other chainsaws that are battery powered are only good for cutting branches and firewood.
With an 18" bar & chain, you can expect to achieve excellent results with this unit. The battery lasts longer, the motor is stronger, and the technology is more advanced. This is probably the best cordless chainsaw for residential use, commercial use, and everything in between. It has a little something for everyone and is 100% reliable.
---
Greenworks 80V Chainsaw Review: Overview
This chainsaw probably has more features than any other cordless unit. It is undoubtedly more powerful. It comes included with better battery capacity, it delivers more torque and more cutting power than most small gas chainsaws, and it is easy to use. There is nothing bad to say about the Greenworks Pro 18" 80V Chainsaw.
Let's take a deeper look at some of its main features.
---
80V Battery
When it comes to a cordless chainsaw, it is all about the battery. If you have been to your local hardware store recently, you have probably seen that most of the chainsaws use 20V batteries or 40V batteries. This is not enough battery power to properly fuel your chainsaw unless maybe you are only using it for small tasks around your property.
With this new type of chainsaw from Greenworks, you getting an amazing 80 volts of unstoppable power. This is enough ferocity to cut a full-grown tree in half in seconds. It emulates a 45CC gas chainsaw, only you don't have to deal with any of the fumes or fuel issues that come with gas.
In fact, this is the best replacement for a gas tool. It works the same, but it doesn't have any of the downfalls that come with a gas-operated machine. You don't have to change the oil, you don't have to mix any fuel, and you don't have to worry about toxic emissions.
With the 80V battery, you get 150 or more cuts on a single charge. And when you need to recharge, it only takes about 30 minutes. That is faster than my cell phone! It is enough time for you to grab a snack, take a break, and then get back to work ASAP.
It may be worth noting that with such highly advanced battery power, this chainsaw delivers 30% more torque than other models, allowing you to cut quicker and cleaner, and it reduces the vibration felt by the user by roughly 70%. That means extra comfort for extra-long work hours. No more exhaustion and no more fatigue in your arms and hands.
---
More Reliable
Everything about this electric chainsaw is more reliable than any gas chainsaw. It comes with a DigiPro brushless motor that you can rely on for a lifetime. All of the components and all of the parts are specially crafted for ultimate strength. This, like the other tools from Greenworks, is built with quality in mind to be a long-lasting product.
Not only is the motor built to be incredibly reliable, but the 80V lithium-ion battery is also engineered to the highest standard. Each battery comes equipped with premium Panasonic cells for maximum longevity, no matter how many times you charge them.
---
More Affordable, More Options
You may be thinking this is an incredibly expensive chainsaw. So much power and so much technology must cost a fortune, right?
No! This is actually more affordable than most small gas chainsaws. It is also more affordable than other electric chainsaws that have less power and less reliability. You get an amazing deal when you choose Greenworks Pro 18" 80V. Plus, they have many other electric tools that you can purchase to replace your old and worn gas tools.
Related Articles:
Whether you are using a leaf blower, a chainsaw, a weed whacker, or a lawnmower, Greenworks has you covered with electrical equipment that runs on the same 80V batteries. You can interchange the same battery with different tools and still get fantastic results.
Not only will choosing Greenworks save you money in the future, as all your equipment will run using the best battery in the business, but you will also be saving the environment by getting rid of gas power and sticking to electric!
---
Greenworks 80V Chainsaw Review: Final Thoughts
If you had to choose one cordless chainsaw to use for the next five years, I would highly recommend the Greenworks Pro 18". It has all the benefits of electricity with the power of gas. You get amazing power, unbelievable longevity, and a reliable brushless motor that delivers outstanding power. If you need a machine to use throughout the entire day without stopping, this is the best.
The battery charges rapidly in about 30 minutes, then it works for about 150 cuts of thick timber. This is one of the only cordless chainsaws you can use to chop down a full tree. Not only that, but because it is lightweight and ergonomic, you can use it for all kinds of smaller jobs, like pruning and firewood cutting.
This is definitely the best replacement tool for a gas chainsaw. In fact, I would say this is the future of cordless technology. You get 30% additional torque with 70% less vibration. This is what cordless tools will look like in the future. Forget weak 20V chainsaws and stick with the Greenworks 80V Chainsaw for all your daily tasks. You won't be disappointed.
---
Related Articles: