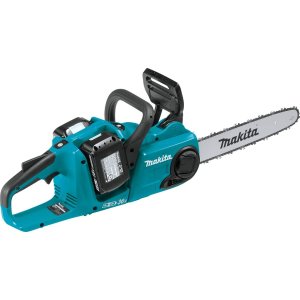 Welcome to my Makita chainsaw review of the Makita XCU03PT1, one of the best cordless chainsaws ever. This fantastic chainsaw comes with a unique brushless motor and a direct drive system that gives it extremely intense power, emulating the exact strength of a 32CC gas chainsaw.
If you want a chainsaw for cutting down trees, clearing falling debris, trimming your overhanging branches, or just scaring the neighborhood kids on Halloween, this is it. The Makita chainsaw runs on a pair of 18-Volt lithium-ion batteries, which you can also use on other Makita tools, and it has an incredible chain speed of up to 3940 FPM.
The Makita chainsaw will enhance the way you cut wood around your property. The Makita chainsaw runs for a very long time on a single charge, it has toolless adjustments for the chain, making it extremely convenient to operate and to maintain, and it has superb safety features so that you never have to stress.
---
Makita Chainsaw Review: Overview
Makita has been making some of the best tools for years. Not just a few years either, Makita has been around for ages. They really know what they're doing when it comes to making awesome tools, just like their cordless chainsaw. There is a reason why this is such a highly rated product online! Makita really knows what they're doing when it comes to designing workplace tools and equipment.
So, let's take an overview of all the most important and most pertinent features that the Makita chainsaw offers.
---
Chainsaw Design
Almost nothing is more important than the design of your chainsaw. With the Makita XCU03PT1, it comes with a design that must have been made by a rocket scientist. The 14-inch chain is sharp and brutal, the position of the twin 18 Volt LXT lithium-ion batteries makes for the best possible weight distribution, while the positions of the handles make it extremely easy to hold the chainsaw.
Not only is the chainsaw easy to hold, but it is easy to wield as well, and easy to cut with because of the smartly placed handles. Plus, the handles are extremely comfortable so that you do not experience too much fatigue from vibration while cutting through thick pieces of wood.
There is also a hand guard to protect your upper hand and a built-in lock-off lever on the main handle which actually prevents the blade from ever engaging accidentally. Not only is it comfortable in your hands, but it is extremely safe in anybody's hands.
---
Innovative Pieces
The Makita XCU03PT1 is not lacking in innovations. It comes with a whole list of really smart and modern advantages that you may not find with different cordless chainsaws that are similarly priced.
For example, chain adjustments are completely toolless. They will all be made from outside the machine for maximum convenience and easy operational maintenance. Then there's the outer rotor brushless motor, complete with an innovative drive system that causes this chainsaw to be unbelievably powerful. In fact, the power from the brushless motor is so great that people often mistake this for a gas-powered chainsaw.
---
Increased Performance
With innovation comes increased performance. This chainsaw does everything better than before. The cutting speed is drastically increased to 3,940 FPM, and the noise has been decreased with only 100 decibels of sound when the chainsaws ripping and roaring.
Also, this chainsaw produces zero emissions. That is the real wonder of using a cordless chainsaw rather than a gas chainsaw. There are no toxic emissions that are bad for the environment. You simply charge the XCU03PT1 chainsaw just like you would any cordless drill or other tools.
You don't need to clean any air filters or mufflers, there are no spark plugs to replace, no oil to pour, and no gas to store. Cordless technology is the future of everything. You get increased performance with less noise, less waste, and quicker charging. I would argue it is faster to switch a pair of batteries than it is to fuss around with gasoline an oil.
---
At Home & At Work
The great thing about the Makita Chainsaw is how versatile it is. You can easily use the Makita chainsaw at home for all kinds of monotonous yard work, like trimming trees, fixing hedges, and other tedious tasks. You can even use it for any DIY home tasks, or for preparing wood.
Then, you can pick up your Makita cordless chainsaw and bring it to work, using it to clear paths, to cut logs into firewood, and so much more. With two 18-Volt batteries, you get a total of 36 volts of power to complete the toughest jobs with extended battery life.
Related Articles:
As a bonus, you can easily switch the batteries from your Makita chainsaw to your Makita lawnmower or other Makita tool. The batteries are totally interchangeable with the different products, which makes everything easier since you can just have pre-charged batteries lying around for your various tools. There is no end to the fun when using Makita!
---
Makita Chainsaw Review: Final Thoughts
There are plenty of quality cordless chainsaws out there. Every company sells their own version, either cordless, corded, or gas-powered. But the Makita chainsaw truly is a great deal and a smartly designed tool that can more than compete with similar chainsaws from other companies.
The Makita XCU03PT1 is tough, it is built to withstand the rigors of outdoor work, it has high chain speeds, a built-in LED on/off switch, and a big oil port with view window. The variable trigger allows you to easily control the speed at which you cut through wood, and the sturdy body allows you to feel confident while using it.
For a final thought, I just want to recommend this great chainsaw to everyone reading. It looks awesome, it works extremely well, you don't need to use any gas, and it is lightweight and cordless. This is a fabulous chainsaw for at home, at the farm, or on the job.
---
Related Articles: