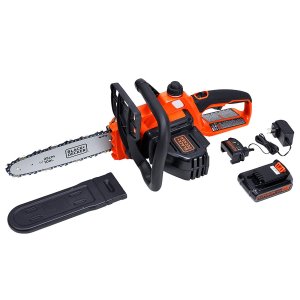 Today I will be reviewing the Black & Decker 20V MAX Cordless Chainsaw. This is a tiny chainsaw with a 10" bar and chain that can make quick work of branches and small logs. This is an excellent chainsaw for cutting wood, for pruning trees, and for doing a handful of other landscaping tasks.
In fact, this is a must-have product for any professional landscaper. It is small, it is easy to use, and it is highly portable. This is one of the better cordless chainsaws that can be used for people who need a versatile machine without too much bulk or too much power. This little unit has just the right amount of power to complete every landscaping task.
This unit is powered by a 20V lithium battery, giving it an excellent runtime and a nice boost of power. It has a premium, low-kickback bar and chain, a blade tension system that does not require tools, and a very comfortable handle with low vibration.
---
Black And Decker 20V Chainsaw Review: Overview
The Black & Decker 20V Chainsaw has a lot of great features. It is available with a variety of extra accessories, it uses a pretty powerful battery, and it looks great. The handguard is strong, the oiling system is top-notch, and the cuts are smooth and precise.
When you use this chainsaw, there is very little chance of kickback, there is almost no vibration, and the wraparound handle is ideal for making vertical cuts. Now let's break down all the best features of this chainsaw.
---
Best For Lawn & Garden
This is definitely the best chainsaw for lawn and garden purposes. It comes equipped with a small body, a lightweight frame, and a seriously ergonomic handle. All these features allow you to go about work in your garden very comfortably.
With such a small chainsaw, it is simple to prune branches, to trim hedges, and to do lots of small labor tasks. The 10" bar and chain are designed to give minimal kickback, making it exceptionally safe for inexperienced users.
Also, because of its small size and sharp chain, you can make smooth and quick cuts without wasting time. This is a very lightweight chainsaw that is simplistic, well-designed, and excellent for beginners.
You can count on being very safe while operating this chainsaw. Its short bar means that you would have a very difficult time injuring yourself. This is not a big and burly chainsaw that can cause an unwanted accident. While you still need to remain safe and vigilant, it is extremely difficult to hurt yourself when wielding the small electric chainsaw.
---
Small Battery Power
Battery power is clean power. Rather than using a gas chainsaw that pollutes the environment, outputs horrible gas emissions, and guzzles gasoline, this single battery allows you to work in complete peace. There is no environmental danger and there is no unnecessary usage of gas.
Additionally, the electric chainsaw works quietly. You don't have the loud and obnoxious rumble that comes with an ordinary gas chainsaw. The battery lasts for a surprisingly long time, staying charged throughout most of the day so that you can complete all your tasks.
The battery is also exceptionally powerful. You get great speed and a great ferocity for slicing the thickest branches and the most stubborn blocks of firewood. With its small size, the 20V MAX lithium battery is all you need.
---
Comfortable Design
Everyone likes to work in comfort. With the specially designed handles, it is easier than ever to maneuver your chainsaw. This makes it perfect for awkward positions or for having to stoop low to the ground. You will always have a reliable grip and a comfortable base.
There is also a noticeable lack of vibration when using the chainsaw. You won't find any annoying rumbling in your arms or hands due to excess vibration. That makes work much more relaxing.
---
Convenience
There are several systems that make Black & Decker 20V Chainsaw convenient to use. The chain tensioning system does not require any tools. You can simply turn the adjustment wheel to get the perfect tension on your chain. This is much nicer than having to disassemble the machine just to tighten the chain. It also makes it safer while running throughout the day.
Related Articles:
The automatic oiling system is excellent for keeping your chain and bar in pristine condition. Simply fill the reservoir and your chain will be supplied with a constant flow of oil. This will maximize the life of your chainsaw while keeping it running superbly.
As a final note on convenience, you can order this chainsaw online with a whole heap of additional accessories. You can buy the chainsaw as the tool only, or you can purchase it as a kit with the battery, the charger, and even a protective sheath for the blade to keep it in perfect condition while stored. There is also an optional leaf collection bin for yard work.
---
Black And Decker 20V Chainsaw Review: Final Thoughts
This is definitely not the most intense chainsaw ever developed. It runs on a 20V battery, it has a small 10" bar and chain, and it is used primarily for landscaping, gardening, and light-duty woodworking. It is great for cutting firewood, for trimming branches, and for general yard cleanup.
The Black & Decker 20V is one of the best chainsaws for this type of light work. You really can't find a better mini-sized chainsaw than this. Black & Decker really know what they are doing when it comes to making convenient tools. This chainsaw has excellent reviews, it has a surprisingly long runtime, and it is easy to make important adjustments.
If you run a small landscaping business, if you are a homeowner with quite a bit of property that needs tending, or if you are in charge of maintenance at a park or at a hiking trail, this is the ideal chainsaw for you. It is small, it is super affordable, and it is easy to carry around throughout the day.
---
Related Articles: