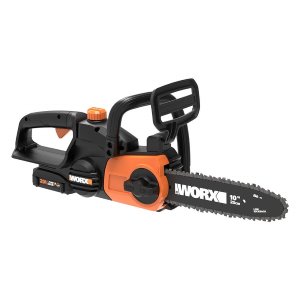 The Worx WG322 20V Cordless Chainsaw is a fantastic product. If you want a reliable cordless chainsaw that makes clean cuts, has a long battery life, lots of automatic features, a lightweight body, and a robust design, this is the tool for you.
As an affordable chainsaw, it doesn't get much better. This thing costs less than $150! That is an unbelievable price for a chainsaw. When you think about how much power is inside this little unit, it is actually a bit shocking that they can sell it for such a low price. This thing will take care of all your yard work easily.
If you are cutting firewood, trimming the hedges, cleaning fallen branches off your property, or even doing a demolition project, this is the best chainsaw to do it with. It has a 10-inch bar and chain that can cut through anything roughly 10 or 12 inches in diameter. You will never encounter a job you can't complete.
---
Worx Chainsaw Review: Overview
It is time to do a deep dive on this cordless chainsaw. The number of features you get for the low amount of money that the WG322 costs is, quite frankly, astounding. The performance is more than adequate, the automatic systems work flawlessly, and the bar and chain are designed to withstand all kinds of brutal punishment. Let's take a closer look.
---
Lightweight
Because this is a small chainsaw with only a 10" bar and chain, you probably already expected it would be extremely lightweight. Even more, this thing is featherweight! It only weighs 6.2 pounds. To put that into perspective for you, it weighs about the same as a 2-liter soda bottle.
With such a lightweight design, you can easily complete all your tasks in a single day without needing to stop and take breaks. The chainsaw won't wear you down, it won't hurt your shoulders, and it won't strain your wrists.
The Worx WG322 is excellent for doing work high up in a tree. If you have to climb a ladder in your backyard to cut down some branches, the last thing you want is a super heavy chainsaw to throw you off your balance. That won't happen with this lightweight piece of machinery. You can even reach high over your head without risking dropping the chainsaw. Thought you do this at your own peril.
---
Fast & Clean
For a relatively underpowered unit, and by underpowered I simply mean battery-powered with 20 volts, it cuts surprisingly quickly. The small 10" chain spins around the bar at phenomenal speeds, making very fast work of small logs and pieces of wood.
Because of its tiny stature, the chainsaw is also great at precision work. It makes extremely clean cuts, which means it is good for tasks that demand perfectly clean slices and an expert's precision.
---
Automatic Features
Just because the chainsaw is small does not mean it can't have features. The automatic chain tension system is completely tool-free and makes sure you will always have the correct tension on your chain for whatever job you are doing. This system is totally automatic and very convenient to use.
Related Articles:
Then you have the auto-chain lubrication system. This is practically mandatory in a new chainsaw. It works by keeping the chain lubricated at all times with the optimum level of lube. This is important for several reasons, the first of which is that it extends the life of your chainsaw. The chainsaw will work at full capacity and without wearing the chain more than necessary.
An oil level indicator informs you exactly what level of oil the system has left in it. This gives you a bit of warning before you need to refill with oil.
---
Share Your Battery
I definitely recommend this chainsaw for anyone who uses other Worx tools that are battery-powered. The reason for this is that you can swap batteries between tools. Everything works with the exact same type of battery, including 20V tools and 40V tools.
Additionally, when you buy this chainsaw it comes with several great accessories. It comes with the 20V battery itself, the charger to charge the battery, and a blade protection cover to keep your chain clean and in pristine condition whenever it is being stored.
---
Ergonomic Design
A lightweight chainsaw would not be that practical if it did not have comfort features and an ergonomic design. This chainsaw is one of the very best to use thanks to the way Worx designed its handle. It comes with a special comfort grip to reduce the fatigue of the user. This makes long hours of using the chainsaw much nicer on your body.
Anyone who's ever used a chainsaw knows exactly what I'm talking about. Squeezing the trigger for too long always makes your hand cramp. It hurts and is uncomfortable, and it wastes valuable time. But with the ergonomic comfort grip, there is no more hand cramping. You can easily manipulate the WG322 in any orientation, totally free of pain or discomfort.
---
Worx Chainsaw Review: Final Thoughts
This is definitely the best budget chainsaw Worx has ever developed. I am talking about some serious cutting action. It may only work on a single 20V battery, but it still works! You are obviously not taking this chainsaw into the forest to cut down the biggest tree you can find, but it definitely does its job around your property.
Cutting firewood, tearing apart an old deck, and cleaning logs, limbs, and other debris from your property has never been easier. This chainsaw makes clean and quick cuts without any gas and without any cords. It is extremely convenient with all of its automatic features, like the automatic chain tension system and the automatic chain lubrication system.
I highly recommend this chainsaw to anyone not in the mood to spend a lot of money. The Worx WG322 comes highly rated online by hundreds of satisfied customers, it is safe to use, and it lasts almost forever on a single battery charge.
---
Related Articles: