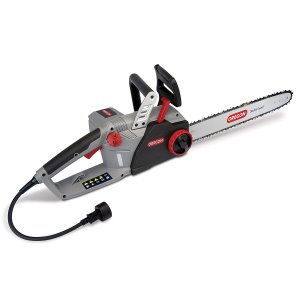 The Oregon CS1500 Self-Sharpening Corded Electric Chainsaw is an amazing little tool. It comes with an extremely strong motor, it does not make a lot of noise, and it is great for yard work. If you need to trim some branches and cut down some small trees, this is the unit for you.
The CS1500 will save you time and hassle with all your yard work. It starts instantaneously and does not require you to mix oil and gasoline just to make it run. The chainsaw does not emit any toxic fumes, and it doesn't require you to charge batteries. This is the easiest possible chainsaw to use, so long as you are within reach of power.
The chainsaw features an 18" chain that sharpens in approximately 3 seconds by simply pulling a lever. That's right, this chainsaw has an automatic self-sharpening feature. It also has an automatic oiler that keeps the bar and chain properly lubricated for maximum performance and minimal wear.
---
Oregon Chainsaw Review: Overview
Today we will go through all the great features of this Oregon chainsaw together. This is one of the more impressive chainsaws to use for home landscaping, especially since it comes with some pretty cool automatic features, like the self-sharpening feature and the PowerSharp chain.
There is also the integrated Lubri-Tec oiling system that makes your chainsaw run better for longer. You can get to work straight away with immediate starting, and you can work throughout the entire day utilizing the chainsaw's intense 15-amp motor.
Convenient Features
All the features you are going to find with this chainsaw are convenient. In fact, everything about the Oregon CS1500 is incredibly convenient. The chainsaw is developed by one of the leading manufacturers for chainsaws in the world. They really know how to make chainsaws easier for people to use.
There is a toolless tensioning system that lets you adjust the tension of the chain by simply using your hand and tightening the ring located on the cover of the chainsaw. It does not require any tools at all. This is extremely convenient when you need to stop in the middle of the day to adjust the tension of your chain.
Also, the chainsaw only works using power from an outlet. This chainsaw must be plugged in to work, and while that may seem inconvenient, it is actually a lot nicer than needing to refill the tank with fuel, than wasting time mixing the fuel with oil, and way better than fussing with a carburetor that has mechanical problems.
Using a corded chainsaw is indeed less portable than using a cordless chainsaw, but you also get a full day of work without any stopping to recharge batteries. There is also no worrying that the motor is overheating. With the incredible 15-amp motor, you get lots of power for all-day working.
---
Self-Sharpening Chain
This is an absolute dream feature that everyone wants to be included with their chainsaw. There are not many units out there that sharpen their own chains. This is an incredibly rare feature and well worth the affordable price of the Oregon CS1500.
One of the biggest issues when using a chainsaw frequently is needing to stop and take the time to sharpen each individual tooth. This is an absolute nightmare. But when you use the CS1500, you can Pull a lever to initiate a self-sharpen sequence that takes only three seconds.
This function allows you to have a perfectly sharpened chain every time you pick up the chainsaw to go to work. You will never need to worry about your chainsaw losing power or efficiency because of dull teeth or a weakened chain.
---
Comfortable to Use
The Oregon CS1500 is super comfortable. The handles are ergonomic and smartly designed to fit nicely in your hands, giving you a solid grip on the tool. The trigger feels natural and is easy to squeeze, while the motor itself is well-balanced, allowing you complete control over the chainsaw.
It is also very lightweight. You can get into all kinds of awkward orientations when using this chainsaw because it does not weigh very much. This is also better for your back and your shoulders since you are not carrying around a heavy gas chainsaw all day.
Related Articles:
When it comes to user experience, it is also quite comfortable. The chainsaw does not make much noise. It is practically silent, which your ears and your neighbors will thank you for. But that is just the magic of using an electric chainsaw. The CS1500 is 15 amps of pure power, outputting almost no noise.
The instant starting is another comfortable feature. Rather than struggle with an annoying pull cord like with a traditional gas chainsaw, this unit allows you to simply push a button and squeeze the trigger to activate the chain. There is no more fighting with a pull cord!
At the end of the day, the Oregon CS1500 offers lots of awesome safety features, it is easy to use, extremely comfortable, runs all day using electricity, and the chain sharpens itself. There is not much more you could ask from a chainsaw.
---
Oregon Chainsaw Review: Final Thoughts
Sure, you could go out and buy a gas-powered chainsaw or a cordless chainsaw. However, the Oregon CS1500 has so much more to offer. It may not be great for cutting big trees and chopping logs, but it is great for doing all your landscaping work, and it can still cut fairly large logs.
The chainsaw comes with a chain that sharpens itself, it has an oiling system that keeps the chain lubricated for you, and it barely even makes any noise. This is an extremely silent chainsaw, and it comes ready to use, no assembly required, out of the box.
It is also extremely safe, making it an ideal medium-sized chainsaw for people who have little experience with power tools. Anyone who wants to do some landscaping without polluting the environment or investing in a big, noisy chainsaw should definitely consider buying the Oregon CS1500.
Related Articles: