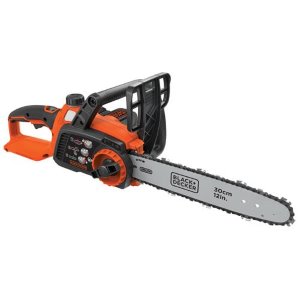 The Black & Decker 40V MAX Cordless Chainsaw is one of the best cordless chainsaws ever. This is a serious machine. Most cordless chainsaws lack power, they lack ability, and they are generally pretty cheap. But not this chainsaw! It's a real powerhouse with loads of features, a great price tag, and infinite uses.
When it comes to this tool from Black & Decker, you get all the bells and whistles of a premium chainsaw with the power of a gas chainsaw, all compressed into a lightweight and compact cordless unit.
This chainsaw has a premium 12" bar and chain that can cut through wood like a laser beam. If you need to take care of fallen limbs, toppled trees, a horrible mess after a storm, or a generally unkempt yard, this is the chainsaw to do it with. It can even cut down some sizable trees because it has awesome power.
---
Black And Decker 40V Chainsaw Review: Overview
There is almost too much to say about this chainsaw. For under $200, there is no other tool that offers the same versatility, the same immense power, and the same easy usage. Literally anyone can pick up this chainsaw and get to work while still feeling comfortable and not overwhelmed by too much power.
And all the same, you still get the awesome power that comes with a normal gas chainsaw – only with less noise and less hassle. You can make 60 cuts on average in a single battery charge, and the automatic oiling system keeps your chainsaw in perfect condition for longer.
---
Best Battery
The battery that comes equipped with the Black & Decker 40V Chainsaw is phenomenal. It offers incredibly long runtimes and a great overall life. 40 volts is more than enough power to chop down tree after tree without overheating the chainsaw or causing any kind of malfunctions.
In fact, you get about 60 cuts on average through pure lumber with a single charge of the battery. This is much stronger than the wimpy 20V batteries that come with other cordless chainsaws. It has the tenacity to keep you working hard.
Additionally, you can purchase this Black & Decker's model with a battery and charger at an extremely low price. You can even purchase the chainsaw with a nice leaf collection bin to help take care of all your most annoying yardwork.
---
Premium Parts
This chainsaw comes with premium parts. Everything is manufactured to perfection. While the battery is definitely extremely high in quality, so is everything else, like the 12" premium bar and chain. The bar and chain are crafted from the strongest materials to remain ultra-hard throughout the entire life of your machine.
The chain is sharp and comes included with flawless cutters to give you a superb and relaxed cutting experience, while the bar itself is durable and will last a very long time. When you need to make adjustments to the tension of the chain, this is also very easy thanks to the tool-less adjuster.
On the side of the machine, you will find an adjustment tensioner for the chain, and you do not need any tools to use it. This system is extremely easy, and it only takes a few seconds to get the proper tension on your chain. This will inevitably lead to better all-around functioning of your chainsaw, and a better life for the chainsaw.
More Functions, More Versatility
Another great system is the automatic oiler. The reservoir is located conveniently at the top of the chainsaw, and you only need to unscrew the cap and pour in a little bit of oil to keep the machine running smoothly. The automatic system will lubricate the chain so that it spins smoothly around the guide bar.
There is a transparent window on the oiler that allows you to see exactly when you need to fill the reservoir again. This allows carefree usage of the chainsaw without needing to worry about constantly lubricating it.
Related Articles:
The functionality does not stop there. With an incredibly smart ergonomic design, you get tons of versatility out of this chainsaw. You can use it for everything. It is very lightweight and convenient for use in landscaping jobs where you may be sitting up in a tree. It is also great for cutting firewood for the winter.
The chainsaw is balanced nicely, which makes it is extremely suitable for cutting apart fallen limbs and for pruning branches without causing you strain or pain. On this same note, the 40V Cordless Chainsaw is ideal for beginners. Everyone needs to start using a chainsaw somewhere, and the best place to start is with a small and safe chainsaw like this.
---
Safety
Yes, this is an extremely safe chainsaw. It does not have the kind of raw torque that would cause a dramatic accident. With the smart design of the handles, and how light the entire tool is, it is nearly impossible for a kickback to injure the user.
While kickback can indeed still happen, and while it is still extremely important to remain vigilant and careful while operating any power tool, the likelihood of an accident is much less with this chainsaw.
---
Black And Decker 40V Chainsaw Review: Final Thoughts
You should probably consider buying Black & Decker 40V MAX Cordless Chainsaw. If you are a homeowner, a landowner, or anyone who works in the landscaping business, this is a critical tool to own. It lasts all day with a single charge, it has an easy system for adjusting chain tension, it oils itself, and it is easy to handle.
This is definitely the best chainsaw for new operators who need to gain some experience. You can use it for everything, from cutting down small trees to pruning huge branches on bigger trees. Anything you can sink this chainsaw's teeth into, you can cut.
The chainsaw offers extreme comfort with its wraparound handle, it has effective safety measures, the 40V battery gives impressive power with enough destructive torque to slice through thick hardwood, and it comes highly recommended by hordes of satisfied customers!
---
Related Articles: