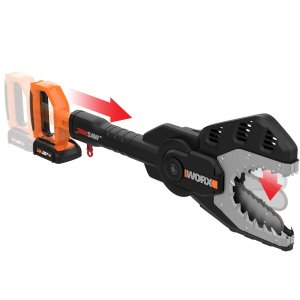 The Worx WG320 JawSaw 20V Cordless Chainsaw is the safest electric chainsaw ever invented. This is unlike any chainsaw you have ever used before. It has a fully protective guard that makes it impossible to hurt yourself with the spinning chain. When the saw is not being used, the blade is retracted inside the base for maximum safety.
Because of the guard, you can use this chainsaw to cut on the ground, which is perfect for fallen branches, fallen logs, and even felled trees. You no longer have to bend over or risk hurting yourself just to cut up some firewood.
And even though this is an extremely unique chainsaw with a different sort of design, it is still very powerful and able to cut thick branches. It is able to cut through any material that is a total of 4 inches in diameter. While that may not seem like a lot, I guarantee this will be enough cutting power for any kind of landscaping tasks.
---
Worx JawSaw Review: Overview
We have a lot to go over. The Worx JawSaw is a unique piece of equipment, unlike anything you have ever used to cut wood. The chain always remains tight at the perfect tension, the bar remains oiled with the automatic oiler at all times, and the whole tool is extremely safe.
For general purpose duties at home, around your property, or on the farm, this is one of the greatest chainsaws to work with. It is especially great for people who have no experience using a big and noisy chainsaw.
Safest Chainsaw Ever
There is no doubt about it, the Worx Jawsaw is the safest saw you will ever lay hands on. The entire design of this saw is meant for safety. It comes with the actual saw blade trapped inside a protective guard that keeps you from accidentally hurting yourself. There is absolutely no kickback when you use this chainsaw.
When the chainsaw is not in use, the blade will retract into the base, making it even safer. This is the only type of chainsaw you can use to cut wood while it is laying on the ground. Simply put one foot on the log and hold down the chainsaw over the log to cut it. There is no chance of the saw swinging back and cutting your leg.
Because the chainsaw is so lightweight, weighing only about 7 pounds, you can use it in all kinds of awkward situations. You can use the chainsaw in way more orientations than you could use a normal saw in, as there is no chance of kickback.
This means you can use the saw overhead to cut high branches, whereas it would be way too dangerous with a normal chainsaw. And not only is the Jawsaw extremely lightweight, but it also has a smart weight distribution that makes the tool easier to maneuver while trying to trim the overhead branches.
---
Key Features
There are a few key features that make the Worx Jawsaw even more efficient. It stays oiled constantly thanks to the automatic chain oiler. The automatic oiler even has a level indicator so that you always know when you need to refill the oil reservoir. This keeps the chain lubricated and spinning at maximum RPMs.
The chain also stays tight with the automatic tensioner. This is one of the best systems for chain tensioning, as it does not require any attention from you. It keeps the chain at the ideal tension 100% of the time. This makes sure you will always be efficient when using the chainsaw.
---
Cutting Power
Even though this is a unique chainsaw geared toward safety, it still has amazing cutting power. You can cut through thick branches in seconds thanks to the sharp chain and the strong motor. The chainsaw uses a single-action cutting mechanism that allows you to cut any material up to four inches in total diameter.
With the included 20V battery, you get a very long runtime without any sacrifice to power. You can use the chainsaw for hours without needing to recharge the battery. It also uses the same type of batteries that charge other Worx tools, so you can easily mix and match batteries depending on your current job.
Related Articles:
When it comes to speed, the Jawsaw is the quickest of its kind. This is the fastest and safest saw currently on the market. It can cut with speeds of up to 1,350 RPM, making quick work of any type of wood. Whether you want to cut softwood or hardwood, it can be done with this incredibly versatile chainsaw.
Also, the cuts it makes are smooth and even. This is not a machine that will hack apart wood and leave you with an ugly, uneven cut. For chopping branches and logs into perfect blocks of firewood, this Worx is the perfect saw. It makes quality cuts, it is easy to use for anyone, and it is much safer than a traditional chainsaw.
---
Worx JawSaw Review: Final Thoughts
For what it is, the Worx WG320 JawSaw does an amazing job. This chainsaw was not designed for cutting big chunks of timber or for felling massive trees in the forest. This chainsaw was designed primarily for user protection by keeping the blade safe inside the housing. You are pretty well never in danger when using this chainsaw.
Because of all the safety measures, you couldn't ask for a better beginner chainsaw. This is the ideal piece of equipment for working around your house with wood and trees, especially if you are not used to power tools. It comes with a 20V battery, an immaculate chain tensioning system, and a high-quality automatic oiler.
The chainsaw is also lightning quick. It spins at roughly 1,350 RPMs, making it the quickest chainsaw of its kind. It is also light enough to use in any kind of orientation. Standard chainsaws cannot be used to cut overhead, but this unit can. Only weighs about 7 pounds, which is unbelievably light for a chainsaw. I cannot recommend this unit enough.
Related Articles: