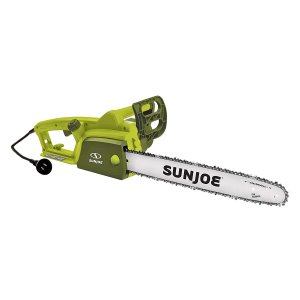 The Sun Joe SWJ701E 18" Electric Chainsaw is one of the best corded units on the market. If you are looking for a quality chainsaw for use around your property, this is a great choice. It makes yard work fun. The powerful 14-amp motor can tackle any kind of tough cutting job.
This chainsaw comes with a durable 18" bar and chain that can make fast work of firewood and tree limbs. It has a lightweight design, an ergonomic handle for easy carrying, and a durable handguard to keep your fingers safe. The chainsaw also comes with a kickback brake function for added user safety.
The Sun Joe chainsaw is small, it is compact, and it relies totally on electricity. You don't need any batteries and you don't need any gasoline to make this chainsaw run. It's great for cutting logs, trimming the limbs of trees, and doing other general tasks around your property.
---
Sun Joe Chainsaw Review: Overview
For anyone who wants a powerful chainsaw without the annoyances that come with a gasoline-power tool, I highly recommend the Sun Joe Chainsaw. It comes with an 18" bar that self-lubricates, an extension cord hook so that your cord does not pop off unexpectedly, and an automatic oiling system with a translucent window so that you can always keep track of your oil level.
Yes, this is definitely the best friend for anyone who enjoys doing general landscaping around their house. It is a small chainsaw, highly reliable, and it comes with all kinds of great features to keep you working hard while staying safe.
---
Instant Start
Everyone likes it when their chainsaw starts immediately. With the Sun Joe Chainsaw, you get an instant start every time. The electric chainsaw does not depend on a carburetor, meaning it does not need air and fuel to operate. So long as you are plugged into an electrical source, your chainsaw will always start immediately.
And once it starts, the chainsaw will keep on going. You have very low chances of the motor ever overheating or malfunctioning due to overuse since you are only using a normal amount of electricity from an outlet.
This makes it ideal for long and tedious work, as you can easily shut the chainsaw off and then turn it back on without any trouble. This is definitely an awesome little tool to use around the home and even for some small construction projects in place of an ordinary electric saw.
---
Strong 14-Amp Motor
14 amps is quite a bit of power. This little motor has enough electrical juice to cut down all kinds of wooden structures. The strong motor turns the chain so quickly that it can easily cut through lots of small trees and thick logs, making it one of the best corded chainsaws for cutting felled trees into firewood.
The powerful motor also makes this chainsaw ideal for long-term use, keeping your home looking beautiful throughout the entire year. It has just as much power as a standard cordless chainsaw, only without the hassle of rechargeable batteries.
You get to use the strong motor for endless hours without ever having to take a break or recharge the power. This is definitely a tough little unit, and its motor doesn't even pollute the environment with toxic gas emissions. It is totally eco-friendly!
---
Key Safety Features
Safety features are always an extremely important part of any chainsaw. The same can be said about the Sun Joe 18" chainsaw. It comes with all the necessary safety features so that you can always work with a clear head and total confidence.
First, the handguard is extremely strong. The handguard protects your hands and fingers from being crushed by any possible debris. This is an extremely important piece of any chainsaw, and so is the kickback brake system, which is used here to prevent possible occurrences of kickback.
There is even a special switch that will prevent you from accidentally starting the motor. This is important for when you are walking around with the chainsaw on your property, as you do not want it to accidentally start. This special switch will always prevent accidental starting and accidental injury.
---
Optimal Performance
Everything about this Sun Joe chainsaw is superior, including its performance. You cannot find another corded chainsaw that offers this kind of extreme performance with superb components. For example, the 18" Oregon bar is an extremely durable part of the chainsaw that will work for a long time.
Related Articles:
The Oregon bar works in conjunction with an extraordinarily sharp semi-chisel chain to cut through tree after tree without wearing or slowing down. The teeth on the chain are extremely sharp, meaning they don't need to be sharpened very frequently, and the bar is so strong that it is unlikely to bend or break even during the hardest jobs.
So long as everything is kept properly lubricated by using the automatic oiling system, you will not have any friction issues. All your chainsaw parts will continue to function at optimal performance for the life of the machine.
---
Sun Joe Chainsaw Review: Final Thoughts
Choosing between a gas chainsaw and an electric chainsaw is always a tough choice. Gas chainsaws offer incredible power and maximum efficiency, but an electric chainsaw is great because you don't need gas, you don't have to deal with a fussy carburetor, and you don't need to constantly recharge batteries.
The Sun Joe Chainsaw is a great replacement for any cordless chainsaw or gas chainsaw. So long as your work is all within reach of an extension cord, this chainsaw can be used all day without needing to stop for refilling the gas tank or recharging a battery.
The chainsaw has a durable 18" Oregon bar and chain, it comes with an extremely powerful 14-amp motor, and it has all the little features that make using the tool nicer, like the plastic blade cover for safe storage and the integrated hook for your extension cord. I highly recommend this chainsaw for anyone doing some home landscaping.
Related Articles: